About
Golden Rule Services provides quality care to all types of surfaces for central Virginia and the surrounding states. We blend high-quality products with timely, professional service to ensure you can be proud of all of your paved surfaces.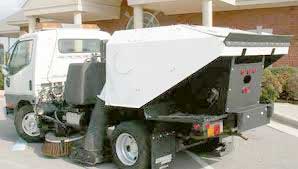 Golden Rule Services provides all types of professional power sweeping, from parking lots to roadway and construction sweeping. Whether you need one of our smaller parking lot sweepers, like the one shown to the right, or one of our massive 8.4 cubic yard Schwarze A7000 Tornado sweepers, Golden Rule Services has you covered.
In addition to power sweeping, we also offer a complete slate of other pavement-related services. These include:
parking lot striping,
crack sealing
pavement sealcoating
sign installation
sports surface marking
Golden Rule Services was established in Harrisonburg, Virginia in 1996 by owner Mark Harding, whose experience guides his crew in providing quality and efficiency in every project. If you are located in our market area, which includes all of central Virginia, northern North Carolina and eastern West Virginia, be sure to let us know how we can help renovate and/or maintain your paved surfaces in order to maximize longevity while minimizing investment. The Golden Rule team is made up of people who are committed about providing you with the best possible outcomes.