About
Dare Living Associates offers our customers complete and comprehensive exterior commercial property services – including a host of power sweeping solutions.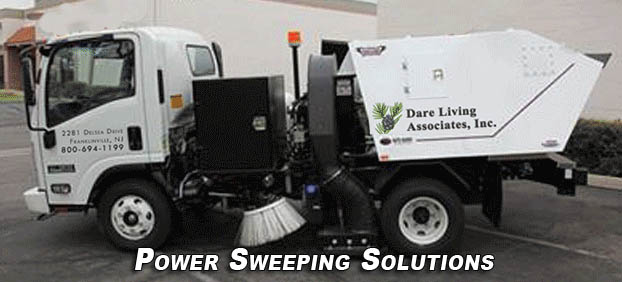 Professional Sweeping Services
Our cleaning & power sweeping division provides complete parking lot sweeping for commercial properties. Our services include emptying trash containers and cleaning of store front areas. Never under estimate the power of clean parking lots, your customers will appreciate having a safe and tidy place to park.
Personnel and Equipment
Our highly qualified technicians have a fleet of 15 Schwarze power sweepers, backpack blowers, brooms and shovels at their disposal. In addition, trash receptacles are emptied and liners are replaced on each visit.
Property frontages and walkways are maintained through expert cleaning as debris and unsightly waste are cleared and removed from the premises. Our conscientious staff is also available to remove leaves from property throughout the autumn months as well as the sand that may accumulate during the winter season.
Parking Lot Maintenance
Our uniformed professionals clean and clear all trash and debris on the parking lot area. The appropriate equipment will be utilized for each situation, and, when necessary, the technicians will manually clear and clean areas inaccessible to the power sweeper.
Quality Control
Supervisors inspect sites routinely. Direct customer contact is available on each visit, which guarantees client satisfaction. A receipt for services is also available after services are performed.
Additional Services
Repair/install all types of signage
Line striping and painting on all types of surfaces
Mowing, edging and weeding services
Complete exterior and interior landscaping, mulching, flower provision and more
Protection
Dare Living Associates is fully insured, carrying 3 million dollars in worker liability and compensation insurance.
Contact us today