About

Our professional teams provide services throughout South Georgia and the Florida Panhandle.
In Georgis this includes in the towns of Adel, Valdosta, Moultrie, Thomasville, Albany and Lakeland. In Florida, we service Tallahassee, Bradfordville, Monticello and Jasper. Our company's services include all of the following:
Parking Lot Sweeping
Lot Striping & Painting
Debris & Bulk Removal
Pressure Washing
Day & Night Portering
ADA Parking Signage
Managed Landscaping
Parking Lot Sweeping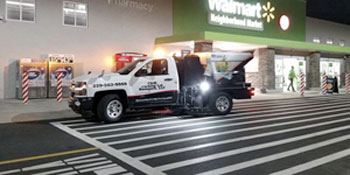 Our parking lot vacuum sweeper professionals possess the skill and care to service any property, from retail to municipal.  In addition to cleaning all open areas with one of our vacuum sweepers, we routinely:
 Use a backpack blower to clean all areas inaccessible to our sweepers.
 Handpick litter and other items as needed.
 Clean trash areas and bin enclosures
Regularly inspect your property for overall cleanliness, illegal dumping, asphalt conditions, etc.
Parking Lot Striping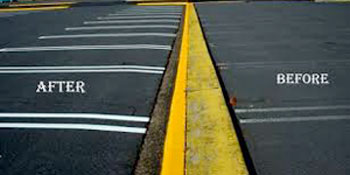 Whether you have a large-scale striping project or just need your small strip center, retail store or apartment complex restriped, you can count on us.
We provide the very best value, and will ensure your striping job is done right and in compliance with code. Our services can include:
Painting and layout of new stall lines
Re-painting of existing stall lines and pavement markings
ADA approved handicap stalls
Directional arrows
Word stenciling
Painted curbing
Painted parking bumpers
Specialty stencils
Blackout of un-needed markings
Painting or re-painting light pole bases
Pressure Washing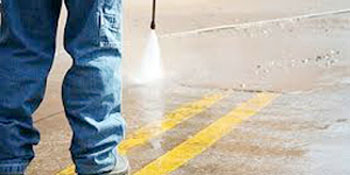 There are many times when power washing and/or steam cleaning are required to beautify and sanitize such surfaces as walls, signs, sidewalks, trash enclosures, parking garages, etc.
Our power washer and steam cleaner operators are experienced in removing all kinds of debris, such as gum, oil, grease, mildew, mold, paint and graffiti marks.

From parking area sweeping to most all of your exterior  property needs, you will find that C & M Parking Lot Sweepers will provide your organization with an expert level of services. 
Give us a call today or visit our website, at www.parkinglotsweepersllc.com, for more information or to receive a free professional assessment of your needs.