About
Keep the streets clean with B&B Street Sweeping
The municipal, commercial and industrial sweeping specialists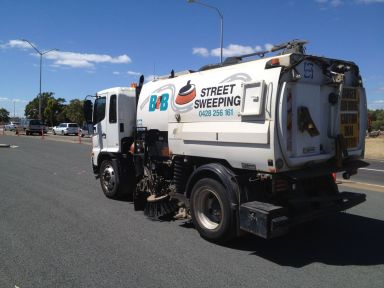 Whether you have a problem with dirt and debris at your  warehouse, construction site or town and city streets  B&B Street Sweeping can help. We have a range of small and large  power sweepers available to suit any job. Whether your worksite requires regular maintenance, or if you simply need a once-off clean up, call B&B Street Sweeping for professional service to keep everything spick and span.
You won't believe the difference power sweeping can make to your city/town, workplace, car park, or construction site. Whether you need a quick, efficient clean up after a particularly heavy job, or regular cleaning services to keep your place of business looking professional and tidy, B&B Street Sweeping can help. We arrive promptly, get the job done, and get out of your way with minimum disruption to your regular operations.
B&B Street Sweeping are available throughout the South West of Australia and are your professional, yet cost-effective solution. Contact us on 0428 256 161 for more information, or to book a sweeper today.