About
When you want your job done right you can count on B & D Enterprises!
Parking Area Sweeping
For our parking area sweeping we use the TYMCO 210 air sweeper. TYMCO invented regenerative air sweeping and their high quality air system ensures our customers receive the best cleaning possible. Plus, in addition to being fast and efficient at removing both litter and the 'fines' that can create safety issues on a parking lot, the 210 is quiet to keep your tenants and the surrounding neighbors happy.
We will follow a sweeping pattern on your parking area that is designed to maximize how your lot is cleaned. In addition to sweeping, we offer related services such as large item removal, day portering, trash bag change-out and more. If you have questions, just give us a call!
Municipal and Roadway Sweeping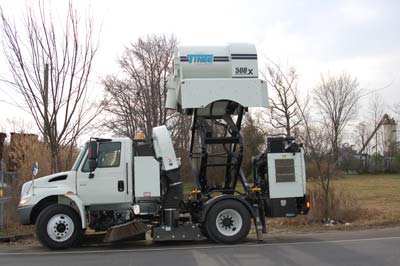 For sweeping roads, highways and municipalities, we believe the top choice in machines is the TYMCO 500X regenerative air sweeper. This versatile sweeper model offers high-dumping capabilities, which allows us to meet virtually any customer's needs. Plus, the machine is very powerful, which allows us to sweep at a higher speed than do other machines.
Our operators are well-trained in best practices so will be sure to do an excellent job for you, no matter if you are a contractor, a municipality or a DOT agency.
Maximize Your Sweeping Budget
When it comes to power sweeping, before choosing another provider be sure to discuss your needs with the pros at B & D Enterprises. We can provide you with the best possible outcome on a very cost-effective basis! Call 814-236-0764 today to see how we can exceed your expectations.