About

Welcome to Allstate Sweeping, where we specialize in making the most difficult power sweeping applications routine!
The two principals in our Certified Women-Owned business, Beth Krueger and Barbara Hollis, offer over four decades of sweeping industry experience. Allstate Sweeping specializes in heavy-duty mechanical broom sweeping. We offer an all-Elgin fleet, top quality machines from America's largest sweeper manufacturer.
Our extensive client list includes RTD, CDOT and many of Colorado's larger construction companies. In addition to all types of road sweeping, our operators are skilled in road modification projects including the sweeping of millings.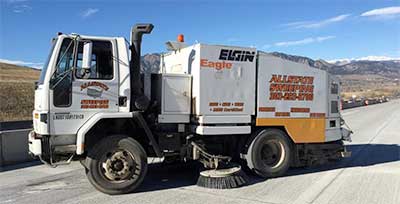 In May of 2015 Allstate Sweeping, LLC was featured at America's Featured Contractor of the Month by WorldSweeper/World Sweeping Association. If you'd like to read about how our Certified Women-Owned Business got its start and then grew to where it is today, here is the link to that article.
We have a large fleet of sweepers as well as our own in-house team of sweeper technicians, so you can be assured that our sweepers will be in top-notch shape when they get to your worksite.
Allstate also offers well-trained, CDL sweeper operators that are all in an independently run, randomized drug-testing program so you can count on their proficiency every hour of every day on your jobsite. In the unlikely event one of our sweepers experiences a mechanical breakdown on your job, you can be assured we will have a backup machine available.
We are proud of our A+ rating with the Denver/Boulder Better Business Bureau and hold memberships in a number of organizations, including Comto Colorado, the Rocky Mountain Minority Contractors Association and more.
In addition to power sweeping, Allstate Sweeping offers power washing and snow abatement / snow plowing services throughout our Greater Denver market area. If you need heavy-duty sweeping with top quality operators, call today to find out how our sweeping team can make your jobsite run as smooth as possible, 24/7.
For complete information, go to www.AllstateSweeping.com or call us at 303-293-8700.