Take a look at what other contractors are saying about their listings: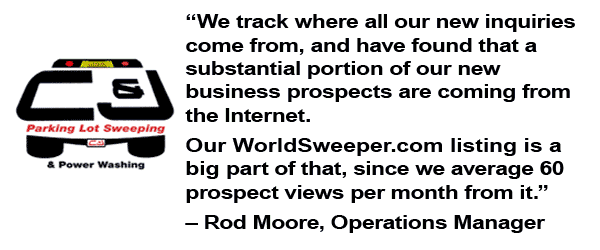 For under $21/month, most participants are receiving in excess of 300 prospect visits per year, along with many click-outs to their websites. That's in addition to any emails and phone call inquiries that may occur.
To be listed at WorldSweeper's Contractor Locator is just $249.95/year, which may be paid via invoice, credit card or monthly debit payments.
To be a member of the program, each participating contractor has signed on to the WorldSweeper.com Ethics Statement. That feature, combined with the tremendous monthly traffic WorldSweeper receives, makes the Contractor Locator the best advertising value in sweeping.
WorldSweeper's industry-leading Contractor Locator program is offered with a 90-day complete money-back Guarantee of Satisfaction.
Click here to go to WorldSweeper.com's Contractor Locator section. (Opens in a new window.) Once you've taken a look, call 866-635-2205 or send us an email to sign up.

To close this page, click it away via the button in the upper left corner of the page.