Award of Excellence in Sweeping for 2002
by Ranger Kidwell-Ross

Prior to deciding on each of our three previous Award of Excellence in Power Sweeping award winners, we've followed a particular process. This has been to consult with a number of the insiders in the industry for nominations, then weighing each on their merits. Finally, after much discussion, we've settled on the person who seemed most qualified to receive the honor. This year, however, we decided on two co-winners who we felt clearly have the track record, including industry involvement and leadership, to be recognized for their accomplishments through this honor.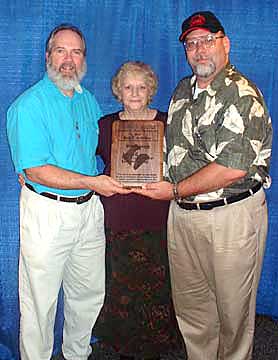 Our previous awards have gone to prominent sweeping contractors, men who have been at the forefront of the industry in a business sense, as well as in their willingness to work selflessly for the benefit of the American sweeping industry at large. Certainly the same can be said of our award co-recipients this year, however they only started out as contractors.
Bob Schwarze, founder of Schwarze Industries, Inc., started sweeping with a commercial sweeper back in the late 1960s. It was only because he couldn't find a sweeper that could do a cost-effective and thorough job of cleaning a parking lot that he decided to build his first sweeper at the start of the '70s. Because of the success of the machine he built, he incorporated Schwarze Industries in 1973 as a manufacturer of parking area sweeping equipment.
Still, it was clear his roots were in contracting. Bob was an instrumental part of the very first meeting to organize a sweeping organization, which was in 1977. Through the years and a number of name changes, this organization is today known as the North American Power Sweeping Association, or NAPSA.
Because of his contracting start, Bob knew the importance of providing informational guidelines for those who were entering the business. As a result of his commitment to do more than just sell people one of his SuperVac sweepers, Bob became the first person in the sweeping industry to write down how the sweeper contracting business operated. His goal was to help those in it become more professional in their contracting operations.
Almost two decades ago, his son, Mark Schwarze, our co-recipient of this year's award, started the first newsletter designed for the sweeping industry, The Supervac Quarterly. Later, that publication expanded to become American Sweeper magazine and, later, through the Schwarze family's sponsorship, expanded again to include the multiple award-winning website AmericanSweeper.com. In addition, with the goal of combating the inability of startup contractors to develop realistic pricing and professional operations, in 1995 Mark requested me to write what became called Fundamentals of the Power Sweeping Business. Today in its 6th edition, this 250-page+ publication is the most complete 'how-to manual' in the sweeping industry.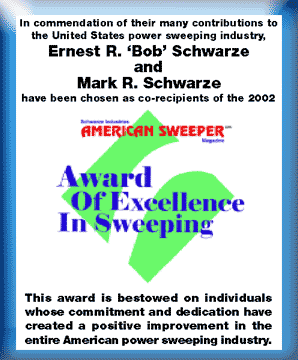 In their spare time, through a unique combination of business savvy, design expertise and, above all, personal integrity, these two men engineered and produced what became the most comprehensive line of sweeping equipment in the United States. Schwarze Industries, Inc. was sold to Alamo Group (a public company, stock symbol ALG) in 2000. Bob, who had declining health for several years, passed away less than a year later leaving his wife, Peggy.
Today, the Schwarze family is back in the sweeper manufacturing business with a new venture, Victory Sweepers, Inc., which is also located in Huntsville, Alabama.
Throughout my own decade and a half of involvement with the sweeping industry I have gotten to know the Schwarze family very well, both on a personal and a business basis. I am confident that virtually all others in the industry who know these individuals or who have done business with them would agree there could be no better recipients of an Award of Excellence in Power Sweeping than the Schwarze family.