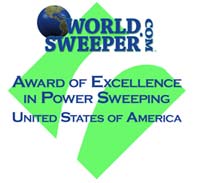 Gale Holsman Receives First
"Award of Excellence in Sweeping"
From WorldSweeper.com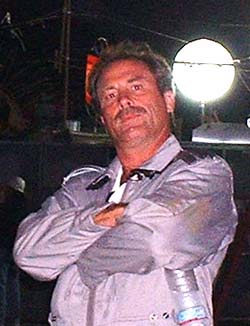 Gale Holsman's company, American Sweeping, Inc., was started in 1984 in Kansas City, MO. Since inception, his firm has been a force in the Missouri and Kansas market areas surrounding Kansas City.
Since then, Gale has bought, and then either integrated into his company or re-sold, over a dozen sweeping companies from all around his market area.
Today, American Sweeping, Inc. is one of the largest sweeping companies in the U.S. marketplace, and one of the true 'do it all' sweeping companies. No matter what type of sweeping is needed -- from rotomilling cleanup to parking areas to DOT, construction, municipal -- American Sweeping handles it. They also provide a host of allied pavement and exterior maintenance services to their clients.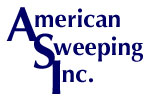 Through the years, Gale has been actively involved in efforts to improve the parking lot sweeping industry. In fact, dating back to the early 1990s, many in the industry would agree that Gale has been the leading contractor spokesperson for the power sweeping industry.
He has long worked with startup and other contractors to help them become successful in their business ventures. In the early 1990s Gale started Sweep Across American systems, a company designed for that exact purpose. Through the years, many contractors have become more successful through following the hands-on, practical advice Gale provided them with.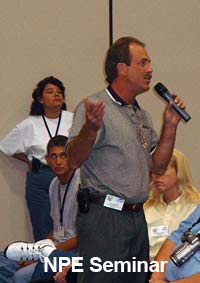 Gale has been a featured speaker at the National Pavement Expositions for a number of years, giving many seminars on different sweeping topics, all of which were designed as ways to help contractors improve their power sweeping operations.
In 2000, it was his high visibility in the industry that landed him the role of judge of the competition during the sweeper-building episode of The Learning Channel's 'Junkyard Wars' television show.
When NAPSA was re-formed in 2000, Gale's American Sweeping, Inc. was one of the founding contractors to support the organization.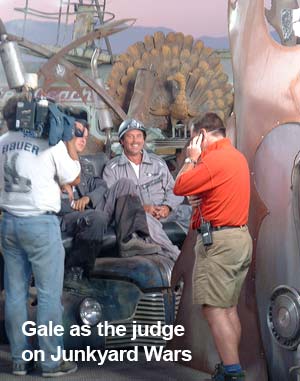 When this Award was presented in early 2006, although Gale remained involved in his sweeping company, day-to-day operations had been turned over to his daughter, Shannon.
Part of the reason is that, in 2005, Gale purchased a Kansas City-based garbage hauling and refuse disposal company. This purchase added a new enterprise for him, one which started with over half a million customers for garbage hauling.
For his many years of positive involvement in the power sweeping industry, Gale T. Holsman, Jr., along with his sweeping company, American Sweeping, Inc., was chosen as the recipient of our sweeping industry Award of Excellence in Power Sweeping.
Our editor, Ranger Kidwell-Ross, presented Holsman with a commemorative plaque on February 17, 2006, at the 2006 National Pavement Exposition held in Charlotte, NC.
Click below to watch a brief 1-minute clip of Gale taken earlier that same day when he spoke at one of the NPE seminars. Holsman was reminding the audience about the importance of sweeping contractors getting together at industry tradeshows.