At the National Pavement Exposition, held in January of 2016, Ranger Kidwell-Ross, Executive Director of the World Sweeping Association and the Editor of WorldSweeper.com, presented the 2016 Award of Excellence in Power Sweeping to Larry Dyck, co-founder of MASCO Sweepers.
The presentation occurred on January 29, 2016 at the 2016 National Pavement Exposition. Following is the story of how Larry Dyck co-founded Mr. Air Sweepers – now MASCO [Mr. Air Sweeper Company] in 1976 along with Jim Mills and Mill's partner, Frank Dorsa:

Use this link to listen to the podcast interview between Larry Dyck and the editor of WorldSweeper.com, Ranger Kidwell-Ross, which was conducted in January of 2016. The interview with Larry Dyck discusses his company and how it got started.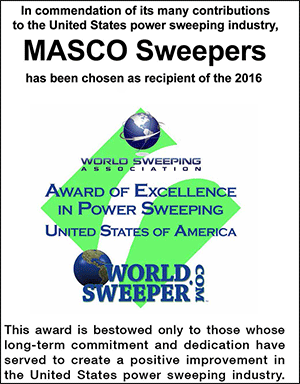 Around 1975 Larry Dyck moved from Oregon to California, where he went to San Jose State University. Along with a friend, he started building boat trailers for flat-bottom speed boats. During this time, he met a boat racer who was also the owner of a power sweeping company, Leonard Vella, whose partner was Frank Dorseth. Although the pair had large TYMCO street sweepers for their roadway sweeping, which worked fine, they used ride-on sweepers for their parking lots.
With that technology, the pair had to have three pieces of equipment in order to do the job: a trailer, the sweeper and a tow vehicle. This, combined with the small size of the ride-on machine's pickup swath, made parking lot sweeping time-consuming and overly difficult. Vella had 15 trucks, 15 trailers and 15 small Tennant sweepers. The work routine was to get to the parking lot in the middle of the night, unload the sweeper and then ride it around at 2-3 miles an hour trying to sweep litter, which the sweepers weren't really capable of doing.
Vella became friends with Dyck and invited him to go to a water skiing competition with him. While there, Vella told him that what he really needed was a small parking lot sweeper they could mount onto a truck, drive to their lots and become much more efficient in their operations. Since Dyck was a builder, he said, was this something he might be able to build?
Dyck decided he could do it and that it would fit right in as an after-hours adjunct to the new job he had just gotten teaching auto- and metal-shop at San Jose High School. Thinking that dealing with a small chassis would be the thing to do, Dyck settled on making a sweeper that would fit onto a Ford Courier, which was the smallest pickup being made at the time.
Dyck rented some shop space and, with the input and assistance of Vella, began the process of making a parking lot sweeper. The first one was put onto the Courier outfitted with a Wisconsin two-cylinder motor. Vella tried the machine and it worked fine, so he decided he wanted another. Ultimately, Vella bought the first 10 of the little sweepers.
As Vella's machines went out on the job, they generated curiosity and interest by others who were either sweeping parking lots the old way or thought this might be a good business to get into. Sensing a business opportunity larger than just making sweepers for Vella's sweeping company, the pair hired a salesperson, Jim Mills, and began having meetings with prospects to teach them about the sweepers and the industry.
It soon appeared that a business could be formed around the manufacturing concept and in 1976 the partnership of Larry Dyck, Jim Mills and Mill's partner, Frank Dorsa, incorporated the Mr. Air company. Like Henry Ford, the fledgling company started out making just one model of sweeper, although it was offered in two styles: one version mounted onto a pickup truck and the other made to slide into a pickup's existing bed. The only available truck chassis at the time that was appropriate to mount on was a Ford Courier.
Then, in 1980, Larry's brother, Mike, joined the company as marketing director. About the same time, Datsun chassis became available and the company started mounting onto those. One of the first jobs assigned to Mike Dyck was to take a Mr. Air sweeper to the International Council of Shopping Centers (ICSC) tradeshow in New Orleans. He took one of their little round tank sweepers, which they mounted on a red Datsun pickup. Arriving at the show, it was clear their machine was way smaller than any other sweepers there. That first year, Larry Dyck reminisced recently, we were known as "the people who were trying to sell a tin can mounted on a little bitty pickup truck."
After ICSC, the Mr. Air team took one of their sweepers to the American Public Works Association (APWA) conference in Kansas City. While there, Mike Dyck met a couple of dealers from the New York City area. From them, he heard that NYC's Mayor Koch had proposed building some of the first-ever bicycle lanes. They also told him that the Mr. Air sweeper was the only one narrow enough to sweep the newly developed lanes, so Mike ended up going to NYC where he demonstrated his little sweeper and got an order for two machines. While in the area, Mike also demo'ed the Mr. Air to a variety of other NYC venues.
Just before the NYC purchase orders were due to be sent, though, the NYC cab companies threatened to strike because, with the bicycle barricades in place, cabs couldn't get to the curbside to pick up fares. As a result, Mayor Koch called off the bike lane idea and the NYC sales were lost.

Around this time Jim Mills also started NewsSweep, the first newsletter for contract sweepers. This was before there were companies dedicated to providing company addresses, so to find sweeping contractors to send NewsSweep to Mike Dyck and his wife went to the public library and went through all the yellow pages, writing down all of the sweeping companies he could find. At the time, recalls Dyck, they found about 900 contractors in the U.S. with yellow pages' ads.

NewsSweep was a tabloid-sized publication that was done in print form but only a few different issues were produced. Prior to those issues, though, there was no form of communication available between sweeping contractors. This publication relegated the more long-lived Schwarze SuperVac Quarterly, started by WorldSweeper.com's founder and editor for Schwarze Industries in 1987, to be the second newsletter for power sweeping contractors.
The Mr. Air organization is also credited with founding the first-ever power sweeping association. Jim Mills, while at the APWA show, held discussions with representatives of APWA about organizing a sweepers' organization. This led to the founding of the "National Contract Sweepers Institute" (NCSI). At its high point, Mike Dyck recalls, there were 145 sweeping industry companies in NCSI.
Far fewer came to the first meeting of NCSI, though. Although attendees were mostly a mix of contractors from the San Jose area, the first meeting did draw interested people from as far away as Alabama since Schwarze Industries' founder, Bob Schwarze, attended and brought along his banker, the late Carl Austin. Carl later joined the Schwarze company in sales and management. Although monthly NCSI meetings were held for awhile, these trailed off over time.
"We founded a sweeper association to teach contractors about their costs and that they have to stay up with all of those expenses so they know they're making money," said Larry Dyck. "Unfortunately, the people who enter the business often don't know their costs and go to existing clients with the promise of doing the same job for less money. That simply isn't possible."
Mr. Air's Jim Mills also organized the first sweeper-oriented tradeshow, which was held in New Orleans about 1981. However, due to ill health Mills sold his interests to a man named Bob Woltering who, realizing that the sweeping industry wasn't large enough by itself to support a tradeshow, added in the other pavement maintenance areas, as well. Woltering held his first show at the Joe Louis Convention Center in Detroit, Michigan.
Through the above efforts, as well as word of mouth, Mr. Air sweepers caught on quickly. A dealership was set up in Los Angeles, with the late Bob Binge hired as the manager. From input from Vella's sweeper operators the Mr. Air design team made a change that continues to this day. The biggest problem we have, the operators said, are flat tires caused by the mid-mounted sweeping head. Acting on this information, the decision was made to mount Mr. Air sweeping heads on the rear of the sweeper, the reason they're mounted that way today.
Flat tires were virtually eliminated and, the designers then realized, the dust generated by the pickup head no longer filtered up through the chassis and into the cab where it could negatively affect the operators. And, a final advantage they found was that the rear-mounted sweeper head was able to be lifted much higher, so it wasn't as prone to scraping over speed bumps and other uneven areas often found in parking areas. In addition, access was easier for viewing needed head adjustments as well as for re-flapping and other repair.
The next big change was going to water-cooled engines. Today, with the requirement for use of Tier 4 engines the product has become more sophisticated. Noticing how difficult it was to keep sweeper hoppers from rusting, the company also went to stainless steel for many of the sweepers components, including the hopper.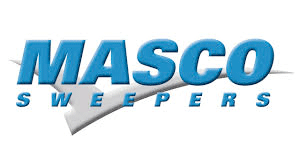 Along the way, the name of the company was changed from Mr. Air Sweepers to MASCO, which stands for Mr. Air Sweeping Company.
Current engines are four-cylinder, water-cooled Kubotas and air-cooled Kohler motors. The fans on MASCO sweepers are also direct-drive from the stub shaft on the engines, not belt-driven. This provides a more efficient operation with fewer repairs needed.
For over 30 years the Mr. Air/MASCO sweeper manufacturing company was managed by Larry's brother, Mike Dyck. In 2015, however, Mike left to the company for a change of pace and started his own sweeper company. MASCO has recently moved its headquarters to Elk Grove, CA and, at the same time, a second generation of the Dyck family has now joined the management team. Larry's son, David, has taken over operations' management, and his daughter, Lisa, runs the marketing department out of San Jose. At that facility they also have a repair operation where they work on all types of air and broom sweepers.
Vella, having a need for small broom sweepers in his company, spurred Dyck to partner with the Canadian sweeper manufacturer, Sweeprite (now SuperiorRoads), to become their first U.S. dealer. The Sweeprite-developed broom machine is called the model 1100 and is mounted onto Isuzu chassis. This broom sweeper is small enough to not need a CDL license to operate and is primarily used in sweeping streets and for construction cleanup.
However, the 'bread-and-butter' of MASCO, says Dyck, continues to be their model 1600 air sweeper, which is available in a wide variety of configurations. The engines are available with engines that range from 16-hp to as much as 60-hp. And, fans range from 19-inch diameter to a 30-inch fan. They have experimented with different sizes of hoppers through the year, as well, but strive to keep parts interchangeable.
"We have very dedicated customers," said Dyck. "I'd say about 80% of our business is repeat customers. They have to find the cheapest way to sweep parking lots and still make a living and that's always real tough. We have a very steady, repeat business, of contractors who have found that the MASCO sweeper is the best way to do that job.
"If a contractor wants to take away an account on a lot that isn't getting cleaned well, they should tell the property manager they'll charge more money but do a better job, one that keeps the facility cleaned. Unfortunately, that's not what typically occurs. And, once that occurs several times, contractors find they cannot make a living at the prices they've quoted."
Larry Vella continues to operate his company, Universal Sweepers. Dyck bought Vella out of the MASCO organization when Vella's son and daughter, Joey and Gina, took over Universal Sweeping. And, now, David and Lisa will eventually be the owners of MASCO. Vella has also become a very large sweeping company with branches in Reno, San Jose and Stockton. Universal Sweepers runs over 100 sweepers, both broom and air, and also a mix between union operations and those that are not.
Dyck says that one of the factors he's most proud about with the sweepers his company builds is that most customers report that each of their sweepers outlasts at least one of the (primarily Toyota) chassis they're initially mounted onto. "Most of the time," said Dyck, "our sweepers end up being remounted onto a new chassis with, at the same time, either our repair facility or the customer refurbishing whatever needs work on the sweeper at the same time. The sweepers routinely last 200,000 miles on the initial chassis and then do the same on a second chassis. That gives our contractors a lot for their money."
Today, since Toyota makes extended cab vehicles, MASCO has been having success moving to Chevrolet and Ford chassis. "The new Chevy and Ford chassis are much better than they used to be," Dyck told us, "and these have become very good combined units for us. We've had very few problems and customers have accepted them well. Many of our sweepers are mounted onto 1/2-ton chassis. I tell my customers that if they need a boat to go fishing they don't need a large boat to do that. Same thing with the sweeper: you're not trying to remove pounds of sand from a snowstorm; rather, you're primarily out there to pick up litter. We make the ideal sweeper for that market area."
MASCO markets directly in the California market, as well as throughout the U.S. For many years, Wayne Smith has represented the product for them in the Atlanta area. Dyck is clearly proud that when they sell a first machine into any area then they end up having more purchasers in that area once they see what the product can do.
Jim Mills also started producing a newsletter that offered ideas on how to run contracting businesses better. They also went to early equipment shows, run by Bob Woltering, which at the time usually included product demonstrations. This made the shows more fun, says Dyck, than what they are today.
"In the early days," Dyck said, "everyone was interested in these machines because there hadn't ever been anything like them. Anyone cleaning parking lots was intrigued by how well the sweepers operated and they were more than ready to quit doing the job with a backpack blower or a Tennant sweeper or a Billygoat or however they were trying to get the job done. None of those were actually designed to sweep a parking lot. Remember, this was the beginning of the parking lot sweeping industry and these new parking lot sweepers absolutely revolutionized how the job could be done."
In the accompanying podcast interview, Dyck further discusses the changes the parking area sweeping industry has undergone, especially in recent years as the cost of chassis and raw materials for sweeper production have both increased significantly – and the prices that property management companies are willing to pay for cleaning have stayed steady or declined.
In the podcast, Dyck also discusses the size of contractors that, in his experience, are making the most money in the parking lot sweeping industry, owner/operators. His brother, Mike Dyck, wrote a booklet on how to start a sweeping company and, although it has not been updated in a number of years, most all of the information is applicable today. "The biggest thing for contractors is to answer the phone, listen to what the customer says, and then do the work as they said they would and like the customer told them they wanted it to be done. Contractors who do that are the ones that are successful and make money at this business."
Larry Dyck (and Leonard Vella) were two of the pioneers of the parking lot sweeping industry and, as such, should be remembered as providing some of the initial equipment actually designed to do the job. Like so many American entrepreneurs in the mid 20th century, they saw a need and did something about it. The result is an enduring sweeper manufacturer that continues to be a significant player in the U.S. power sweeping marketplace.
In closing out this interview, Larry Dyck credited his employees – especially his brother, Mike, who ran marketing for over 30 years – as being the reason MASCO Sweepers has had the success it has through the years.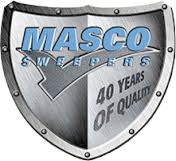 Remember, you may use this link to listen to the podcast interview between Larry Dyck and the editor of WorldSweeper.com, Ranger Kidwell-Ross, which was conducted in January of 2016. The interview with Larry Dyck discusses his company and how it got started.

For more information about MASCO Sweepers, we invite you to visit the company's website, which is located at MASCO Sweepers. The company's phone number is 800-345-1246.