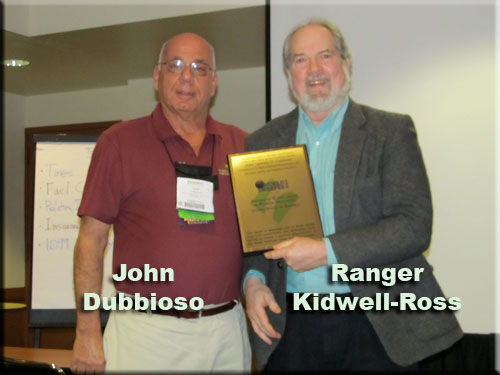 At the National Pavement Exposition held in February 2012 the WorldSweeper.com Award of Excellence in Power Sweeping was awarded to John "Johnny D" Dubbioso, President of Tri-State Industrial Maintenance, Inc.
Here is an overview of Dubbioso, his several companies and the impact he has had on the power sweeping industry.
John Dubbioso started into the power sweeping business in 1975 when he founded Three-D Industrial Maintenance in a garage in Elmsford, NY. From there, his organization has grown to six offices and maintenance facilities, with two affiliated companies that have combined revenues in excess of $10,000,000.
One of those companies is Connecticut-based Tri-State Equipment Rebuilding, Ltd., which is probably the largest repair and rebuilding service in America for Mobil sweepers. Although "Johnny D," as Dubbioso is known throughout the industry, is a principal in that company, day-to-day operations in that company are now led by his son, David.
In addition, Dubbioso has an environmental spill response and petroleum bulk storage tank removal company, Tri-State Environmental, as well as a firm called Creative Rubber Works that markets a variety of brightly colored, recycled rubber mulch throughout America.
Another achievement that weighed in on his receiving the power sweeping industry's highest award was Dubbioso's involvement in creating the Broom Bear mechanical broom sweeper. This product he was a principal in the development of was ultimately sold to the Elgin Sweeper Company. Take a look at a PDF facsimile of the Award.
You may also listen to the 44-minute audio interview between Dubbioso and WorldSweeper's editor, Ranger Kidwell-Ross, conducted shortly after the award was made. In the interview, Dubbioso discusses his beginnings in the sweeping industry in 1975, as well as his take on how the power sweeping industry has changed in the 25+ years since then
Note: To play the interview, click this link or on the small triangle inside the circle you see to the left. If you have any trouble accessing this audio, please let us know.
To learn more about John Dubbioso's history and his efforts on behalf of the sweeping industry, you are invited to check out our feature story on the company done prior to them knowing they would receive this Award.
The company's website is located at www.tristateindustrialmaintenance.com/.

Click on the YouTube-hosted video, below, to view the Award Presentation, which was held at the 2012 National Pavement Expo in Memphis, Tennessee.