An Interview With Joe Donlon, Director of Custom Rebuilt, a Division of Standard Equipment
by Ranger Kidwell-Ross
February 2020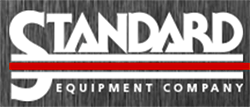 Chicago-based Standard Equipment is one of the largest Elgin Sweeper dealers in the United States. What is perhaps lesser known is the company's Custom Rebuilt Division, which refurbishes for sale several types of municipal equipment, including street sweepers from a number of different manufacturers.

We interviewed Joe Donlon, a partner in the company and the Director of Custom Rebuilt, for this article. Joe has been part of the Standard Equipment organization since 1989.
Custom Rebuilt has been operating since 2006, initially as a way to resell used equipment the dealership had taken in. However, given the sucess of the program, they now have an operation where people can purchase used sweepers, sewer maintenance products and underground camera equipment that has been professionally evaluated and refurbished.
"Prior to when we started Custom Rebuilt, we found it to be very difficult to nail down the quality of used sweepers and similar equipment that was available in the market. Most of the descriptions were not analytic; there were no real technical evaluations. This meant there was no way to get a real clear idea of condition. I realized there was really no marketplace for sweepers, for example, where you could have certainty about what you'd be getting.
So, we developed ways to analyze the equipment with a high degree of certainty, as well as ways to get the right piece of equipment to the right end-user customers. We set our system up as closely as possible to the model used by Carmax. The idea is for Customer A to get what he knows he needs and, at the same time, help Customer B determine what he needs, given the application he will be putting the sweeper into. For those people, it might be their first time buying the sweeper or the first time using one in a particular application."
Donlon says they first search out usable 'cores' – the company only chooses to take in about one out of every three machines it inspects – after which they bring it to their Chicago location and put it through a complete evaluation, both of the sweeper and of its chassis.
Then, they either rebuild it on spec or custom rebuild it to suit the needs of a particular customer. The latter allows them to tailor the rebuild to the specific contractor; for example, a particular contractor may only have a short time span of work where they want to use the sweeper. That might dictate a different level of refurbishment than one that is more comprehensive. That's where the word 'custom' comes in, Donlon told us.

To do all of this, the company relies on its many years of experience. Back in the 1980s, Standard Equipment was the remanufacturing arm of Elgin Sweeper Company. Through that program alone, the company rebuilt over 350 Elgin Pelicans. During that time they also started working with air sweepers and truck-mounted mechanical sweepers.
"We strive for excellence and, of course, once in a while we get surprises. However, we don't make our customers share in our surprises. Most of our equipment is purchased from municipalities; we do not purchase at auctions because they don't provide enough lead time for us to do a thorough evaluation of the core elements of the machine. We also don't purchase from some geographic locations, like the coast, where salt air can be such a factor."
Donlon says the goal is to provide sweepers where the customer doesn't have to even think about the quality they will be receiving. Sweepers are very complicated machines and, many times, customers don't really know how to evaluate them properly prior to purchase.
"There are many variables that can make the decision about what you purchase not a very pleasant outcome," Joe said. "Before we choose a sweeper to buy, we might look at videos of different components of the sweeper. Then, we'll ask specific questions of the owner. Finally, if we're pretty sure that it's a good enough machine for us to consider, we have an equipment analyst who will go out and look at the piece of equipment or, in some cases, send someone out under his supervision to take a look.
"Because we really know what our technicians can do, most all of our sweepers are located in Chicago. By doing the refurbishment work in our shop we can really control the quality. We also have a couple of dealers located in other parts of the country who we know we can rely on in terms of service quality. We actually sell our finished rebuilds to a number of dealers around the country, too.
"Unlike new sweepers, used machines are not sold so much via features and benefits but, rather, to fit a specific application. After listening to what our customers are trying to do, our team is expert in recommending the right equipment to handle the job. That doesn't even necessarily mean recommending Elgin machines, since there may be some areas of the country where people are tied into another brand's system of support."
In conclusion, Donlon told us his team has its 'fingers on the pulse' of what's available throughout the country. There are often machines they know about that are 'in the pipeline' or soon will be, so he suggested that even if you do not see what you're looking for on their website you just give them a call with your needs. He also stressed that his team is very well trained and experienced in being able to identify the types of sweepers that will handle a particular application and that they will be glad to offer advice in that regard with no charge or obligation.
"Advice is free," said Donlon. "Our salesmen have either owned dealerships or were part of a family-owned dealership. They're here to listen and are by no means wet behind the ears. Oftentimes they can provide information that will assist contractors in finding the very best sweeper to do the application they have in mind. We have helped a number of people not make the wrong decision. Sometimes people have expectations about a particular piece of equipment and there's no way, from listening to them, that what they have in mind will work for them. We don't want us, or them, to be part of a wrong decision."

For more detailed information, we suggest you listen to the approximately 20-minute audio conducted with Joe Donlon. Play the audio by clicking on the image shown to the right. Note this will open into a new browser window.
---
For more information on Standard Equipment's Custom Rebuilt Division, the company's website is www.custom-rebuilt.com. You may reach Joe Donlon via email sent to: joedonlon@custom-rebuilt.com. You can reach the company by calling 800-633-2997 and asking for Custom Rebuilt. Joe's cell phone number is 312-706-9678, although he will probably refer you to one of his two salespeople since they are the 'boots on the ground' for this area of the company.