Profile on Bike Lane Sweepers
by Ranger Kidwell-Ross, Editor, WorldSweeper
with special thanks to Matt Starnes for his podcast interview on which the story is based

July 2021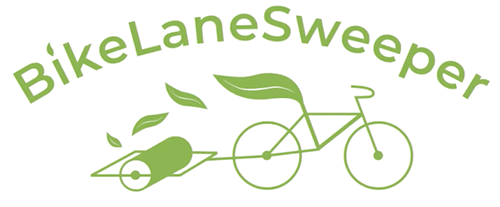 The problem of keeping bike lanes clean has, in recent times, become a problem that's gained recognition in a number of cities across the U.S. and around the world. Because of their small tires, relative to other vehicles, bicycles need – and deserve – to have a path of travel that's free of debris.
To date, a number of traditional sweeper manufacturers have started making smaller sweepers designed to sweep bike lanes. However, cities have been slow to adopt the relatively expensive narrow path sweepers, due to budget constraints and more. Then, if they do purchase units, they may not be deployed often enough to keep the bike lanes free of debris.
This is the story of a dedicated bicyclist who came up with the idea of making a bike lane sweeper that's towed by a bicycle, not just a traditionally-powered sweeper designed to pick up debris in a relatively narrow pathway.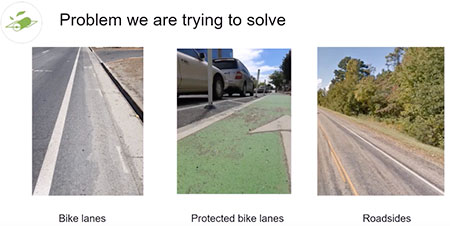 Pierre Lermant, who is an avid biker, knows all too well the problems created by roadway debris, including flat tires, accidents and bicyclists who swerve into the main roadway to avoid a dirty bike lane. To address these various issues, Lermant had the idea of building a sweeper designed to be operated via a bicycle.
Traditional, full-sized, sweepers are very expensive not only to purchase, but to operate and maintain and store, says Lermant. Plus it takes a specialized staff to operate them and due to their large size they can't access many bikeways due to size. The more recent advent of scaled-down sweepers designed to clean dedicated bike lanes are also expensive to buy, operate and maintain, and require a trained, specialized staff to operate. Plus, the city has to have a budget that allows for the purchase and maintenance of these smaller units in addition to their current street sweeper fleet.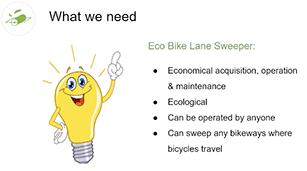 Lermant is convinced that his company, Bike Lane Sweeper, will offer a needed product to cities in clean wherever a bicycle might be traveling. This can be especially attractive to smaller cities that have a minimal tax base.
Although the bike lane sweeper doesn't pick up the small micron debris now being recommended for removal for water quality reasons, it does handle the pickup of most anything that might be a hazard for a bicycle's travel. You can view a number of videos on the concept at the company's website, www.BikeLaneSweeper.com.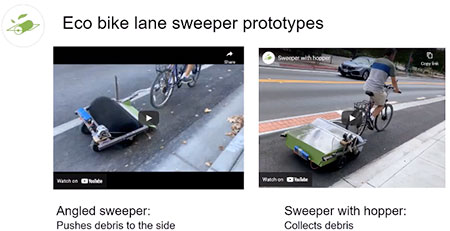 Concept machines include both a 'brush debris to the side' model, like a traditional broom sweeper with no hopper, as well as a sweeper model with an attached hopper to collect debris so as to actually remove it. Both models are easy for a bicyclist to pull, although use of an e-bike would make the job easier, especially in areas with hills.
Ultimately, Lermant also believes the onboard battery of an e-bike could be used to power the sweeper however that might be needed. Note that the sweepers are small enough to be contained inside a station wagon or van-type vehicle.
We suggest that for more information you view the Sweepers & Tankers podcast episode on the Bike Lane Sweeper, linked below (will open into a new browser window). The podcast is put out by Matt Starnes, of Bucher Sweepers.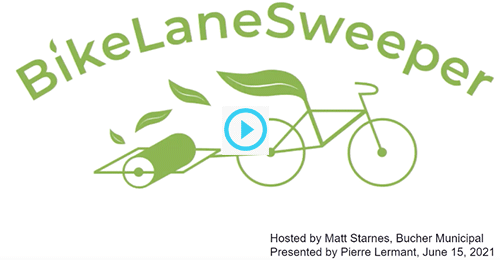 Currently, Lermant's company is in the startup phase and he's looking for financial backing in order to complete his product's rollout. He stresses the large size of the potential market since the price is low enough for bike clubs and individuals to purchase. And, perhaps obviously, municipalities will find the economical nature – and perhaps the ability to leverage the pool of operators to include volunteer or paid bicycle enthusiasts with a vested interest in keeping bike paths cleaned.
---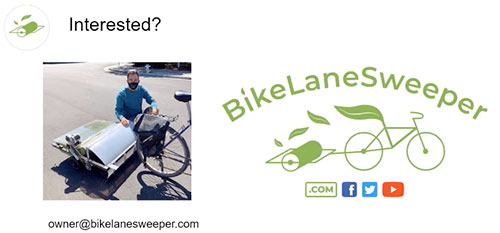 ---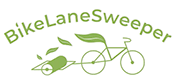 To reach Pierre Lermont, owner and inventor of the Bike Lane Sweeper, send an email to owner@bikelanesweeper.com.

Matt Starnes, of Bucher Municipal, may be reached via email sent to: matthew.starnes@buchermunicipal.com. You can see the full lineup of Starnes Sweepers & Tankers podcasts by clicking here.

If you have questions for WorldSweeper, please send them to editor@ worldsweeper.com.