| | |
| --- | --- |
| | Portland, Oregon's, Gets Leaves Off the Streets Via Resident-Financed 'Leaf Day' |
Leaves are falling across the western hemisphere, creating a headache and funding issues for many street sweeping departments. While some cities allow citizens to put all their leaves into the street for pickup, others mandate fines for anyone caught doing so. Some municipalities have even taken the tack of stopping their sweeping program before the leaves hit the ground.
City officials in Oregon's so-called 'Rose City,' Portland, have taken an entirely different approach: Residents are given the option of cleaning up their own leaves or, alternatively, putting them out onto the street in front of their houses for pickup on the city's annual 'Leaf Day.'
by Ranger Kidwell-Ross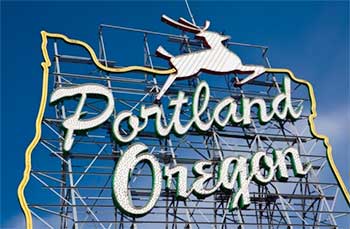 In 2010, budget cuts led Portland officials to require residents to pay for leaf pickup throughout the many tree-lined neighborhoods in the city. Throughout those neighborhoods in metro Portland, residents were given the option of paying a $15 or $30 fee to pay for having a street sweeper remove leaves from the street in front of their homes.
The assessment varies from neighborhood to neighborhood depending upon how many deciduous trees are rooted in a particular locale. Those with more trees are deemed to need two leaf sweeps per year, instead of just one.
Alternatively, residents can choose to opt out if they promise to take care of their leaves themselves. Residents pre-register for one option or the other. However, if there is a significant amount of leaves in front of the house when the sweeper comes by on that area's designated Leaf Day, the sweeper operator is instructed to pick them up and those living in the house are dinged for the pickup charge.
Keeping track of opt-outs are city employees who are armed with lists of those property owners who chose that option. If an opt-out property has leaves on the street in front, owners will get a bill for the $15 or $30 they tried to avoid.
Autumn leaves are a hazard, says bureau of transportation spokeswoman Diane Dulken. That's because, when not removed promptly, they can plug up the city's 58,000 storm drains. Leaves that are allowed to rot in place are also known to provide a health and safety hazard for pedestrians, bicyclists and motor vehicles.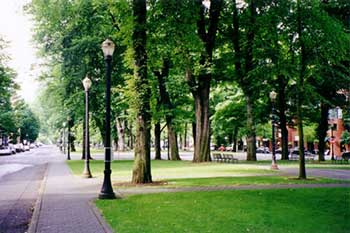 Neighborhood associations in two of Portland neighborhoods have decided they want cars moved in order to have a more complete leaf removal. In Northwest and in Sullivan's Gulch, in the Southeast part of the city near Portland's major mall, Lloyd Center, cars that remain on the street a minute past 6 a.m. on leaf pickup days an $80 ticket and a towing bill that can exceed $100.
The city didn't require towing of cars only in those two neighborhoods. Rather, this was done specifically at the request of the two neighborhood associations. However, officials at Portland's bureau of transportation were willing to comply.
Although the rest of Portland's leafy neighborhoods also have scheduled leaf pickup days, as reported above, in those neighborhoods the sweepers' mandate is to maneuver around any cars that remain parked on the street. Of course, that means that any leaves that may sit beneath the parked cars – and for approximately one car length before and after each such vehicle – are left on the street to clog storm drains and become a general hazard as they rot.
"By removing vehicles from the street for a day, we are able to get a clean sweep all along those streets, which the neighborhood associations have told us is important to them," Dulken told a reporter for the Portland Tribune. Also according to the Tribune article, in 2013 a total of 274 cars were towed from Northwest Portland on Leaf Day and 37 from Sullivan's Gulch.
In case you wonder, Dulken also estimated that the percentage of residents who choose to pay their leaf cleanup fee, versus those who choose to keep their money and promise to clean up their own leaves, is right about 50/50.
If you'd like to contact the City of Portland about this program, call 503.865.5323.