Joe Samuelian came to America from Syria in 1963 with dreams of running his own business and living the "American Dream."

Today, 40 years later, the company he began has become one of the largest and most professional in the American sweeping industry.
by Ranger Kidwell-Ross, with Ani Samuelian
When he first came to California, Joe Samuelian began working as a body shop repair man during the day. Then, in the evenings, he performed maintenance and janitorial work.
After a few years, Samuelian saw the potential in providing lunches to workers, and purchased a lunch catering truck with daytime routes to replace his body shop job. Ambitious to the extreme, he continued his maintenance and janitorial work in the evenings.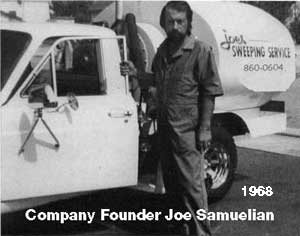 In 1968, one of his janitorial clients asked Joe a question that would change his business life forever: "Could you sweep the parking lot?" On the alert for any opportunity to succeed, Joe made the investment of his first parking lot sweeper. That was the beginning of Joe's Sweeping, Inc.
Joe's mission statement at the time was "To provide quality sweeping services utilizing the latest state-of-the-art equipment and creating the highest level of customer service available." Because he truly lived his mission statement, Samuelian was loved by his clients and his company became a success.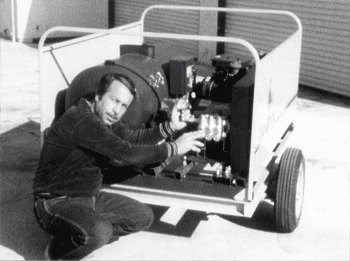 Before long, he sold his lunch truck business and became a full-time sweeper operator -- and the mechanic, body shop man and PR man. With his hard work and dedication to doing the job right for his customers, Joe was able to gain a number of additional parking lot sweeping contracts to help pay for his sweeper. Then, in the early '70s, expanded the business even more.
His daughter, Ani, virtually grew up in the family business. She recalled the training he gave her as she became involved, echoes of what made Joe's Sweeping a success from the very start. "Dad taught me that no matter what," Ani says, "I should always provide the customer with the best service and guarantee their satisfaction at any cost. He said to always be a person of your word and, if you promise a person the job will get done, then do whatever it takes to get it done."
---
"Dad taught me that no matter what," Ani says, "I should always provide the customer with the best service and guarantee their satisfaction at any cost. He said to always be a person of your word and, if you promise a person the job will get done, then do whatever it takes to get it done."
---

In 1996, to better reflect the leading edge environmental service emphasis that their operations were reflecting, the company was renamed Nationwide Environmental Services (NES), a division of Joe's Sweeping, Inc. "We knew it made sense to change our name to Nationwide Environmental Services, to better reflect our current direction," says Ani, who now is NES' vice-president and director. "At the same time, it was important to me to find a way to continue to reflect our roots and all that Dad had done. That's why, officially, we remain 'a division of Joe's Sweeping, Inc.' It's part of our legacy."

Through the years, the Norwalk, California-based company's growth has been impressive. From Joe's start with a single sweeper, today's operation boasts a fleet of more than 70 sweeping and cleaning vehicles. The firm provides sweeping and related services to over 30 municipalities.

NES' extensive fleet of sweeping and cleaning vehicles continues to maintain municipalities, residential communities (HOA), business parks, parking facilities, construction sites, private companies, various unified school districts and transportation departments. Current contracts cover street sweeping services within the greater Los Angeles area, as well as the surrounding counties of Orange, Ventura, San Bernardino and Riverside, areas with populations ranging from 10,000 to 200,000.

NES has in place a professional, dedicated management team and personnel, which is what Ani credits for "...making it all happen. We all pride ourselves on our ability to offer clean, efficient street sweeping services, always designed so as to enhance a community's appearance. We well recognize that by providing consistent and thorough sweeping services," Ani says, we are ensuring a cleaner environment in which to reside and work.

"Additionally, our leading edge sweeping methods also assist communities by diverting debris from storm drain systems. The diversion of debris is an important step in meeting NPDES (National Pollutant Discharge Elimination System) mandates. NES also assists municipalities in meeting AB 939 (recycling) mandates. Our regulatory knowledge is one of the big things we bring to our customers."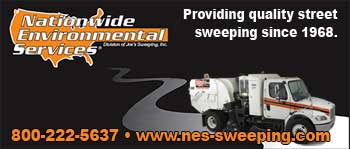 NES has one of the largest fleets of alternative fueled street sweepers and will be one of the first sweeping contractors in the nation to have an in-house CNG (compressed natural gas) fueling station.
"We are as a company," Ani says, "doing our utmost to keep the environment clean and 'Going Green.' We also realize the importance of offering a clean and dependable fleet that is equipped with GPS tracking for customer security and proper cost monitoring. NES also offers a 24/7 dispatch service, so we can always be there in times of customer need.
"We also understand the value of having our vehicles routinely cleaned and inspected, which allows us to consistently present a positive image. Our truck mechanics are highly qualified and every driver is a trained professional. Everyone at NES is dedicated to keeping our fleet on the road and on time. Our motto is 'Service First.' Our clients have learned that when an NES sweeper is in their community it is serious about keeping their community clean."
NES was one of the first sweeping companies in the nation to become a certified sweeping company through the North American Power Sweeping Association, (NAPSA). NES is also a Founding Member of WorldSweeper.com's Ethics in Sweeping Program. Company managers pride themselves on staying informed about the latest in regulations coming down the pike, no easy feat in today's highly-regulated California marketplace.
As a second generation head of company operations, Ani Samuelian provides a level of experience and expertise most sweeping companies can only envy. She also is no-nonsense in what she has taken as her mandate from her Dad. "My Dad worked very hard to get to where he is today," Ani says. "I am proud to be second generation in the business and I also love the business with a passion and would love for my children to become a part of the business.
"It means a lot to me that my Dad started all this on his own... I remember as a child him coming home for a few hours a day, dirty from head to toe, playing with his children before resting a bit and then going back to work. As busy as he was working, he always made time for his family.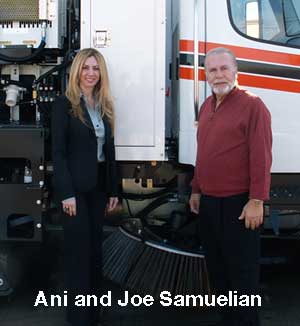 "Today, after 40 years in sweeping, Dad keeps his hand in with the business and continues to advise me that, no matter what, the customer must always receive the best possible service and we must guarantee their satisfaction at any cost. In large part, I believe our success is due to the fact that the company's mission statement is followed as strictly today as it was in the beginning.
"Just as was the case in 1968 when Dad started out with a single sweeper and single customer, if we tell a person today that the job will get done, and done right, that's exactly what will occur. No excuses, period, end of story."
You may reach Ani Samuelian via email sent to ani@nes-sweeping.com. Nationwide Environmental Services' phone number is 562-860-0604. The company's website is: www.nes-sweeping.com.