Valdosta Georgia's Clean Sweep Project Receives National Innovation Award


An advanced City of Valdosta Engineering project, titled "A Clean Sweep of Data Collection," has been recognized by the National Association of Development Organizations (NADO) for its creative and efficient approach to street sweeping, which involves installing High Definition, GPS-equipped cameras in the Stormwater Division's sweeper truck, allowing the staff to track, map and record video of the truck's route throughout the city.
by Sementha Mathews, City of Valdosta

The Southern Georgia Regional Commission (SGRC), a NADO member, helped to develop this innovation and nominated the Clean Sweep project for the 2016 NADO Innovation Award. SGRC representatives will accept the award at NADO's 2016 Annual Training Conference, on Oct. 15-18, in San Antonio, Texas.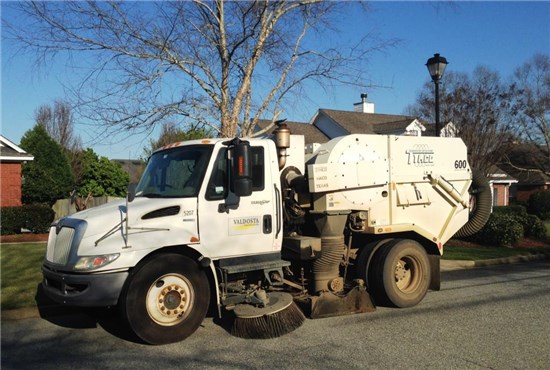 City roads are divided into 11 routes and swept six to eight times per year, amounting to an average of 2,800 miles swept annually. Although this may not be one of the most glamorous services a city provides, street sweeping is essential to keeping streets safe and preventing the runoff of pollutants into the environment.
The installation of the low-cost dash camera in the sweeper truck offered an innovative solution to the daily scheduling of equipment, as well as improved tracking and reporting that can otherwise be time-consuming. The camera captures HD video of every route swept, embedding GPS positions into every second of video which is used to create route maps, reports on miles swept, dates/time of streets swept, and the number of times a route has been swept annually.
This process provides a quick, accurate and inexpensive collection of data without the additional task requirements of division staff, saving a substantial amount of resources.
In addition, the low-cost Clean Sweep project offers the capability to view high-definition video of each second a sweeper is operating, monitors the effectiveness of sweeping efforts and allows for better-informed responses to citizen inquiries. It also helps staff devise route improvements, document the work being done and manage schedules.
Street sweeping is essential to a city's quality of life because it captures and prevents pollution from draining into above and below-ground waterways, which contributes to a healthy and sustainable natural environment for residents. To accomplish this routinely, efficiently and affordably is a challenge all local governments face, which makes the Clean Sweep project truly innovative and progressive.
The City of Valdosta applauds the SGRC and City of Valdosta Stormwater Division for working to improve the lives of citizens through creative, pioneering thought and action.
To learn more about the City of Valdosta's sweeping program, you may reach Brett via email.