Urban Sediment Removal: The Science, Policy, and Management of Street Sweeping
by Ranger Kidwell-Ross, Editor of WorldSweeper.com
posted October 2014

Unfortunately, we didn't discover this book until over a decade after its original publication. From what is available to preview, the authors have done a thorough job of recognizing the rising problem of storm water runoff pollution and have endeavored to show how power sweeping best practices could be used to address the issue.
---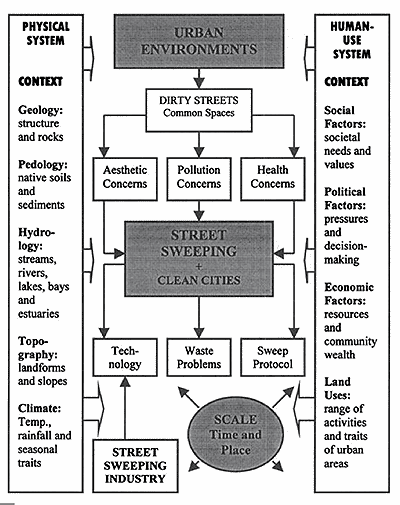 The chart shown to the right was entitled: "A framework for an examination of street sweeping practices and protocols recognizing the context of the physical environment and the human-use system."
At the website link for the book, the viewer is able to review a number of pages of the contents. Although all were not reviewed, I went through the majority and found the writing to be cogent and topical. The authors appeared to be well versed in the topic and the writing was thoughtful and thorough. The following is how the book is organized.
The book is organized into seven chapters. After a brief introductory chapter, the historical background of road maintenance and street sweeping is reviewed in Chapter Two. This is followed by an examination of the current state of street sweeper technology in Chapter Three, looking particularly at the different types of street sweepers and various innovations that have led to more specialized street sweeping.
Chapter Four discusses some of the waste management issues associated with street sweeping, summarizing in part the decisionmakers dilemma of what to do with the waste: recycle or treat as hazardous. The next chapeter investigates the relationship between different street sweeping protocols and storm water quality.
Are more frequent sweeping schedules positively correlated with reduced water pollution and, if so, what is the ideal frequency? Chapter Six reviews the issues associated with street sweeping managerment from the perspective of those involved in the management sucess in towns and cities across the United States. Finally, Chapter Seven concludes the book by providing some specific suggstions for future research opportunities on the topic of street sweeping.
For more information go to this link to see excerpts and view buying options for the publication.