Using Sweepers as 'Curbline Plant Removal Machines'
by Ranger Kidwell-Ross, Editor of WorldSweeper.com
posted September 2014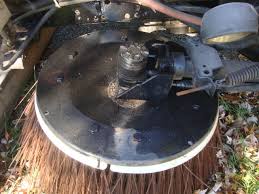 WorldSweeper's editor was recently asked to provide his professional opinion on the advisability of requiring that a street sweeper be used to remove growing plant material from a curbline. This means plants in the cracks of the curbline, not plants sprouting in dirt that has been lying in the curb for an extended period of time.

The opinion was requested to solve a dispute between a municipal authority – which sought to have the language in its contract – and the contractor tasked with the job. If you have questions or comments after reading the information, be sure to let us know and, if applicable, we'll provide them to the bottom of the article.
---
The initial article, posted in September of 2014, consisted primarily of a professional opinion I wrote stating that there was not, to my knowledge, a curb broom system designed for plant removal. The letter I wrote on this topic, which is linked in its entirety at this location, discussed the issue in detail. This opinion stated, in part...
"It is within my professional expertise to state with certainty that removal via a street sweeper is not to be recommended for a variety of reasons. Foremost among these is that a sweeper is not designed to perform this function as a first-line, best management practice.
"Whether an air sweeper or a mechanical broom machine, the only portion of a sweeper that is available to clean a curb line is its attached gutter broom. Although there are gutter brooms on the market that offer heavy wire, as well as cable-wrapped brooms, none are designed to remove growing plants from pavement cracks."
As a general rule, or practice, this information is still correct for the vast majority of sweepers in operation in the United States; with two notable exceptions. After the article was published, I received an email from Cees van der Put, Export Sales Manager for RAVO sweepers (a division of the Fayat Group). He advised me about a secondary curb broom system on RAVO sweepers that is designed specifically for plant removal without use of chemicals or pesticides.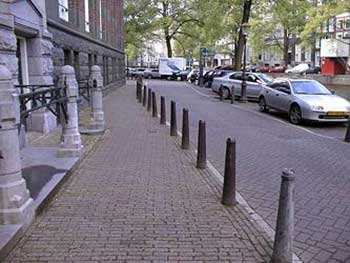 RAVO came up with the idea many years ago," said van der Put, "first for use as a tool to clean curbs and in between little poles like you can see in the photo (shown to the right). We have many of those in Amsterdam. Ravo's special brush for plant removal has replaced most other methods here in Europe (toxics, burning, etc.)."
The extra curb broom also increases the reach of the sweeper by a total of 3 meters (about 9 feet) The brush includes dual angle adjustments and is entirely operator-controlled from the cab. Because it is a rotating brush, it may be used on either the left or right side of the sweeper. The broom's configuration also allows for the cleanout of deep gutters, according to Van der Put.
We appreciate the input from Team RAVO and, I must also say, I was impressed by the seeming ability of the company's ingenious curb broom system to address the problem of weeds in the curbline or, as is shown in the video linked below this article, also as a way to trim back vegetation encroaching onto a roadway.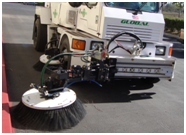 In addition, after doing web research, we discovered that since August of 2014 another 3rd broom option was available in the U.S. from Global Environmental Products on its purpose-built Global M3. The company says the following on its website: "Optional, front-articulating brush allows for extra reach to shoulders and center islands. Via in-cab joystick, the articulating front brush can be positioned on left or right side allowing for sweeping on right or left without changing seating positions."
As was said prior to publishing the initial article in September of 2014, if you have questions or comments be sure to let us know and, if appropriate, we'll add them as an addendum to this article. You may reach Cees van der Put via email sent to c.vanderput@ravo.fayat.com. Global Environmental Products may be contacted via this link.