Sweeper Operator Heroism an Example of When Safety Meetings Pay Off
by Ranger Kidwell-Ross, Editor of WorldSweeper.com
posted January 2015

The City of Kirkland, Washington, and the Kirkland Fire Department presented the Citizen Hero Award to Washington State Patrol Trooper Anna Gasser and Kris Hardie from Best Parking Lot Cleaning, Inc. for their quick actions at an incident on the I-405 freeway in Kirkland.

Both were given certificates and honored by council members during the Kirkland City Council meeting on January 6, 2015.
---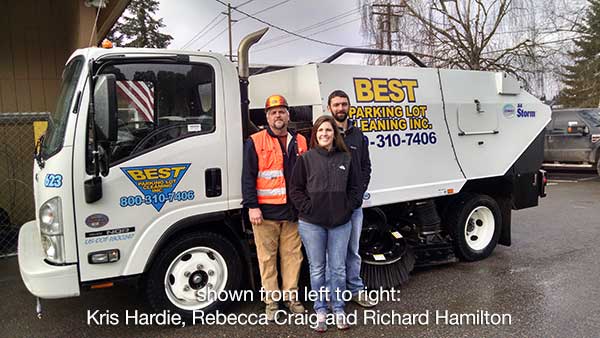 ---

According to a report in the Kirkland Reporter, "Gasser was parked on the shoulder of southbound I-405 at approximately 11:30 p.m. on October 27, 2014 when a large object slid across the road and came to rest in front of her vehicle. She then noticed a person in lane two rolling toward her vehicle, attempting to get out of the lanes of traffic. him
"The man had been involved in a motorcycle accident and it was his motorcycle that had slid in front of her vehicle. As a result of the accident, his left leg was amputated from the knee down.
"At the same time, Kris Hardie was operating a street sweeper in the northbound lanes of I-405 and witnessed the accident. He parked his vehicle and made his way across the southbound lanes on foot. He assisted Gasser in applying a tourniquet to the injured motorcyclist's leg. The duo contacted 911 for emergency response and initiated life-saving measures to control the bleeding of the wounded man. 'Gasser and Hardie's quick response and heroic actions contributed greatly to the injured man's survival until Kirkland Fire arrived on the scene,' a release from the city stated."
Sweeper operator, Kris Hardie, of Best Parking Lot Cleaning, Inc. remembers that it was dark with a light rain falling. Although staying alert for whenever his sweeping services might be needed to remove track-out from the more than a dozen dump trucks exiting onto the freeway from a construction site, Chris Hardy also had seen there was a state patrol car across the median citing speeders in the construction zone.
When he noticed the state patrol officer quickly exiting her car and then disappearing out of sight in front of it, he immediately knew something was wrong. Initially, it appeared to him from his vantage point that the officer may have been struck by a car. In any event, he could also see there was no one else around to take action. Putting on his hard hat to go with his high visibility outfit, Hardie exited his vehicle and crossed the median to see if he could help. A motorcyclist may well be alive today because of Hardie's quick action.
"What I saw," said Hardie, "was that a man who had been driving a motorcycle had gone down. He was on the ground in front of the patrol car and was missing the bottom portion of his left leg. The lanes of traffic were live. I asked the patrolwoman what I could do to help and followed her instructions as we applied a tourniquet to the man's leg. The severed leg was losing an extreme amount of blood because of its severed artery.
"Fortunately, the patrol car was outfitted with a tourniquet and there is no question that fact, plus quick action, saved the man's life. I also set out traffic safety cones and did whatever else I could do, such as explaining to the injured man what was going on."
Ultimately, the City of Kirkland Fire Department EMT crew arrived and transported the man to a local hospital, where he recovered.

When asked why he decided it was appropriate to leave the jobsite and go across the median to assist, Hardie was quick to cite the safety training he received from his employer. "We have safety meetings at least once a month," said Hardy, "and so not only was I outfitted with all of the appropriate safety gear, but new that my action would be supported by Best Sweeping's company's brother and sister owners, Richard Hamilton and Rebecca Craig. Besides, there was no one else available and it was clearly an emergency and the right action to take.
"Although what I did was to follow the instructions of the state patrol officer, it really made a difference that I was wearing high visibility clothing and knew the basics. I am just grateful for the training the Washington State patrol gives its officers, as well as for the equipment that was being carried in the patrol car. I have a wife and 2 children and it is comforting to know that, should they ever need help in an accident, the Washington State patrol is so well-trained and efficient when it comes to life-saving techniques."
---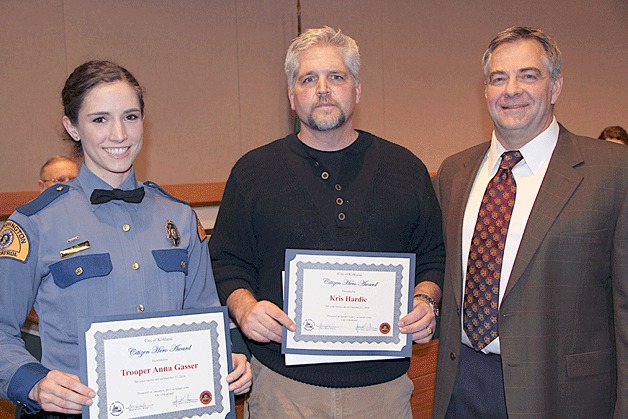 From left, Washington State Patrol Trooper Anna Gasser, street sweeper operator Kris Hardie and Kirkland Fire Chief Kevin Nalder during the record Kirkland City Council meeting.
— image credit: Contributed photo/City of Kirkland
---
If you would like to listen to the approximately 10-minute interview conducted with Kris Hardie, here is the link to that brief audio podcast (opens into a new browser window). We salute Kris Hardie for his quick, intelligent action, as well as the company he works for, Best Parking Lot Cleaning, Inc., for creating a climate of safety and training that encouraged this positive outcome to occur.