Approaching Property Managers With Success
Understand the way your clients think.
by Ranger Kidwell-Ross

A panel consisting of property managers based in Nashville spoke at the NPME about getting and keeping contracts with property management companies. Panelists included David Mangrum, from the DeBartolo Corporation; Mick Wrigley, Southeast Venture Corporation; Chuck Kelly of LaSalle Partners; and Patricia Hayse-Byrd of Metro Center Management. The panel addressed the recent changes they have seen in property management trends and services. This is a compilation of the central points of their seminar, organized by topic:
---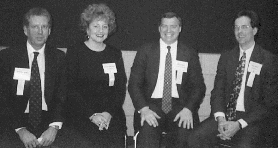 From left to right, panelists included:
R. David Mangrum,
Patricia Hayse-Byrd
Mick Wrigley
Charles A. Kelly
---
Opening the presentation, Patricia Hayse-Byrd introduced each speaker and provided background information concerning each participant's expertise in property management.
David Mangrum discussed his observations about how recent changes in the real estate climate, and in the economy in general, have affected the malls and centers that are for many sweeping contractors their primary market. "During the past several years," said Mangrum, "I think a weakened economy has made companies not as profitable. As a result, many property managers have deferred repairs and/or repaired instead of replacing their equipment.
"One fallout of this is that as income in the centers goes down, the property managers are unable to perform as many services in-house. They are more likely to have someone else do exterior sweeping and other maintenance, rather than doing it on their own. Centers will still tend to have their external work done, even if they are struggling, however, because they can't let the outside world know that they are in trouble. This aspect alone is opening up many new markets for sweeping contractors.
"Property management companies themselves are changing, too. There has been a move toward using more local companies instead of the regional and national ones. As a response to a slide in their commissions, many brokers and leasing agents have set up their own property management companies. Because it is sometimes hard to get the attention of the national organizations, this tendency can be an advantage to a local contractor. They don't have to deal with both a local person and a national home office.
"This movement has also caused a change in property manager 'types.' Many are now younger, maybe someone more recently out of college with closer ties to the home office they have just left. These new people are also likely to be more of a leasing agent/marketing type and may not be as familiar with the hands-on end of the business. The property managers with more experience are more likely to be content staying in the national companies because they have established salaries and territories.
"Until recently, managers that act as a leasing agent and/or marketing person have worked well, but today many companies don't have the luxury of having a separate marketing person and a maintenance-oriented person. This means that managers now may not be as experienced with the maintenance end. Approaching this type of person as 'the sweeping professional' may be a good marketing strategy. They will tend to welcome ideas for doing a better job, saving money, looking better to their bosses, etc."
Added Mick Wrigley, "Each property manager has their own style and way of doing business. "When bidding, it's important to remember that most property managers have guidelines requiring a certain number of bids, usually three. Some are required to take the low bid, while others emphasize quality. Still others want to build an ongoing relationship or maximize tenant convenience. It is valuable to know what is important to the particular property manager with whom you hope to create a contract."
Patricia Hayse-Byrd agreed, enjoining that "there has been a noticeable movement toward sweeping being done by a contractor, and my experience is that all property managers love to have contractors who do it all."
With this opening up of markets, the question arose as to how a contractor could most successfully go about getting these new contracts. Hayse-Byrd felt that one of the best ways to contact is via brochure. "The preference of most property managers," she said, "is one that is simple, direct and easy to store. However, the best way to keep yourself at the top of the list is to stay in touch by phone after you have made an initial contact with your brochure. Cold calls are definitely not advisable."
Mangrum had several concrete suggestions for getting in touch with property managers. "One good way to get to know property managers is to join the Building Owners and Managers Association (BOMA). Try to arrange to speak at a BOMA luncheon. Another way is to get the name of the property manager at a specific building's office, then send a letter and brochure. You should be wary of sending something out and then not following-up, though. This will be seen as unprofessional. Property managers will wonder how much you really want their business if they don't hear more from you than just a brochure."
Wrigley pointed out that if someone doesn't look professional at this initial point of contact, it is unlikely that they will be asked to bid. "Most property managers would like to rely on the contractor to offer a professional evaluation of needs. They look to you to be the expert. If your contacts aren't professional, how can you be expected to provide professional sweeping services?
"Contractors also need to recognize that once the need for sweeping is identified bids are often requested from, first, the company that the property manager is most familiar with. This is why it is so valuable for contractors to make themselves well known to property managers in their area. Next, other bids will be requested from information on file or from a list of referrals from other property managers. When you do get an opportunity to bid, if you say that you will get it in by a certain time don't be late in turning it in. If you are going to be late, then call and let them know. Details like these retain professionalism.
"Provide as much information as possible in your bid. Include when you propose to do the work. Which days of the week and the time of day you will do the work are important. I suggest that you provide information about your certificate of insurance with your bid, since virtually everyone requires one of these now. Also discuss your warranty up front, since this shows your confidence in the job you will do. Don't hesitate to voice your opinion in your bid. Offer appropriate suggestions, because that is also a way to increase your professionalism and stand out from the crowd. Pre-visit the site if you are asked to bid a particular property. That way you will be knowledgeable about any special needs. Remember that the property manager expects you to be the expert."
"I really appreciate it when a contractor does as much in advance as possible," noted Mangrum. "For example, a contractor visited one of our sites, provided an estimate, and sent it all in with referrals and a cover letter in which he said he had done it that way 'so as not to take up the property manager's valuable personal time.' This sort of consideration is appreciated." To this, Kelly emphasized that you should "ask lots of questions so there won't be surprises later on."
Wrigley also suggested that there is value in finding out "how many are bidding on the job, and who will be bidding. Not all property managers will give you this information, but if they do it can be very helpful."
Once the contract has been obtained, the panelists brought up several important considerations. Kelly recommended that once you start the job, it is important that you do exactly what you said you would. "Keep in touch. Also find out if there is another person in the organization who is actually in charge of overseeing sweeping services. Often the property manager is in charge of the bid process, but the chief engineer will then have the job of administration. If so, that's the person who you should be contacting in your follow-up. Make certain that the right person is provided with an opportunity to let you know of any type of problems."
"You can count as a fact that someone in the management organization is monitoring sweeping quality," added Hayse-Byrd. "If something changes (from your initial agreement) it is important to discuss it with the person who is overseeing it for the center. If changes are necessary, offer suggestions and solutions. Can you provide some other service, a different price, etc.? If so, let them know.
"Property managers are most concerned with customer and tenant inconvenience. Scheduling has an important impact on tenants, so most property managers will want to be able to let the tenants know what is happening. It is especially important that you do what you say you will. Be sure that if any changes need to be made the property management office has ample time to notify the tenants."
"If you offer multiple services," brought in Kelly, "make sure that the correct person in the property management organization knows about all that you offer. Also have your operator keep a lookout for needs, especially in any area in which you provide services. Set yourself up as an expert in the field, a consultant. Go so far as to offer to help design the sweeping budget for the next year. Most property managers look on this as a service which is worth something, and there is a tendency to award the bid to the contractor who has helped out the most."
Once you have established new contracts it is valuable to create an atmosphere of loyalty. Let the property manager know that s/he can count on you to be professional. Equally, you will be looking for loyalty from them. Some things you can do to encourage loyalty from your customers? Kelley said that you should try to "do everything possible to make property managers look good to both his/her bosses and to the tenants. Don't embarrass someone by sending an inappropriate gift, for example."
"If you want to send a gift," Hayse-Byrd suggested, "make a donation in their name to a local charity. An additional advantage to such a gift is that the amount of the donation is not usually put on the response card sent to them from the charity. Honest property managers will not jeopardize their integrity by accepting gifts of free trips or cash from a contractor, and an honest contractor will not make such offers."
Once you have the contract and are doing the work, you want to make sure that you will get paid, and on time. "One ramification of the changes in the industry," said Mangrum, "is that the rate normal payments are sent may be slower. When you set up a new contract, get a clear understanding of how and when your payments will be made. Doing this in advance will make it easier to be firm about any payment delays later on. [The changing marketplace makes it] even more important to get credit references from other contractors a mall uses.
"Finally," Mangrum reminded, "be sure and get referrals. If you are doing a good job, property managers will be glad to provide positive referrals to others in their industry. There is no better method of getting new customers. Also ask for a testimonial letter, and be sure to ask if there are other properties they know about or operate where you can get onto the bid list."
This information should help you to make some new contacts - and generate some new contracts - for your business. More opportunities are opening up all the time within the fast moving sweeping industry. If you want to expand your horizons, take professional advantage of these new possibilities.