BidSync Provides Bidding Opportunities
by Ranger Kidwell-Ross
This article was written as a result of information provided by Mike Dyck, principal with MASCO Sweepers.

Sweeping contractors, like any type of company, need to consistently find new sources of revenue so their businesses won't stagnate and decline. Finding new leads and new customers – especially in the current economy – can be a challenge. For those who may perform services for any level of government, from city/state/federal to colleges and universities, a service like BidSync can provide bidding opportunities not seen elsewhere.

BidSync's system is set up in two levels. On the basic level, called 'BidSync Links,' contractors can set up a free account to receive notice of all bids by municipalities and others that have set up an account through the BidSync system. Whenever one of these 1,000+ 'Agency Members' contracted with BidSync posts a request for a proposal that is in an area of interest to a subscribing contractor, the contractor will receive a notice of the proposal.
These bid opportunities are sent, at the subscribing contractor's option, via email, text or fax. The proposals available at BidSync are for virtually all of the types of goods and services you can imagine that a government entity might require. So, when you sign up for your free account, be sure to request bid notices for any area of services you provide.
Many of these bids can even be responded to electronically, removing the headache of manually creating and mailing responses to RFPs and bids. However, some agencies require a fee to access their bids. More info on this is inserted into the bid details of any particular bid.

Although you will get some bids each year from the BidSync Links program, the company's paid system, called 'BidSync Links Plus,' clearly offers many more opportunities for bidding on projects.
Here's how that works, according to the BidSync website: "Our researchers monitor tens of thousands of websites for new public purchasing opportunities every day. As new bid opportunities that match your products and services are posted on the web, BidSync sends you a daily report via email, text or fax with URL links directly to the bid information or advertisement."
As you can see in the map below, which is a snapshot of the current listings for the state of New Jersey at the time this article was written, in the regular Links program there were 14 current RFPs, all of which appeared to be from one member agency. By contrast, those in the Links Plus program in New Jersey had a total of 432 bids available from 398 non-member agencies.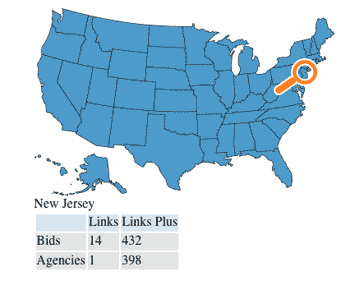 However, all those possible bids come with a somewhat hefty price tag. The company's Links Plus plans may be purchased in one of two ways: Pricing for getting bids from particular groupings of states, which are called 'regional plans,' are $449/six months or $580/yearly.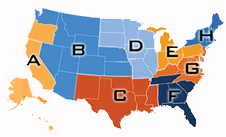 To receive the nationwide Links Plus listings runs $859/six months or $1149/year. Probably no one reading this will choose the national plan.
From the information on the BidSync website, there is certainly nothing to lose by getting a free account. You will have to assess your own situation to decide if a Links Plus, paid account might be a worthwhile investment.
For more information, check out the BidSync website, located at www.bidsync.com. If you have feedback on your use of the system, let us know and, if appropriate, we will add it to this article.