Explore Hiring Online for Lower Costs, Better Results
Sweeping contractors and municipalities need to realize that many younger workers frequent the Internet. Advertising for employees online offers a number of benefits in addition to lower costs.
by Ranger Kidwell-Ross (some ideas from Ron Roberts, The Contractors Coach)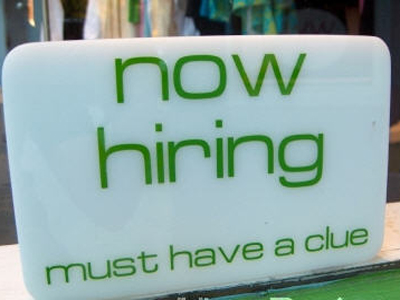 According to a new survey by freelance marketplace, Elance, the majority of U.S. small businesses (64%) prefer hiring online over the traditional model of hiring onsite. In addition, a whopping 87% of the businesses who now hire online view it as an important business strategy to improve both profitability and competitiveness.
Although these percentages are undoubtedly skewed toward more high-tech companies, there's still a message for those in public works and for sweeping contractors: In these recessionary times, especially, cutting hiring costs and improving the quality of new-hires are both more important than ever.
Even though we currently have a high unemployment rate, that doesn't mean hiring the right people isn't still a problem. And, when money is tight, it's more important than ever not to make an incorrect hiring decision. If you struggle generating interest in your job openings, you probably are using the most common methods of publicizing your opening: newspaper help wanted classifieds and the online job search services such as monster.com.
There are two problems with those approaches. The first is that your ad competes against your competitors' ads. The second is that many construction workers do not read the local newspaper. Here are some out-of-the-box suggestions for you to try.
Right at the moment, one of the best places to find workers is on a website named Craig's List (www.craigslist.com). Craig's List is meant to be an online classified section and it is used primarily to sell used stuff, like furniture and household goods. However, it also has a Jobs section. The Jobs section has a category for skilled labor, which for the most part is a listing of open construction-related positions. The job listings are FREE and most contractors and others report that the responses tend to be HUGE. It's not unusual to have response results that deserve to be called 'spectacular.'
In many cases, you will find the responses far exceed the numbers and quality received from traditional, high cost help-wanted ads. There is no question that younger workers have flocked to Craig's List to find jobs. Since results are listed by date, to maximize the effectiveness of your Craig's List ad, you need to update it often. That keeps the ad at the top of the list and easy to spot.
Since the system identifies each ad you place and will not allow you to replicate it, to keep your ad toward the top you need to re-post a slightly modified version every few days. To make this easier, keep a text file on your computer of each ad version you place. Then, the series will be available to you the next time you advertise for the same type of position.
If you are using Hispanic workers, which make up a core workforce in many border locations, especially, go visit their community churches and let it be known that you have openings. Often, churches know of young adults who are looking for a chance to prove themselves, and who want a chance to better their lives through hard work.
Another proven approach is to place a help-wanted ad in the local Hispanic newspaper. You will probably enjoy far better results than by placing a help wanted ad in your local big city paper.
Another place to network into is local high schools and vocational schools. They are jam-packed with young men who have no interest in going to college and no longer find the military to be an attractive option. Get to know the vo-tech teachers. They will point graduates in your direction once they know you are an upstanding businessman.
Utilizing your social media contacts is another way to find quality workers. For those of you who have accounts with Facebook, LinkedIn and other similar services, try posting what you're looking for within those networks. You may well get responses from people you know about workers in the market for a job like you offer. The good news is that these type of referrals have the advantage that the prospect doesn't want to let the referree down.
A number of other options also exist. Many have found value in offering a premium, often $50-to-$100, to any current workers who recommend someone that you end up hiring. Advantages to this method include having your current worker tell his friend or relative all about the job function, so there are fewer 'surprises' later on. You may also end up with a built-in trainer for the new-hire. On the downside, if the new employee you hire from a current employee's referral doesn't work out, it may impact the work product of your older employee.
Another way to get quality workers, somewhat pre-trained, is to scout out your competition. If you can, watch them work and/or see the quality of the job they do. However, do that cautiously. You don't want to start a labor war. However, on the other hand, unless you are going to hire inexperienced workers you are stealing your workers from someone else anyway. You're in competition for both good clients and good workers.
In these changing times and difficult economy, any advantages you can gain are more important than ever. If the way you have traditionally hired workers isn't absolutely great, think about how you can change it. Even if you do think your current practices cannot be improved upon, give it some thought, anyway. It may be you're just stuck in an old-school way of doing things and don't even know it.
---
If you have any questions about any of the above ideas, feel free to contact the WorldSweeper.com Team for a further explanation.