The Value of Providing More Services Than Sweeping
by Warren Burge, principal, Clean Sweep, Inc.
with Ranger Kidwell-Ross
From NPE 2007 Presentation; February, 2007.
By handling whatever the customer needs in the way of exterior maintenance -- especially anything involving the pavement -- you are adding a level of job security to your sweeping contract. The more indispensable your company is in other areas of work besides sweeping, the less likely the client will jump ship to another sweeper for a few dollars a sweep.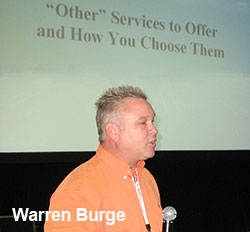 The fact is, most property managers want to make one phone call to get most everything they can think of done, done quickly and done right. Most successful sweeping contractors would agree that we are in the perfect industry to provide these many services, whether we do them ourselves or sub them out to other contractors in our market area. Why? Because we have an ongoing relationship with our customers, one that's much more frequent than any other outdoor contractor they might use.
When you first start out handling extra services, you'll be making decisions about what types of jobs to do in-house and which to sub out. Some of these are easy: When the service isn't requested often, requires a large investment, and/or needs highly trained people in order to perform, chances are you'll initially want to sub them out to some other company in your area.
A good example of this is paving, which meets all three of the above criteria. On the other hand, you can develop a relationship with a paver that can net you money on the job they do for your client. Just get a per ton price for an overlay and quote it out at an added 15% to 20%. Since the paver will often lower his price by that amount to you, since he doesn't have any marketing costs on the jobs you're bringing to him, many times the client pays at or about the same and doesn't have the hassle of calling around, as well as gets your oversight involvement.
As a caution, whenever you do an arrangement like this, be sure there is adequate insurance involved and get listed as an additional insured on the company's insurance certificate.
On the other end of the scale is removal of large, dropped-off items that can't be swept up. All it takes is someone with a pickup truck and a hand-truck and you should be able to make $30 to $50 profit for every item removed.
Pavement striping is an area that falls somewhere in the middle. Some, but not a lot, of training is needed and there is equipment to purchase but it's not too expensive. Striping is usually bid by the foot. Whether you do it or not is often dependent upon whether you have adequate personnel or not.
You'll find the profit margin on much of this type of work is significantly higher than on sweeping, often running as high as 40% to 50%. At those kind of rates, it becomes increasingly difficult not to bring it in-house. In either event, you'll also be supplying any sweepers needed for the jobs, right?!
Because you're dealing with the property managers on more or less a daily basis, anyway, then there are certainly advantages to becoming their 'do all' phone call. If you can get their striping, sealcoating, overlays, pressure washing and graffiti removal, why wouldn't you? They become a stronger client for you and, at the same time, a much larger profit center for your company.
Another plus is that, as long as you're fair in your dealing with them, they won't be requiring the bidding process that always takes place otherwise. (And that takes place when they choose a sweeping contractor.) Because of that, you'll be making a slightly larger than normal profit on these add-on items.
What most contractors find when they start running a 'whatever you need' type of sweeping company is that they find a way to start handling more and more of their clients' needs. It almost becomes a challenge to get whatever's needed handled for their customers, from light bulb changeout to parking bumper and bollard replacement to cleaning out and re-painting retail spaces when tenants change. We do landscape maintenance and vacancy cleanouts, for example.
If you pick up landscaping magazines, you'll find that the sweeping manufacturers are actively advertising in them to entice landscapers into the sweeping business. Because these guys are used to getting into business with less than $5,000 total investment in their equipment, oftentimes, one of the effects of them entering our industry is they underprice. They are, typically, uneducated and unprepared for the relatively higher cost of wear items and equipment in sweeping. So, by us 'dropping down,' so to speak, into landscaping, we can also help to maintain our profit margins for sweeping.
That's one of the advantages to going to the tradeshows and attending seminars that teach how to professionally do many of these types of services. As a result of going to seminars on municipal sweeping, for example, we're now doing more of that type of sweeping. And, I'm offering these same types of services -- successfully -- to those clients, too. For example, we're now doing silicones, to urethanes to hot-pour pavement sealing. They are now asking us to get into even more of these types of services, like saw-cutting, thermoplastics and more. Most of these require only some initial investigation and learning, which often can be obtained by the suppliers for that industry.
Again, you'll find the profit margins to be much better than in sweeping. However, you wouldn't be getting the work if you weren't doing the sweeping. It's a foot in the door, especially if you're good at it. So many contractors simply don't educate themselves, at the tradeshows and elsewhere, so they can do these add-on services.
Being a do-it-all sweeping contractor is also a protection against national vendors. We have been successful in keeping national vendors out of our market, since we are providing the same services that are the key strength of the national vendors. If you can offer these other services, there's less incentive for property managers to be interested in using a national vendor.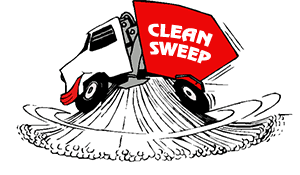 How do you get a good, qualified contractor to do work you aren't interested in performing yourself? You'll find that, over time, you'll be developing a relationship with these other companies where you 'feed' each other. My recommendation is to choose large, established companies where you know they've established a reputation for doing good work That's much more important than that they're the low price leader in your market. Those are the guys you typically don't want.
For example, here's a snapshot of the relationship we have with our paving contractor. They're a large company that does much bigger projects than the ones we typically take them. They do highway paving and other large paving projects. They have proven their high quality work over time. We also end up with a good deal of sweeping for them, construction cleanup and whatever else they need done. That's a plus, too. In addition, we do sealcoating for projects they bring us, as well.
I get references, and I also go look at some of the work that's been done back awhile. I pretty much know who the quality contractors are in my area, many times from doing work for them. If you don't have that luxury, then you'll need to do your homework. I assure you, the extra money you'll make, along with the added security you'll be providing for your sweeping operation, makes such an effort well worth it.
Now, just to give time to what might be called 'the other camp' when it comes to this topic. Some sweeping contractors will tell you they'd rather not chance tarnishing their reputation by use of a sub-contractor who doesn't do a quality job for their client. As a courtesy to their clients, they might just maintain a list where they can provide a suggested name of a company to provide whatever work is requested (that they don't do in-house) by the customer. However, they make it clear they're just doing that as a courtesy and that there's no connection with them. In my view, those people are missing out on a significant amount of money they could be making, though.
The reason I have added so many services is from hearing what contractors have told me for a number of years at the tradeshows. I know, from listening to people who have been in sweeping a lot longer than I have, that the price for sweeping hasn't gone up much in the last 20 years, even though equipment and other costs have gone up significantly. That's what initially prompted me to get into a number of other services I could offer alongside my sweeping. That's been a good decision for me.
I encourage every contractor to investigate both sides of the coin. Then, they'll have information to make the tough choices that need to be made in this regard.
Ranger Kidwell-Ross is editor of WorldSweeper.com. If you have new information to provide on this topic, let him know and we can add it in as an addendum to this article.