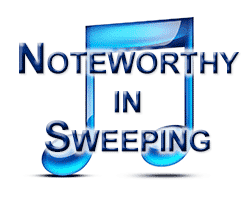 Sweeping Against the Odds: The Women Street Sweepers of Lagos
by The Guardian with Ranger Kidwell-Ross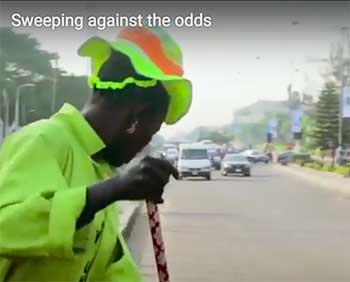 This article is being provided to showcase the plight of many in the international sweeping industry in celebration of International Women's Day. WorldSweeper is proud to celebrate these Nigerian women in their occupation of sweeping despite the many difficulties the job presents in Nigeria.
Every morning, Sherifat wakes up early. Her work as a highway cleaner in Lagos State demands that she hits the road at dawn. As tedious and dangerous as her daily task on the job is, she says she is happy to keep the streets of Nigeria's most populous state clean. "Eko o ni baje," she says, repeating a statement that has become more popular than Lagos State's official slogan. "We are very happy. We are LAWMA sweepers. I have been doing this job for the past 11 years."
Sherifat and her colleagues are part of a happy gang who do a job that has proven, repeatedly, to be a sad one. Underappreciated by both employers and the society they serve, these women carry on, dragging their heavy loads of despair with them.
The task of keeping Lagos clean is handled by Lagos State Waste Management Authority (LAWMA) and a few companies. Unfortunately, the people who sweep the city accuse them all of shady practices and ongoing delays in salary payment.
"I was initially with LAWMA but I left because of inconsistency in salary payment," another sweeper, Adebunmi, says. However, with the recent enactment of a Lagos waste disposal law that has now come into effect, LAWMA, according to the spokesperson, has fully become a regulator in the state.
For Adebunmi, however, leaving 'LAWMA' for another company came with its own headache, one that is constant and heart-breaking. "(Nigerian Naira) ₦200 ($.56 US) is removed from my monthly salary with this organization that I joined," continued Adebunmi. "If we get to work late, ₦1,000 ($2.78 US) would also be deducted from our salaries. They do not allow us to rest. The job is very strenuous.
"What should be done by two people is what one person is apportioned. If the organization needs to employ 20 workers, it would only employ 10 or 7. Before the job got really unbearable, we asked that more people be employed to ease the stress but the organization refused."
The sweepers also complained of a myriad of other problems, including lack of insurance cover, being overworked, having to replace stolen work tools from out of their own pockets, involuntary deductions from their meager salaries – even unwillingly having to contribute to buying gifts for their bosses at Christmas.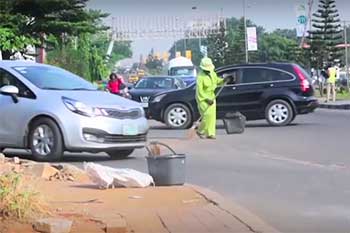 Oftentimes, the companies they work for won't even replace safety items like 'caution signboards.' When that occurs, the women are forced to improvise with buckets or other materials.
Better days may be ahead for these women, if a source at the Lagos Ministry of the Environment, who craved anonymity, is to be believed. He told The Guardian earlier in the week that with the launch of the 'Cleaner Lagos Initiative' in 2017, the state is looking to address the drawbacks of the 'Street Sweeping Programme.'
"The state authorities would expand the scope of the current Street Sweeping Programme from 4,500 sweepers to 27,500 Community Sanitation Workers (CSWs) to cover all of the 377 political wards in the State," the source says.
According to this source, each CSW will receive a uniform, shoes, caps, gloves and other Personal Protective Equipment (PPE) before resuming work and receiving cleaning equipment. A total of 377 Ward Resident Contractors (WRCs will be managers) would be employed while it has been promised that a competent Human Resource Management Company will be engaged to train and deploy them. Those WRCs will then manage and supervise the sweepers activities."
Although Lagos says the new scheme will deepen the economic complexity to create numerous new business opportunities for its people, it is hoped the women who form the fulcrum of the initiative will be empowered to live better lives to achieve a win-win situation. As McKinsey Global Institute says in its 2015 report, advancing women's equality and empowerment can add about $12 trillion to the global economy. Published on International Women's Day, WorldSweeper celebrates the grit of these Nigerian women sweeping against global odds.
The names of the sweepers mentioned in the story have been changed to protect their identities. This story is told with support from Code For Africa. We invite you to take a look at the embedded video below to see the type of situations these brave sweeping industry workers face on a daily basis. Among them are elderly and young women, exposed to road hazards and rewarded with meager wages.
WorldSweeper is proud to be involved in showcasing the current plight of women (and men) who are involved in the sweeping industry in various parts of the world.
This article was compiled by The Guardian, one of Nigeria's leading newspapers.