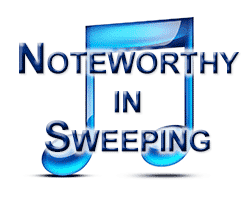 Suu Ngo, San Francisco Street Sweeper
by Eriun Brethauer of the San Francisco Chronicle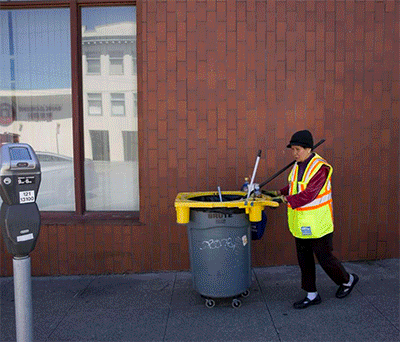 It's an early morning in Chinatown and Suu Ngo, 67, is cooking potstickers on her kitchen stove. They sizzle in the oil as her pet dog, a small black mutt named Ellie, watches her from the floor. Outside her six-story window, a slow trickle of ant-sized pedestrians pass on the sidewalks below.

It's the quiet part of Suu's day and it's how she starts many mornings, cooking Vietnamese food to share with her three adult grandchildren before beginning her work day as a street cleaner for the San Francisco Department of Public Works.
After finishing her breakfast she puts on her fluorescent orange vest, she waves goodbye to Ellie and heads out the door to catch the bus and then the N Judah train out to Irving Street. There she retrieves her rolling garbage can, broom and dustpan from a pizza place and begins her shift promptly at 11 a.m., picking up the garbage and cigarette butts from the sidewalk, storm drains and roadways.
Suu was a single mom of two when she moved to the United States from Vietnam in 1985. With just three months of language classes, she jumped into supporting her family by taking two jobs at restaurants, often working all night.
"Being single mom really difficult, but I strong," says Suu with a thick accent. "Buddha and God keep me strong, then I can do it." After raising her son and daughter and moving to the Bay Area, tragedy struck. Her 33-year-old daughter died, leaving behind three children. Suu moved her grandchildren from Dallas to San Francisco. "I love my grandkids so much. I never leave my grandkids, never."
She kept her restaurant jobs for over 25 years so she could support her family. In addition to raising her grandkids, she also sends money back to Vietnam for her 97-year-old mother. Her three grandkids still live with her. "My grandkids very good kids. They go to work, go to school, come home right away. No trouble. I love them so much."
Five years ago she quit restaurants after having a boss that she thought didn't respect her. Instead of looking for another waitressing job, she marched into San Francisco's City Hall and asked for a job. "I say I need to take care of my grandkids because my grandkids have no parents. I need to work. I need to take care of my family. I say please give me a job, any job. I can clean restroom, anything. They say, you sure you wanna work cleaning the street? Maybe one week, two week, they hire me right away."
Since then she's had a nickname around her route. "Lots of people over there call me grandma," says Suu. Her street-cleaning job is hard work, especially since Suu likes to do extra duties like weeding around the sidewalks.
"My grandchildren say, 'Grandma you need to stop work, we'll take care of you' and I say, no. I still strong, I want to work. I don't want to stay home, boring. Nothing to do. Watch TV all the time? You'd be crazy. I don't want to do that. I want to go outside, exercise and see people talking, talking, happy. I don't want to stay home, no. I happy."
"It's my second country but I love United States. I love America a lot. Take care of my life. Take care of lot of people from Vietnam. Americans have good heart. When I die, I die in United States."
To view a 3:19 minute video of Suu Ngo, here is a link to the original article in the San Francisco Chronicle.
If you have questions or comments about this article, be sure to let us know.