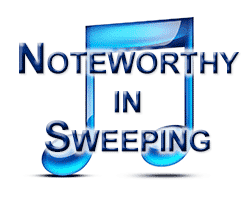 Richard Scott: Celebrating a Career Repairing Sweepers
Northampton DPW's 'go-to' mechanic retires after 40 years of keeping the city's fleet running
by Ranger Kidwell-Ross with information from an article in the Daily Hampshire Gazette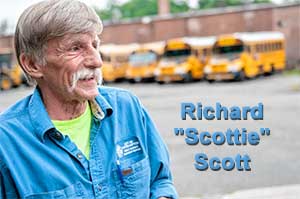 Richard Scott spent nearly 40 years repairing sweepers and other equipment at the Highway Division of the Northampton Department of Public Works.
Richard "Scottie" Scott says he learned about fixing cars from his father and from his vocational training in high school. After graduating, he picked up a few different jobs at dealerships before landing the DPW job in 1976. Now, at the other end of his career, the following article looks back on his 40 years on the job at the Northampton, Massachusetts, Department of Public Works. Note that at the end of this article we have a link to a 20-minute audio podcast we conducted with Scottie, in which he provided his tips for maintenance and repair of the (Elgin) mechanical broom sweepers that were his responsibility.
"Mechanics are really the backbone of this operation, because without them we wouldn't have any equipment," Northampton's Highway Superintendent, Richard Parasiliti, said of the 160-plus pieces of equipment requiring regular maintenance and repairs. Scottie was known as the department's "street sweeper guru." Although Parasiliti was his boss, Scottie noted that the super was only 12 years old when he started as a mechanic with Northampton in 1976.
Scott says he started at the department in an era of much simpler machinery but evolved his ability and talents along with the department's increasingly sophisticated slate of equipment. He was also known for never saying "No" when there was an emergency repair needing to be done in the middle of the night. Scott has "done more overnighters than I can count," said Parasiliti.
Although he's done just about everything there is to do in the department, his colleagues say he's made an enduring mark via his ability to understand and repair sweepers, from keeping the brooms adjusted to anything else needed to keep the complicated machines operating.
Fixing sweepers is "a mechanical nightmare," Senior Equipment Foreman Mike Antosz said of the sweepers, mentioning the time he tried to fix one while Scott was out getting surgery. "We took it apart and when Scottie returned he put it back together. Let's say that."
His sweeper knowledge is such a specialty, his colleagues half-kid about the possibility they'll need to take him on as a consultant the next time one breaks down. "Everyone runs away from them," Scott said. "I run toward 'em." Although Scott started when equipment was virtually 100% mechanical, he says he's stayed up with sweeper (and other vehicles) repair needs as many components have shifted to digital. "A good technician needs to learn how to fix everything – new and old," said Scott.
Scott says he's always had a knack for fixing things. One of his secrets is to hone in on the problem at hand to figure out the very best way to tackle whatever the issue might be. "There's a hundred ways to fix the problem, you just gotta find one and act accordingly," he said.
An example he cited was his technique for making disc brake pads quit squealing and squeaking. Years ago, he says, that was a terrible problem. However, Scott discovered that if he beveled them at both ends the noise stopped. Today, brake pads come beveled, showing how far Scott was ahead of his time.
In addition to passing down his street sweeper skills to a co-worker, "Little Jon" Sullivan, Scott passed along two of his most sought-after tools to Parasiliti and Antosz: his hammer and his specially bent chrome bar, which "they don't make anymore."
While the department faces life after Scott, "My problems end at 3 o'clock," Scott said during as he started his last shift on the job. "My new problem is that I will need new clothes," he said. Scott also took time during his last shift to give one last vacation slip to Parasiliti. It read: "from now until forever."
Scott said he's unsure of how he'll use all of his free time, but there's no shortage of things that need fixing around his Florence home, and he has five grandchildren with whom to pass the time. He knows one thing for certain: "I'm not going to sit still."
---
We conducted an approximately 20-minute interview with Mr. Scott, in which we asked him for advice on how to keep broom sweepers in the best possible condition. Here is the link. Note the audio will open into a new browser window.

Also, in the podcast Scott recommends using an automatic lubrication system on sweepers. Although there are others in the marketplace, the specific one Northampton used is made by a company called Lubrication Engineers, Inc.
---
WorldSweeper is proud to add American sweeping industry veteran, Richard Scott, to our Noteworthy in Sweeping database. If you have questions or comments, feel free to let us know.