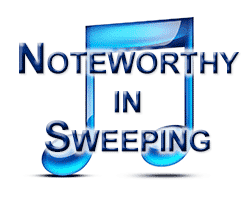 U.K.'s Pearly Kings and Queens Charity Has Street Sweeper Origin
by Ranger Kidwell-Ross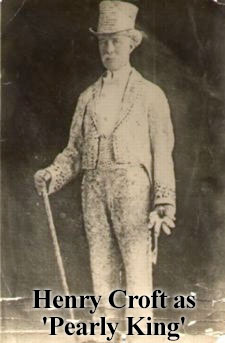 Henry Croft was born in May of 1861 and grew up in an orphanage after his musician father died when he was 10 years old. To support himself, he took a job as a municipal road sweeper in the City of London at the age of 16.
In the late 1870s Henry began to decorate his clothes with mother-of-pearl buttons and, ultimately, this led to him founding the working class tradition of 'Pearly Kings and Queens.'
By 1880, as the first 'Pearly King,' Croft had put together a "smother" suit completely covered with thousands of white buttons. He later created more sparsely decorated "skeleton" suits. He is thought to have made at least seven suits to wear himself, two of which he left in his will.
He also made pearly clothes – suits, hats, belts, and ties – for others. Although details about the early years of the Pearly Kings and Queens are sparse, the suit would have drawn attention to Croft when he participated in charitable pageants and carnivals to raise money for local hospitals, an important source of funding before the National Health Service.
Croft wore his pearly suit to raise funds for the London Temperance Hospital in the 1880, but the first surviving reference to him in a printed source is a photograph and accompanying letter in The Strand Magazine in February 1902, which describes "Mr F. Croft" as the "Pearlie King of Somers Town."
Inspired by the Costermongers, a close-knit group of market traders who looked after one another and were recognisable by buttons sewn onto their garments, Henry went out on the streets to collect money for charity, wearing a suit covered in pearl buttons to attract attention. When demand for his help became too much, Henry asked the Costermongers for assistance, many of whom became the first Pearly families.
Ultimately, Croft's recognition led in him being presented to Edward VII and Queen Alexandra in 1907. By 1911, all 28 of the metropolitan boroughs of London had its own pearly king, pearly queen and pearly family, often members of the local costermonger community. The Original Pearly Kings' and Queens' Association was also established that year. South of the River Thames, the pearly families were associated into a Pearly Kings' and Queens' Guild. In July 1926, Croft claimed publicly that he was the "original Pearly-King in London".
Croft raised money for a variety of hospitals and other charities, including St Dunstan's, the Hospital Saturday Fund, and the Sons of Phoenix temperance society. He received a medal from the Lord Mayor of London for raising £72 following the 1928 Thames flood. He is thought to have received around 2,000 medals and ribbons to recognise his fund-raising efforts, which were estimated to have totalled around £4,000 to £5,000, a considerable sum in that era.
---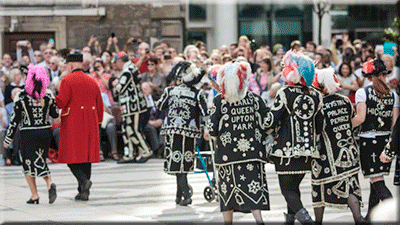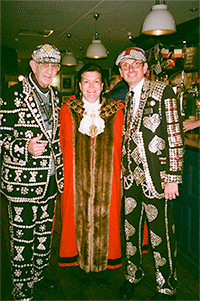 Today, the intriguing Pearly Kings and Queens charity that Croft founded has an annual harvest festival fundraising event, featuring marching bands, Morris dancers, maypole dancing, donkeys and carts, and Newfoundland dogs. The organization also organizes 'collection dates' for donations a number of other times throughout each year.

Running through the family, the tradition continues to this day: Croft's great-granddaughter is the Pearly Queen of Somers Town, and many Pearly Kings and Queens are carrying on Henry Croft's charitable aims to this day.

---
Croft died from lung cancer in St Pancras workhouse, where he had been born more than 68 years earlier. He was buried at St Pancras Cemetery in East Finchley. His funeral cortège stretched for approximately half a mile, with a procession that included a horse-drawn hearse, musicians, 400 pearly kings and queens, and representatives from the charities that he had supported.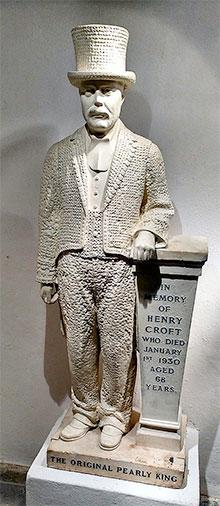 A life-sized marble statue of Croft, standing 5 feet (1.5 m) high, wearing a "smother" pearly tail-coat with top hat and cane, was commissioned in 1931 and erected at his burial site in 1934. After being vandalised several times, the statue was restored and removed to the crypt of St Martin-in-the-Fields in 2002, where the Original Pearly Kings and Queens Society has held its harvest festival since 1956. Perpetuating the family tradition, Croft's great-granddaughter later became Pearly Queen of Somers Town.
Much of this information was taken from Croft's Wikipedia listing. Although "just a street sweeper," Henry Croft was an inspirational individual who is a reminder to us all about what can be done by a single individual interested in helping the plight of others.