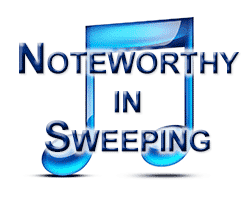 Girl Scout, Kasey Tarnow, Promotes Sweeping in San Clemente, California
by Fred Swegles with Ranger Kidwell-Ross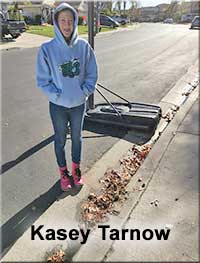 Kasey Tarnow has a simple solution for anyone who wants to make a difference for the coastal environment in her hometown, San Clemente, California. Her Girl Scout Gold project is to convince people to move cars or other obstructions so the city's street sweeper can do its job.

That's why last fall she launched "My Street, My Ocean," a public awareness campaign targeting streets that don't have street-sweeping signs. San Clemente doesn't ticket parked vehicles blocking the sweeper on those streets. At present, warning signs and ticketing only apply to high-density neighborhoods.
Tarnow, 19, is a Girl Scout in Troop 1510, working on her Gold Award. Her project has become a passion. Here's what she has to say about it:
Q. What inspired "My Street, My Ocean?"
A. When I would go to the beach I would see trash and it bothered me. Then I started noticing trash in the gutters and that bothered me. Then we had a really big storm and I saw trash and tree branches and bushes all running downhill into the storm drain. The storm drains were getting clogged up because the trash kept the water from going down the drain. It was blocking the water flow. I started thinking why is there so much trash and leaves and branches? I thought about it and talked to my Girl Scout troop.
Q. What did you find out?
A. I realized that the sweeper would go around cars and could not get all the trash. And I thought there are no signs telling when the sweeper comes. I did not see any in front of my house or my friends houses. I went to the city with the idea that we need to send reminders. I asked them if they would consider helping me get a website set up and a system to get people to know when the sweeper came to their street. They told me they already had one, but hardly anyone knew about it. I said to myself, I can fix this.
Q. What is your message?
A. You sign up on the website, and you get an email and a text reminder the day before the sweeper comes. That way you can move your car, or tell your friends not to park on the street.
Q. How successful is it?
A. Most people who hear about it think it is a good idea. I hung posters up downtown in October, but I need to do it again because most of the signs have been taken down. I organized several troops and many girls to walk door to door with my poster. The girls collected emails and cell phones. I put all the information in the computer to sign the people up. I went to the high school and talked to the Blue Oceans club. I met with The Watershed Task Force. Now everyone has more ideas on how to spread the word. Most everyone wants to help keep the ocean clean and beautiful.
Q. Why is it a big deal for people to move their car?
A. The sweeper cannot get the trash when the cars are in the way. It cannot clean underneath the car. It just goes around it. Then that trash will go into the storm drain and out to the beach water.
Q. Do you have any numbers from the city?
A. I was told that the sweeper picked up over 4,000 tons of trash in 2-3 years in San Clemente. That tells you the sweeper can make a big difference.
Q. What are some reactions to your campaign?
A. I have gotten messages by email of people wanting to donate money to help. I have had people post on social media about my project, and others tell me they posted links with information on their websites. I think most everyone agrees we need to do it to help our ocean, but so many people still do not know about it.
Many thanks to author Fred Swegles and the Orange County Register for allowing us to reprint this article that originally appeared in that publication.

If you are a municipal reader in a city that doesn't already require vehicles to be moved prior to sweeping, you may want to contact your local Girl/Boy Scouts to see if someone in your area may be interested in doing something similar to the above. If you have questions or comments about this article, be sure to let us know.