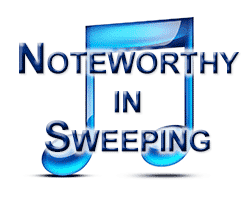 Jerry Smith, Lafayette's Street Sweeper Extraordinaire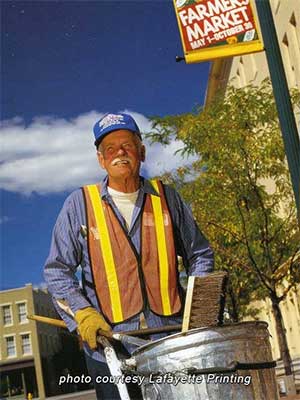 Jerry Smith was someone who loved his job, which was sweeping the streets of Lafayette, Indiana, where he worked for the street department for 35 years. For about a decade he worked replacing sidewalks and other paving-type jobs for the city.

However, in 1984 when the opening came up to maintain the town's core area, he jumped at the opportunity. In that role Jerry did such a good job that he became a universally known and respected icon and ambassador of goodwill for the city.
In addition to the story you will read below, we offer a linked 10-minute audio interview with Smith's daughter, Angela, which was conducted on December 7, 2015. That would have been her late father's 87th birthday. In addition to learning more about this uniquely dedicated individual, if you listen to the audio you will learn about Angela's effort to get an enduring memorial to her father in the City of Lafayette. And, to be clear, we're not talking about someone who got into a sweeper truck every day. Rather, Jerry swept the core area of Lafayette with a broom and a dustpan – what he called "pushing the bucket" – almost every day.
On a daily basis, let alone computed over the course of over 25 years performing that job, Jerry picked up an incredible amount of debris.About 10 years before Jerry ended his sweeping work, it was calculated he had picked up more than 15,000 container loads of material off the sidewalks and curblines of Lafayette. Through the years, in addition to keeping the downtown core of Lafayette spic-and-span, Smith became an icon of the city and an ambassador of goodwill who also was known for assisting visitors with information about the area he served.
"Dad absolutely loved the job he did of keeping Lafayette free of cigarette butts and cups and whatever else, keeping the city clean for residents and visitors alike. When my father passed away in October of 2010 of congestive heart failure, at age 81," said his daughter, Angela, "there was an incredible outpouring of love from the community. My father absolutely loved every part of his job, from the cleanup he did to being downtown meeting all the people and helping people get their questions answered whenever they had them. He moved downtown in 1966, which put him about 10 blocks from his jobsite. After that, he walked to work every single day. That's how much he loved what he did."
Smith worked outside in almost all types of weather, not wanting the debris to remain on the ground. However, when it snowed he worked inside organizing the city's tool crib until the first day he could get back onto the street and make an impact. "Whenever he had to be indoors due to snow he was always itching to be back outside," related Angela. "I went to visit him on occasion, taking him a drink of water or some other treat. One time while I was there a police officer came up and said that since he knew dad was the eyes and ears of downtown, he wondered if he knew anything about a specific crime that had gone on. Everybody knew my dad and that he knew what was going on in downtown Lafayette. And, yes, he saw some things he didn't want to be seeing some of the time but was able to help the police from time-to-time in their investigations."
In 2009, Jerry Smith officially retired at age 80. However, citing that "I don't want to just sit in a recliner watching TV so I can die like all my friends, he talked to the mayor and arranged to go back on the job as a volunteer for the city. A plan was worked out to provide him with a uniform and equipment and Smith then worked the last year of his life for free. Although he was able to come and go as he pleased, most days found him on the job he loved so well.
By this time, Smith had become 'the icon of Lafayette," so much so that when he passed away there was initially a plan to name a park after him. However, that eventually fell through. So, as the five-year anniversary of her father's death approached in October of 2015, Angela approached the mayor's office with the idea of a different type of memorial. "I told them that if we didn't develop a suitable memorial for him sometime soon, then the city would forget about all the work he had done as an ambassador of goodwill for Lafayette," said Angela. "They agreed, and challenged me to raise about $3,000, which was the cost of purchasing a large rock that would have a plaque on it with information about him to be placed at a community garden park close to my father's house."
Angela started collecting donations for the project by pushing 'his bucket' around the streets and telling his story. She had raised about $1,000 when the local newspaper, the Lafayette Journal & Courier, wrote an article about Jerry Smith. At that point, local businesses stepped up with a donation for the rock, which put her over the top for what was needed. However, now it appears that a federal grant may provide the funds needed for a local artist to make a more substantial monument that would be placed closer to downtown. The original timeline for the rock/plaque memorial was spring of 2016, but now that something bigger could be in the works the timeline to find out is summer of 2016.
Jerry Smith, street sweeper extraordinaire, was special because he loved his sweeping job. Through his many years of dedication to this task he became one of the most visible and loved individuals in the entire city. This is exactly the type of individual Martin Luther King Jr. had in mind when he said "If a man is called to be a street sweeper, he should sweep streets even as Michelangelo painted, or Beethoven composed music, or Shakespeare wrote poetry. He should sweep streets so well that all the hosts of heaven and earth will pause to say, here lived a great street sweeper who did his job well."
We commend the city of Lafayette, Indiana, for recognizing the valuable work Jerry Smith did in making the downtown core area of his city shine, and at the same polish the reputation of Lafayette in many other ways.
If you would like to contact Angela Smith, you may do so by sending her an email to: smitty8218@yahoo.com.
Click here to listen to the 10-minute podcast interview with Angela Smith.