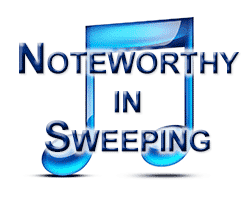 Kieron Gordon: Making a Difference by Keeping his Community Clean
from the Runcorn/Widnes World
posted June 2015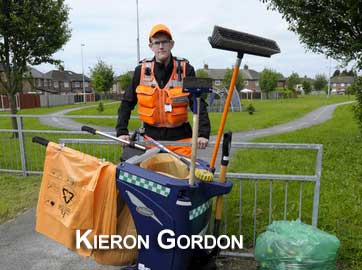 An English teenage schoolboy, Kieron Gordon, is passionate about his hobby – working as volunteer street sweeper. The eighteen-year-old is a resident of the town of Widnes, which is in the U.K. and borders the Mersey River, has been cleaning the area surrounding his local neighbourhood for three years.
Kieron, who lives with his grandparents, said of his chosen task to improve his community: "I care about the environment. I take great pride in seeing the area clean and tidy. It is satisfying. I'd love to do it full time." Kieron even has his own professional dust cart and equipment, complete with a compass, bell, shovel and broom.
Kieron is an A-Level student who spends at least three hours every week sweeping the streets. He scours his local Kingsway Estate and does extra patrols during his school holidays. Kieron takes his chosen mission seriously, saying "I go out in all weather. It doesn't bother me. I have a notepad and camera and take pictures of any fly tipping (dumping waste illegally instead of using an authorized method of disposal).
"People shouldn't discard their rubbish. They should put it in the bin or take it home. I recycle almost everything."
Kieron also garners high praise from those who teach him. Head of sixth form (the final two years of secondary education, where students, typically between sixteen and eighteen years of age), Nick Wallace, said: "Kieron models exemplary behaviour. His desire to support his community shows he is dedicated to keeping Britain tidy. We are very proud of him. He is a credit to his family."
Wally Rodger, nearby Halton Council's streetscene officer said: "Kieron does an excellent job. Not only does he litter pick, he also empties bins and puts the bags in a spot that has been agreed upon with us."
Kieron's efforts have won him several awards. Sara Bulls is the community wellbeing officer for Wellbeing Enterprises, who awarded Kieran a grant for equipment. Bulls says of Kieron, "Kieron is a fantastic young man. He is committed and passionate about keeping his community clean. He is so motivated. He gives up his own time to pick up litter and clean the streets."
Scott Haspell, environmental services manager for Halton Housing Trust, who supplies him with materials, said: "Kieron is a fantastic volunteer and we're happy to support him. He is really dedicated and makes a real difference to his neighbourhood."
To their praises we'd like to add our own from WorldSweeper. Kieron Gordon is obviously the type of person who sees what needs to be done to make the world a better place and then does something about it, rather than, as so many do, complaining about things and/or wishing things were different. We find his pro-active decision to be a visible part of the solution very refreshing, so much so that we have chosen his role model behavior as the beginning of our new section, Noteworthy Sweepers.

We want to offer a big thank you to the Runcorn/Widnes World, the U.K. newspaper whose article on Kieron Gordon brought this story to our attention.