Welcome to our October 2008 newsletter!
What will be the impact of the recession on sweeper-related manufacturing and demand for sweeping services?
by Ranger Kidwell-Ross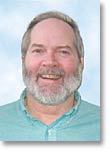 In spite of the economic meltdown, perhaps the biggest news for this newsletter edition is the North American Power Sweeping Association's (NAPSA) move to a private management company as of December 1st. What does this monumental change portend? -- Only time will tell.
However optimistic I am about the collective experience and insight of the current NAPSA Board, I must reflect on the experience my more than 20 years in the industry has brought me. At least one of my gray hairs must have come from the experience that occurred when NAPSA's predecessor, the National Contract Sweepers Institute (NCSI), had a Board of Directors that decided to do something remarkably similar.
It was back about 15 years ago; NCSI had finally become moderately successful, which meant it had become harder for the all-volunteer Board and an administrative person to manage on their own. So, in short, NCSI merged its fortunes with a solid waste asssociation management organization. All was rosy, and the crux of the new management situation was that, although NCSI didn't have enough members -- and so membership money -- to rate a full-time manager, they would get XX number of hours of a 'real' association manager's time per week. It sounded great... at the time.
What occurred, unfortunately, was that the money generated by NCSI simply wasn't enough to warrant the time commitment necessary to keep things rolling. To begin with, of course, everything was fine. However, over time, and in large part because the 'real' manager's knowledge didn't include sweeping, membership services and assistance became increasingly generic. Finally, this got to the point where members started to question what they were getting for their yearly membership and renewals started declining. It was, as they say, all downhill from there.
The good news is that a number of current members and Board members of NAPSA were in the industry when that previous meltdown occurred. That should give us every reason to be optimistic that the lessons of time gone by were duly noted and won't be repeated in this instance. NAPSA is just getting to the point where it is finally able to have an impact on the parking area sweeping industry. Let's hope that impact keeps increasing over many years to come. Now, on to the economy, what's left of it.
Here's my take on where sweeping is likely headed: Unless or until we end up in a bona fide depression, both municipal and contract sweeping should be only minimally affected. Construction sweeping may be another matter entirely.
From what I've gleaned, construction sweeping is already down somewhat, which is only natural since the rate of new construction is off in so many parts of the country. Contract sweeping for general parking area situations isn't much affected yet, though, at least in most parts of the country. Oh, yes, there are some pressures on pricing, as well as on the average number of sweeps per week per account. That's only to be expected. More contractors are, in turn, looking at ways to keep their costs down, through things like single-engine sweepers and Victory Sweepers' low cost, T-500 tow-behind sweeper model.
Highway sweeping will probably decline a bit in terms of frequency, but with more municipal agencies under the gun for water quality I don't see that impact as being huge. Most highway projects now occurring have been in the pipeline for some time, so what will be happening for at least the next six months or so is already in place. Plus, it appears an Obama victory is likely at this point, and indications are that an Obama win will ultimately trigger a round of public works projects. Manny of these are likely to include a sweeping component. Repair of the infrastructure is also high on Obama's list, which should result in increased municipal sweeping work.
In a down economy everyone -- municipalities and contractors alike -- need to be more creative in all respects. Municipal managers might take a page from England, where all municipal agencies have to bid their in-house sweeping against contractors at least once every five years. That kind of exercise is one that uncovers unnecessary costs and hones value, which is a way to get more for a given budget dollar in a recessionary economy.
Contractors need to be equally creative in their approaches. Find ways to give the customer what they want, whether it's hand-picking a day or so per week or whatever else they want. Can you do the hand-picking for them? How, and what's needed to make it profitable to both sides?
This is an economic time where information is paramount:

Do you have the expertise to really SELL THE VALUE of your sweeping and other services?
Are your brochures and website selling for you?
Have you evaluated the way your advertising money is being spent in terms of return on investment?
I do know that I've heard from an even half dozen contractors, among them Gale Holsman, the 'Sweeping Preacher,' that they've had the best year of their business lives. So, if that doesn't describe your business, perhaps some time "looking your company in the mirror" might be called for.
As a brief commercial message, I think you'll find that many of the best equipped contractors out there are clients of WorldSweeper.com. When it comes to helping contractors with their marketing, some of the best websites, best handouts, and the best ideas and information resources have been made available to our customers. If you're having any kind of trouble getting and keeping business, I encourage you to take a look at some of the websites and other promotional material we've done for our contractor clients. Then, if you think we can assist your company, please contact us.
The same goes for municipalities: Before you decide what to purchase in terms of new sweepers, or try to figure out on your own how frequent to operate your current sweeping fleet, consider consulting with us here at WorldSweeper.com. Our municipal consultation team offers many decades of sweeping-related experience. Enough of the commercial messages, already; here's what else is happening in the industry.
In this issue I'm excited to bring you news of how sweeping is done in a city in Spain. These types of stories are always fun to both write and to read. In this instance, there are a number of photos of sweepers from that country, as well as a link to videos by the author. Treat yourself to a tour of sweeping in another part of the world.
And, in keeping with what you've been reading about above, you'll find a number of articles designed to assist you in these trying times. Bad economies are when the cream rises to the top and, at the same time, some of the curd gets thrown out to fend for itself (pardon the farming analogy, but I grew up milking 75 holsteins after school every day for a couple years of high school...).
On that note, there's a continued trend of consolidation and shake-out that's happening in the sweeper manufacturing community. Wayne Sweepers, a newly formed division of Wayne Engineering, has purchased the rights to Tennant's Centurion, and is also coming out with its own Gladiator model broom sweeper. This makes over a dozen broom sweeper models on the market, so my prediction is that entry by a deep pockets outfit like Wayne means there will be more broom sweeper shake-out in the relatively near future.
Jim Morris has been president of Schwarze Industries, Inc. since the departure of Mark Schwarze from that position. Morris has recently been replaced amid reports that S.I. has seen a significant loss of market share, especially in its S-series parking area sweeper line. Not surprising with the acclaim that the innovative designs and elevated customer support of Mark Schwarze's new company, Victory Sweepers, has garnered. Victory has reportedly sold more than 220 parking lot sweepers since it started in May 2007, and that is a significant 'bite' from Schwarze's book of business.
Recession is no time to have a product or service that is 'ho-hum,' or relies on having the lowest price to succeed. With increased competition, already low margins then become non-existent in an attempt to just keep operational and to meet payroll. It doesn't matter whether you're selling sweepers, aftermarket parts, or sweeping itself: There's no time like a recessionary economy to underscore the importance of having a product or service that stands out in the marketplace. If yours doesn't, now is the time to work on that fact.
On the whole, the sweeping services industry should be little affected by the current economic meltdown, at least unless it gets significantly worse. Commercial property managers realize that they need to keep the face of their properties looking sharp to attract whatever customers remain to come in and shop. Although cost-cutting will be necessary, it will tend to be behind the scenes to items not visible to the shopping public.
At the same time, managers will be repairing more and replacing less. Peripheral services, such as pothole patching, graffiti removal, power washing and large item removal, for example, should become growth sectors. I encourage those contractors reading this to think of how they can sell more services to existing customers, bypassing the higher cost of gaining new customers.
If you have questions or comments about this editorial, please let us know. Our goal is to write about what you want to read. In addition, I'll post any comments to this editorial online with it. As always, if you have a sweeping-related need please tell us about it. We'll try to assist in any way we can.
I routinely reference WorldSweeper.com articles and studies, provide information from my "Fundamentals of the Power Sweeping Business," manual and put contractors and city officials in touch with others who may have answers to their information needs. By the same token, if you have a story you can provide, additional information on any of the topics we've covered in this newsletter issue – or need more details – please let me know. I'll be glad to help if at all possible.
Good Sweeping!



Ranger Kidwell-Ross, editor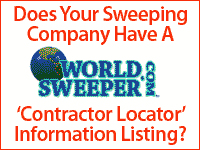 By the way, if you don't have a listing yet in our Contractor Locator section, you are missing out on what is arguably the best advertising value in sweeping. At the same time, you'll be helping to keep WorldSweeper.com online and active. If you're a contractor who uses this website, please help support the site and, at the same time, increase the exposure for your company, by getting a Contractor Locator listing.
And, if you're not yet a NAPSA member, we are still offering you an incentive to do so. Our ongoing offer is that when you become a member through WorldSweeper.com you'll get a $50 discount on any Contractor Locator listing.
If you like what you read in this newsletter or on the website, be sure to thank the advertisers who sponsored it. The only way for them to know you appreciate their support of WorldSweeper.com is to tell them!