---
Sweeping Industry News Changes With the Seasons
by Ranger Kidwell-Ross, editor
WorldSweeper.com


Many consider the Labor Day holiday to mark the end of summer. However, in actuality today, the Autumn Equinox, marks the official beginning of fall. Since the football season also starts about now, our lead story this issue centers around the very real fire danger that exists when cleaning up after college and pro tailgating parties.
Although that's not the only situation that can create a sweeper fire – as evidenced by the recent one that occurred, apparently when an inattentive operator swept up a lit flare in his CNG-powered sweeper – it's a type of sweeping that calls for added training by any organization cleaning up game-day parking lots.
APWA's annual PWX show was held in late August this year and we offer info on the event by Elgin's relatively new Product Manager, Tim Letts. This includes his take on the show, as well as info on the sweepers Elgin showcased at PWX, including introduction of the Elgin-built Broom Badger. Although I attended the APWA shows for many years, in recent times there have been virtually zero sweeper-oriented training sessions so in recent years I haven't felt it worthwhile to go there in person.
The changing season has also been marked by some non-intuitive messaging by America's largest retailer, Walmart. As you will read, the company – which had a reported profit for the twelve months ending July 31, 2022 of $144.59 billion, a 1.76% year-over-year increase – has sent its sweeping and other exterior maintenance contractors some surprising messages, from discontinue notices to blanket service complaints. In this issue we tell you what we can; we'd offer more, except the company will not return calls on the situation...
It would appear that the sweepers made by Global Environmental Products, which for over a decade has led the U.S. in bringing EV and EV/hybrid sweepers to the marketplace, are increasingly coming into mainstream acceptance. I fully expect that in the next 10 years we will see many more electric and hybrid models offered by a wide range of manufacturers, along with a line-up of autonomous (no driver) models.
As we all can recognize, these technologies are advancing quickly and soon will become as mainstream as human-operated, diesel-powered, sweepers are today. With the many warning signs that climate change is occurring more rapidly than previously predicted, and with the recent $370 billion commitment on climate action by the U.S., there is little question that more – and faster – similar changes are in our near future.
As always, if you have any news of potential interest to the power sweeping community, please let us know. Between this publication, the WorldSweeper.com website, and the World Sweeping Association, we'll be sure to get the information passed along to interested readers.
Good Sweeping,



Editor, WorldSweeper.com
Executive Director, World Sweeping Association
Member, PAVEMENT Hall of Fame
PS If you're a contractor I urge you to check out the many benefits of membership in the World Sweeping Association. Also, if you haven't 'liked' our WorldSweeper Facebook page, what are you waiting for? That's where we offer a variety of industry previews and updates on an ongoing basis.

---
September Newsletter Contents
(Scroll down to read stories or click on links below.)
---
Preventing Sweeper Fires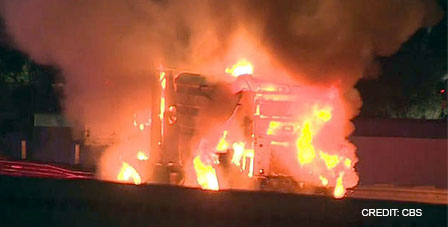 In early September the complete conflagration of a street sweeper in Los Angeles underscored the importance of exercising extreme caution when sweeping any place that might contain fire or the remains of fire.
Through the years, the most prevalent cause of sweeper fires, at least when there wasn't an accident, has been careless operators cleaning up after large events. These include football tailgating parties, a season that is just starting, as well as many other kind of festival-type events where someone has been barbecuing. However, as this article details, even more serious may be hopper fires in alternative fuel sweepers.
Check out the story by our editor.
---
Elgin Sweeper's New Product Manager at PWX


Tim Letts began in February of this year as Elgin Sweeper's Product Manager for both the company's air and broom sweeper models. Our Editor, Ranger Kidwell-Ross, conducted this @30-minute Zoomcast with Tim at the conclusion of the APWA's recent 2022 PWX Show.
In the exchange, the two discuss the debut of the newest version of the Broom Badger sweeper, which is now being manufactured at the Elgin factory, as well as the current models of Broom Bear and RegenX sweepers the company showcased at PWX. Letts also provides his impression of his first APWA PWX Show, which had recently concluded at the time of the Zoomcast.
---
Recent Walmart Moves Hard to Fathom

Odd messaging from Walmart recently may be the result of the company's reported decreased profit expectations. In August the company reported it expected operating profits for the full year to fall as much as 13 percent.
At the same time when Walmart reported an expectation for lower profits it also sent some surprising messages to a number of its sweeping contractors. Taken together, the company seems to be undergoing a rash of what might be called 'corporate psychosis' when it comes to parking lot sweeping, power washing and more.
Check out the story.
---
Global Notches 62 EV and EV/Hybrid Sweeper Orders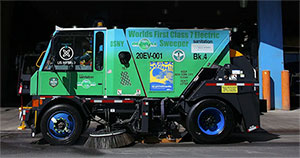 On September 19th, Global Environmental Products – along with the semitruck electrifying firm, US Hybrid – announced orders for 62 electric and hybrid/electric, zero emission, street sweepers. All will feature a combination of Global's sweeper manufacturing paired with US Hybrid's proprietary technology.
Check out the information.
---
And the Winner is...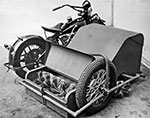 In a previous newsletter issue we asked if anyone could identify the sweeper attached to the Indian motorcycle in the photo to the right. Then, when no one stepped up, we've left the challenge on our home page. Finally, we received an answer from long-time sweeper personality, Peter Federico, who has over 35 years of experience in the power sweeping industry.
Federico, who is currently the Sales Manager at ODRA Sweeper Company, identified the motorcycle-attached sweeper as a Bucher-Shorling. When asked if he'd like to receive the prize we offered of a scale model of a Johnston sweeper, he said he wouldn't mind, especially if Johnston (now Bucher) would present it to him at the upcoming APWA event. And, although due to technical issues we didn't get a photo of the hand-off, Bucher's Product Marketing Manager, Matthew Starnes, did just that at the recently concluded PWX Show.
---

Can You Identify This Sweeper?
Hot on the heels of having our previous mystery sweeper identified, we received an email request from someone on the hunt to find out details about another mysterious sweeper. Griffin van Beurden wrote "I have been trying to identify the model of this sweeper for close to two years and have come up with results that cancel each other out. Some say it is one make and model some say another. I figured you at WorldSweeper could help me end my search. Here are the few photos I have found of this model. Thank you and I hope you can help me out."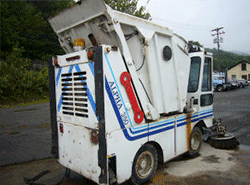 If you know the make of this sweeper please let us know and we'll pass along the info to Griffin. Note you can click on the animated photo to the right to see a larger version with several more photos, including one of the cab area.
---