Global Sells 62 Zero-Emission Electric/Hybrid Street Sweepers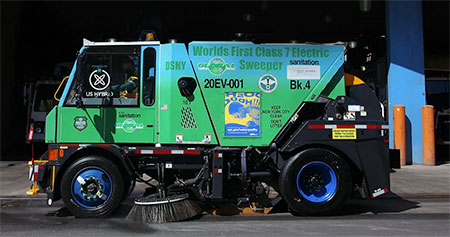 On September 19th, Global Environmental Products – along with the semitruck electrifying firm, US Hybrid – announced orders for 62 electric and hybrid/electric, zero emission, street sweepers.
Global Environmental Products (Global) has been working with US Hybrid since 2009, which is when the first hybrid electric street sweeper was provided by the company for an order from New York City. Last year, Global deployed a first of its kind, fully electric, supercharged street sweeper in New York just in time to help clean up times Square after the New Year's Eve celebration.
"We care about our environment and believe in designing and building environmentally responsible products," stated Walter Pusic, GEP president. "Our long-standing relationship with US Hybrid ensures that we always have the most evolved, zero-emission technology available to us to ensure we can provide our customers state-of-the-art, zero emission technology they are looking for."
As for the 62 street sweepers, 17 will be going to to California's Department of Transportation, 30 plug-in hybrid electric street sweepers and seven all-electric street sweepers are earmarked for New York City, two will go to the city of South San Francisco, three to Washington DC, and two more to the city of Helena, Montana. All will feature a combination of Global's sweeper manufacturing paired with US Hybrid's proprietary technology.
Click here to download the product brochure for Global's new electric sweeper.
GLOBAL ENVIRONMENTAL PRODUCTS is one of the world's Leading producers of specialized street cleaning equipment. We build purpose-built, heavy-duty, and simply tough street sweepers. Headquartered in San Bernardino, CA, we build reliable, affordable and innovative products. We are proud to say that our sweepers are made in the USA.
For additional information contact:
Global Environmental Products
Phone: 909-713-1600
Email: info@globalsweeper.com
Website: www.globalsweeper.com
Fax: 909-713-1613

---