---
8 Billion People Now Need Clean Water:
Street Sweeping Can Help Fulfill That Dream
by Ranger Kidwell-Ross, editor
WorldSweeper.com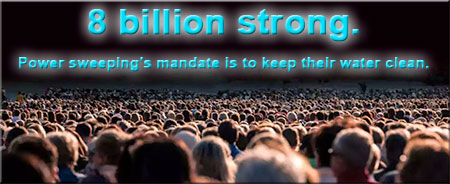 According to the United Nations, we reached the mark of eight billion humans on our planet last week, on November 15th. Most assuredly all of them believe that having their drinking and other water supplies as clean as possible is a top priority.
That's the reason I began American Sweeper magazine in the early 1990s: I realized that many – if not most – public works directors still swept their streets as though the big pollutant was horse poop, as it was in the horse-and-buggy days. Instead, of course, the emerging pollutant sources were composed of much nastier stuff, much of which didn't degrade nearly as quickly.
When heavy rain was forecast in a few days, some would even take their sweepers off the job figuring the precipitation would scour all the material down the drain – out of sight, out of mind – of the populace. Today, if they're educated in the well-proven truths about pavement-based stormwater runoff pollution, they will instead redouble their sweeping effort and expand the sweeping schedule before the rains come.
This newsletter issue showcases the environmental aspects of sweeping to the forefront, where they belong. From California to Minnesota to Florida, stormwater departments are using the irrefutable data now available to recognize street sweeping as the 'first line of defense' against stormwater pollutant runoff. And they're taking action, including providing municipalities with millions of dollars in credits based upon how much material is being taken off their streets via sweeping before it can run off into waterways and ground water.
It's time – past time, actually – that the sweeper manufacturers combine their financial strength and marketing acumen to form an industry group dedicated to spreading this information far and wide. Once street sweeping clients are made to understand that sweeping is many times more cost-effective than any other method of pollutant removal, the stormwater pros of the world will use their increasingly larger budgets to buy and deploy more sweepers.
The bottom line will be a significant reduction in pollution runoff along with a consequential increase in the market's demand for street sweepers. WorldSweeper's reporting, as well as my personal conversations with top manufacturer management, has in the past laid out the case for such a combined effort.
The PAVEMENT magazine article by Roger Sutherland and myself, linked below as this month's lead story, as well as the article about San Diego's increasing effort toward statistics-based environmental sweeping, reaffirms that need. Our upcoming articles in our December issue will also reinforce the argument about why such an association of sweeper manufacturers needs to be formed. The ball is squarely in their court; if they pick it up and run with it the entire sweeping industry – along with the planet's eight billion citizens – will be the better for it.
As we find ourselves approaching the end of another year... If you are one of WorldSweeper.com's advertising sponsors, thank you for the critical part you play in supporting 'Earth's Largest Power Sweeping Resource.'SM I am honored by your collective votes of confidence in what this organization provides to the power sweeping industry.
Likewise, if you are one of the industry suppliers providing WSA Members with savings on your goods and services, thank you for providing those WSA Member Benefits. Finally, if you sell to the sweeping industry but don't yet advertise with us, please consider doing so.
Good Sweeping,



Editor, WorldSweeper.com
Executive Director, World Sweeping Association
Member, PAVEMENT Hall of Fame
PS Happy Thanksgiving to All of Our Readers!

---
November Newsletter Contents
(Scroll down to read stories or click on links below.)
---
Street Sweeping: The First Line of Defense Against Stormwater Pollution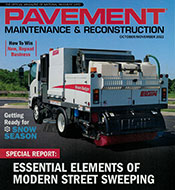 Street sweeping is listed as one of the available Best Management Practices (BMPs) for stormwater mitigation. However, due to lack of information on the relative cost-effectiveness of current sweepers to remove nitrogen (TN) and phosphorus (TP) – as well as sweeping's extraordinary cost-effectiveness in removing particulate matter (PM) in general – many, if not most, stormwater professionals tasked with runoff pollution removal do not currently utilize sweepers at the frequency indicated by now-available data.
The article, linked below, covers the essential elements of modern street sweeping and projects future BMP changes. Written by WorldSweeper's Editor, Ranger Kidwell-Ross, along with noted sweeper researcher, Roger Sutherland, it was the featured article in the October/November 2022 "sweeping issue" of PAVEMENT Maintenance & Reconstruction magazine.
Check out the information.
---
San Diego Targets Stormwater Runoff Via Street Sweeping and Dedicated Infrastructure


As one might imagine for a City that is located on a significant waterway – in this case the Pacific Ocean – the City of San Diego is very proactive in its sweeping program. For one, the City has positioned its sweeping department under the auspices of its Stormwater Department. This is the arrangement that WorldSweeper has long recommended from its editorial perspective.
Eddie Salinas is the Interim Deputy Director of Operations and Maintenance for the Stormwater Department in the City of San Diego, California. WorldSweeper interviewed him about what San Diego's street sweeping is doing to maximize stormwater pollutant removal.
---
New York City Spending Millions to Clean Up its Streets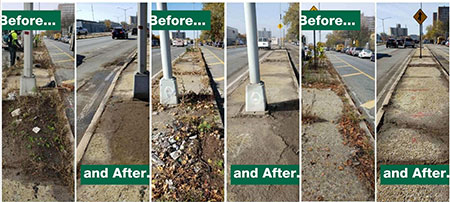 On November 10th New York City's Mayor, Eric Adams, announced a new "Get Stuff Clean" initiative that will invest $14.5 million this year to clean more than 1,000 neglected, "No Man's Land" areas, add trash cans, add more rat exterminators and sanitation workers and combat illegal dumping with more security cameras.
Then, $470,000 this fiscal year and $1.1 million annually thereafter, will go toward regular cleanings of highway on- and off-ramps—one of the first places seen by visitors to New York City. NYC is also spending $11 million for new street sweeper vehicles designed to fit in narrow spaces like bike lanes, aiming to clean previously unreachable areas. It has also reinstated its Alternate Side Parking (ASP) schedule so that the streets can be swept twice as often. During the pandemic, ASP had been scaled back.
Take a look at the report by TimeOut, and learn about all NYC is doing to combat its reputation of being one of America's dirtiest cities.
---
World Sweeping Association Offers Free Trial Membership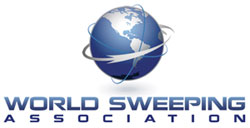 As the new year begins, the multi award-winning World Sweeping Association is starting its 11th year of operation. WSA was founded by Ranger Kidwell-Ross, who is also Editor of this website. WSA's mission is to increase the professionalism of sweeping contractors by providing them with wide-ranging educational resources, along with negotiated group discounts from a variety of sweeping industry suppliers.
In addition to a number of manufacturer discounts, WSA membership allows member-only access to a collection of over 250 sweeping-oriented articles spanning 28 different categories, as well as more than 100 informational podcasts with sweeping contractors – and more. In addition, WSA members receive an exclusive WSA Member Update email on the 1st and 15th of each month. These offer a variety of current information designed to help WSA member contractors be more professional and profitable. For more information, check out WSA's informational link shown below. Current membership is a modest $350/year.
Sweeping contractors are invited to sign up now for a 30-day Trial Membership through the end of the year. To do so and receive the log-in information needed to access the password-protected website, send an email to director@ worldsweepingpros.org.

Check out the World Sweeping Association's many member benefits.
---
Minimizing Employee Stress and Defining Company Policy During the Holidays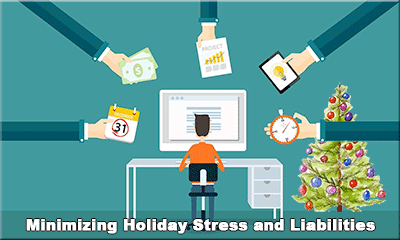 The Holiday Season is one of the most stressful times of the year for both managers and line workers in the public and private sweeping industry sectors. At the same time – given COVID 19 as well as the ever-changing requirements for defining non-offensive company policy and minimizing liabilities – it's more important than ever for organizations to develop cohesive holiday plans.

WorldSweeper's editor provides an overview on these topics as they relate to the power sweeping industry, as well as links to stress reduction tips for managers, holiday party guidelines from our legal information section and an end-of-the-year, thought-provoking, view on the documented value provided by what are called 'prosocial employee bonus systems.'
---
Are You Planning for Your Section 179 IRS Deductions?

If you haven't already, now is the time to make plans for taking advantage of the IRS Section 179 tax-saving program. Essentially, Section 179 of the IRS tax code allows businesses to deduct the full purchase price of qualifying equipment and/or software purchased or financed during the tax year. That means that if you buy (or lease) a piece of qualifying equipment, you can deduct the FULL PURCHASE PRICE from your 2022 gross income.
It's an incentive created by the U.S. government to encourage businesses to buy equipment and invest in themselves. The 2022 deduction limit is $1,080,000; the spending cap on equipment purchase is $2,700,000; and, the bonus depreciation for 2022 is 100%. And, while we're on the topic, we provide a link to 92 small business deductions you may now use, plus 11 deductions to avoid...
Read the details on the 179 program or read about the deductions experts say to use and/or to avoid.
---
Your Destination to Find Sweeping-Related Toys for Christmas Gifts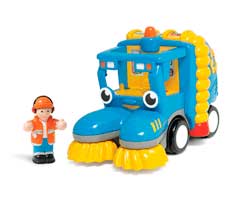 It's that time of year to choose gifts for the kids in your family circle and what better than to generate interest in sweepers via the selection of books and toys in the 'Toys' area of WorldSweeper's website?!
We have collected all the sweeping-related apps, toys, books and other items we know about and include links to where you can purchase them. If you are aware of toys we don't have listed, please take a minute and let us know what they are and we'll add them to the list on the site.
Check out our sweeping-related toy selection.
---