In Today's World, Safety Issues Come in Lots of Flavors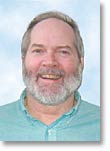 by Ranger Kidwell-Ross, WorldSweeper's Editor
As I write this month's editorial, in the last 30 days more than 5000 record high temperatures were broken across the United States. Just yesterday, record highs were broken in at least 11 states.
For many in the power sweeping industry these kinds of temperatures in the summer can make for extremely dangerous working conditions – unless the right steps are taken to ensure hydration and other aspects of worker safety. That's why our lead article this issue contains several links that allow you to get targeted information about how to keep you and your workforce safe in the heat.
However, in the fast-evolving world of business there are a number of other less well recognized safety considerations for your business, whether you are a sweeping contractor, a municipal organization or other. One high-profile issue facing any management team these days is if and how they may regulate employee use of the Internet, both at work and at home via social media hosting about their workplace.
Although it has nothing to do with sweeping, per se, the newly released regulations by the National Labor Relations Board concerning what an employer may and may not require in terms of employee Internet usage will affect every organization in the industry that has one or more employees. You will definitely want to check out our story on this topic.
The question then arises of how to get more business so you can afford to pay for all your new safety initiatives. Thanks to the input of Mike Dyck, principal at MASCO Sweepers, in this month's issue we feature an article on BidSync, a website you can subscribe to in order to monitor new requests for proposals (RFPs) for sweeping and other activity that might be occurring in your area.
We are currently looking for story ideas that you would like us to cover. If you have story suggestions, please let us know. For example, on behalf of a reader who is affected by a non-payment issue we are actively investigating changes in the relationship between Target Stores and its third party vendors. Our goal is to write about what you want to read. And, if you have a sweeping-related need please contact us about it. We'll try to assist in any way we can.
I routinely reference WorldSweeper.com articles and studies, provide information from my "Fundamentals of the Power Sweeping Business" manual and put contractors and city officials in touch with others who may have answers to their informational needs. By the same token, if you have a story you can provide, additional information on any of the topics we've covered – or need more details – please let me know. I'll be glad to help if at all possible.
Good Sweeping!



Ranger Kidwell-Ross, editor
WorldSweeper.com