posted October 2, 2009
Wayne Sweepers, LLC Awarded Chicago Bid

Wayne Sweepers, LLC was awarded a contract to provide up to 20 street sweepers to the City of Chicago. The award, which was issued for Wayne's Gladiator mechanical street sweeper, will be carried out over the next three years.
(Cedar Falls, IA.) --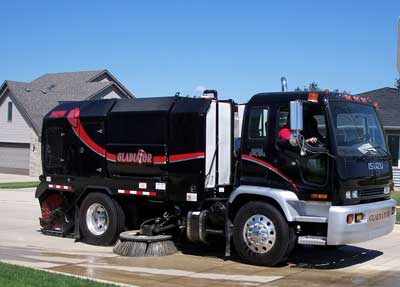 Wayne's Gladiator model is a heavy-duty twin engine sweeper featuring a 5 cubic yard hopper, an 11' sweep path, and a 5-cylinder John Deere Power Tech engine. Its robust design features a double frame for added strength, a 60" conveyor to handle more debris, and recessed hydraulic gutter broom motors to increase component life.
During the bid demonstration, one city driver became convinced "we have to get a Wayne" when the Gladiator drove over and picked up a 2' x 8" piece of concrete curb without damage. Wayne Sweepers received the official nod a few weeks later.
Commenting on the recent news, company President/CEO Kevin Watje stated, "We are excited for this opportunity and are very proud to serve the City of Chicago. We appreciate the City of Chicago providing us the opportunity to show them our Wayne Sweeper line is competitive with any others in the American marketplace."
R.G. Smith Equipment Company, Wayne's dealer in Illinois, helped facilitate the bidding process and will provide warranty and service work for the Gladiator fleet. The first two units are scheduled to be delivered this October.
For more information, call 319-266-1721 or visit www.waynesweepers.com.