September 27, 2010
Wayne Sweepers Unveils New Truck at International Trade Show

(Munich, Germany) -- Wayne Sweepers, LLC unveiled an adaptation of its Gladiator mechanical broom sweeper at IFAT ENTSORGA on September 13th, 2010.
The new street sweeper, named the Walter Power Sweeper, is targeted towards milling and construction applications in the European market. It is a single-engine sweeper mounted on a Scania chassis with hydrostatic drive. Additionally, the unit features a powerful front broom mounted on the chassis bumper.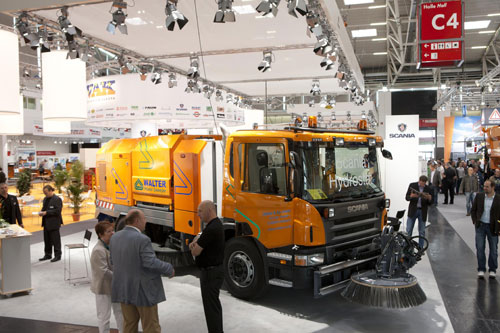 Walter & Co GmbH, based out of Germany, will handle all final assembly, sales, and service of the street sweeper on the European continent. Representatives from the company exhibited the vehicle at the trade show.
IFAT ENTSORGA is the world's leading trade fair for water, sewage, waste and raw materials management. The expo is held on a biennial basis in Munich, Germany, and attracts nearly 110,000 trade visitors from 185 countries.
For more information on the new machine, visit www.waynesweepers.com or www.walter-co.de.
---
Wayne Sweepers, LLC is a sister company to Wayne Engineering, a leading manufacturer of refuse trucks, and is based in Cedar Falls, Iowa, United States.
Wayne Sweepers produces a line of highly automated street sweepers for use on streets and parking lots as well as for road maintenance and millings clean-up. Wayne Engineering is a major manufacturer of refuse bodies used in manual and automated collection of solid waste.
For more information, call 319-266-1721 or visit www.wayneusa.com.