October 22, 2008
Wayne Sweepers' President Discusses Company's Entry to Sweeping and Purchase of Tennant Centurion

The following is an interview with Kevin Watje, president of Wayne Engineering, a division of Wayne Industrial Holdings.
by Ranger Kidwell-Ross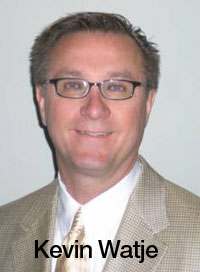 WS.com: Is the Centurion going to be offered in the exact same configuration as prior when owned by Tennant?
Watje:Yes, it is. There are some changes scheduled, but for the most part it's going to remain the same. We plan on using the same technology and improving on it as needed.
WS.com: Is Wayne continuing parts support for prior Centurion models?
Watje: Wayne Engineering will continue to produce and supply Tennant the Centurion parts needed for their customers. We intend to support all Centurions in the marketplace going forward.
WS.com: Will technology from Centurion be added to Wayne's broom sweeper?
Watje:There may be some crossover; however, we have some technology that is totally separate of the Centurion that we plan to add to both sweepers.
WS.com: What does the company see as their niche in the sweeping marketplace?
Watje: To start with, engineering and building chassis-mounted performance solutions is definitely a strength of Wayne. We also see fuel-efficiency as our niche. We're starting to develop single-engine technology to be applied to the Centurion, the Gladiator and to future Wayne sweepers.
With the high price of gasoline and diesel fuel that we've seen recently, investing in single-engine technology is more appropriate now than at any other time in the history of sweepers. Single-engine technology also fits into our emphasis on a lower carbon footprint for everything we do. Compared to dual engines, single engines take less fuel and require less maintenance, too.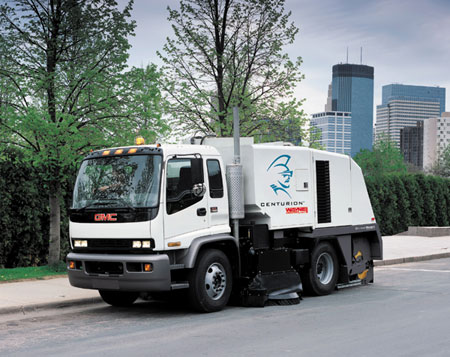 WS.com: How are sweepers sold at Wayne; via current dealer network or other?
Watje: We have a unique distribution network in place already with refuse vehicle dealers. In the states where our dealers have ongoing relationships with other sweeper OEMs, we'll have a dedicated sales team calling directly on those customers.
WS.com: What has been the response so far to Wayne's purchase of Centurion?
Watje: We've been very pleased with the response. Based on the feedback we have received thus far, we are convinced there was room in the market for another sweeper manufacturer.
WS.com: Why do you feel Wayne will be successful in building sweepers when its history has been in refuse bodies?
Watje: Wayne has made a substantial commitment to enter the sweeper market with our acquisitions, our product development and testing Ð even with our recent plant expansion. We've been engineering and building chassis-mounted products for over 50 years. Our core competency and expertise is clearly in building severe duty equipment.
We have the distribution channels in place and a proven history of partnering with municipalities. It makes a lot of sense for us to do this. Consequently, we have the ability to be quite successful in the sweeper market over the long haul.
WS.com: Is there anything else that would help Wayne Sweepers tell their story and win over new dealers and users?
Watje: We're a company that partners with customers: both our dealers and our end-users. If you call Wayne, you'll get a response. If you have a suggestion for us, even if it's criticism, we're very interested in hearing it.
We strive to be proactive in product development with our customers and with our dealers. If a dealer partners with Wayne Engineering, they are going with a market leader. We are not aiming to make "me-too" sweeper products. It's not what we are about.
WS.com: How did Wayne get started in the sweeper market?
Watje: When Wayne Engineering was purchased and I became the firm's president, I expressed my interest in sweepers. My business partners agreed, and we set about making our plans to enter the market. We are going to grow into a very large sweeper company. I don't like to be number two in anything.
More information on Wayne Engineering and Wayne Sweepers is available at the company's website, www.wayneusa.com.
---
If you have a question or comment, please let us know. If appropriate, we'll add it to the bottom of this page.
---