June 24, 2008
Wayne Sweepers, LLC to acquire Centurion® Street Sweeper Assets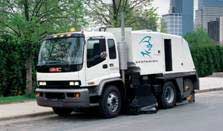 Cedar Falls, Iowa-- Wayne Sweepers, LLC today announced that it has acquired the assets for the Centurion street sweeper product line from Tennant Company. The Centurion sweeper, one of the most technologically advanced in the industry, is a multi-patented, completely dustless street sweeping solution. The Centurion features a simple, one-button operation so the driver can safely concentrate on the road. Its unique, StreetSmartTM Sweeping System allows the Centurion to provide dependable performance across a full range of debris. Finally, the Centurion's environmentally friendly dust control system is designed to meet rigid PM-10 requirements year-round.
Kevin Watje, CEO of Wayne Sweepers, commented: "We are extremely pleased and excited to have been able to acquire the assets for this outstanding product line from Tennant Corporation, the industry leader in sweeping technology. The Centurion® will be an excellent addition to our Gladiator® sweeper line, as well as to our parent company's line of top performing refuse trucks, including the fully automated, Curbtender® and AutoCat® products."
Terms of the deal were not disclosed.
About Wayne Sweepers, LLC
Wayne Sweepers, LLC is a manufacturer of top performing, street sweepers for both municipal and commercial use. In addition to the Centurion® line, Wayne manufactures the Gladiator® line of mechanical sweepers. Wayne Sweepers is a subsidiary of Wayne Industrial Holdings, LLC ("WIH"), the manufacturer of the industry-leading, fully automated, Curbtender® refuse truck. WIH is a portfolio company of T5 Equity Partners, LLC. Please see them at www.waynesweepers.com.
About Tennant Company
Minneapolis-based Tennant Company (NYSE: TNC) is a world leader in designing, manufacturing and marketing solutions that help create a cleaner, safer world. Its products include equipment for maintaining surfaces in industrial, commercial and outdoor environments; and coatings for protecting, repairing and upgrading concrete floors.
Tennant's global field service network is the most extensive in the industry. Tennant has manufacturing operations in Minneapolis, Minn.; Holland, Mich.; Uden, The Netherlands; the United Kingdom; Sao Paulo, Brazil; and Shanghai, China; and sells products directly in 15 countries and through distributors in more than 80 countries. For more information, visit www.tennantco.com.