New Mystic Washer Offers Promise of Better, More Cost-Effective Pressure Cleaning, With Water Reclamation Option
July, 2007
Product allows faster washing of flat or vertical surfaces and allows used water to be reclaimed in environmentally-sensitive areas and situations.

by Ranger Kidwell-Ross, editor
Clayton Boyd has been involved in the power sweeping and property maintenance business for over three decades. During that time, he has seen that cleanliness ranks as a top factor in determining where people live, dine, shop and play. I know from his reputation that he is well aware that many see external cleanliness as equally important asthe cleanliness inside a store or complex.
With this in mind, at the last NPE tradeshow I was intrigued when Clayton confided to me he was developing a revolutionary new pressure washing system. It would, he said, be far more efficient and environmentally better to use on flat surfaces, but also be usable on vertical walls, as well.
Recently, Clayton called to say his machine was completed and that he was starting rollout of it. Called 'Mystic Washer,' from initial appearances it looks as though Clayton has hit upon a machine that is unique in its scope of operation.
Boyd's new manufacturing and sales startup company for the Mystic Washer, Water Works Connection Inc., is Florida-based. As can be seen from the photos, the Mystic Washer is designed to provide water containment as it cleans flat surface areas. Not as evident is that it can be changed to a heavy-duty pressure wand system by turning one valve and without shutting down the power source.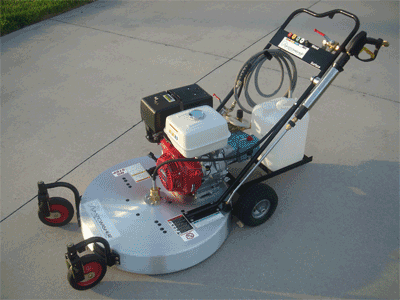 "The Mystic Washer," Clayton said, "needs only one person to operate and maximizes valuable operator time. It's a 4000-psi flat surface cleaner and hand wand all in one unit, and is as easy to run as connecting to a water source and starting the engine. The machine produces consistent quality and, at the same time, cuts cleaning time by as much as 60% to 80% compared to a standard pressure washer. It also eliminates operator fatigue. Payback for the machine does not take long.
"The Mystic Washer has been designed to clean flat, vertical and hard-to-reach areas. It is crafted with high quality materials including stainless steel and aircraft aluminum. Operation is very user-friendly. It also eliminates overspray, something common to other pressure washing systems. Because there is no back-and-forth action on pavement, such as there is with a wand-held pressure washer, cleaning is very even and thorough. Plus, the Mystic Washer eliminates 'zebra striping' even when the operator overlaps the path. You'll find the Mystic Washer is built to handle the toughest of jobs.
"Our introductory pricing for the Mystic Washer is $6895. In addition to the basic machine, that includes the detergent tank, lance gun and holder, and the rear mist deflector. For people in geographical areas or situations where they need to contain all the water used during cleaning, we also offer a vacuum containment attachment system as an option."
For more information, contact Clayton Boyd by calling 1-866-920-8801. For more information, visit the company's website, located at: www.mysticwasher.com.