Pennsylvania's Washington Township Billing Walmart for its Trash
Waynesboro, PA – April 2019
by Sherry Greenfield
Pennsylvania's Washington Township Board of Supervisors has decided to bill the local Walmart Supercenter for trash it produces that blows into surrounding areas.

It's time for the Walmart Supercenter off Washington Township Boulevard in Waynesboro to pay up, according to the Washington Township, PA, Board of Supervisors. The supervisors said the township's crews have been cleaning up Walmart trash that blows into the surrounding areas. The supervisors want to recoup the costs.
"We're going to send them a bill," Township Manager Jeff Geesaman said Wednesday night at a supervisors workshop. "They have people that do clean it up, but it takes them a couple days (to get to it)."
The assistant manager at Walmart, whose first name is Tracy, declined to comment or give her last name. Geesaman said the township picks up Walmart's trash a "couple" of times during the year, collecting, at one time, some 80 pounds of garbage. "(Walmart has) been picking up some," he said. Geesaman said the township has yet to determine how much to bill Walmart.
The supervisors made the decision to bill the store after a letter was introduced from Anthony Bittner, a township resident who lives close to Walmart. Bittner wrote in his letter that the store's trash has blown all over his property. "Thank you for the efforts to keep my property free of Walmart's trash ...," he wrote. "But the trash has reached the saturation point, and this issue needs to be addressed with Walmart. You have my permission to pursue what needs to be done to cure the problem."
Supervisor Elaine Gladhill said Walmart needs to be billed for the township's efforts to clean up its garbage. "Walmart's trash is going onto private land," she said. "Why can't we send them a bill?" Gladhill said Walmart's cardboard signs and plastic bags blow into areas that serve as a habitat to various wildlife. "How horrible is that?" she said.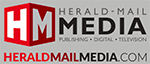 This article was initially written for the Herald-Mail Media Group. For more information go to www.HeraldMailMedia.com. Thanks to World Sweeping Association Advisory Board Member, Michael Nawa, for providing WorldSweeper with the lead.