When it comes to single-engine parking lot sweepers few would question that NiteHawk is the undisputed leader – primarily because they are the only single-engine game in town!

The management of Victory Sweepers is confident its UNO model will be changing that narrative.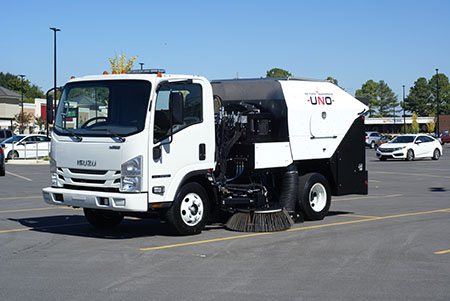 Victory Sweepers' new UNO has been designed to not only go head-to-head with the NiteHawk Raptor model," said Mark Schwarze, Victory's Sales and Marketing Director. "It was designed to finally raise the bar in single-engine parking lot sweeping. We believe when sweeping contractors see the many positive improvements on our UNO sweeper, Victory will be hard-pressed to meet market demand."
Schwarze says Victory engineers have designed and tested the UNO for over two years. Some amount of that delay has been as a result of Covid and supply chain issues. However, the end result is the time has allowed them to further improve on their initial design criteria. Now, after completing an extensive testing process, the company feels its single-engine machine will be more than competitive.
Initially, the UNO will be mounted solely on a 6.6 liter, gasoline-powered, Isuzu NPR and NPR-HD cabover chassis. Future plans include alternative fuel, diesel and conventional cab models. The new UNO retains most of the same features and benefits Victory Sweepers customers have come to expect and it shares many components with tested and bulletproof designs built originally in 2007.
The main difference is how the sweeper is powered. The new UNO derives its power from Isuzu's 6.6L chassis engine via an engine-mounted Kawasaki steel piston pump and 12-groove drive belt.
"By adding 1/3 more grooves to the pump drive belt (12 vs 8) we have achieved a significant gain in horsepower when it's needed" said Schwarze. "Based on just that factor we believe we have added about 7 hp to our sweeping operation. Our hydraulic fan motor uses a bent axis piston design, which raises UNO to an efficiency of 95%, as compared to the lower efficiency gear motor used by the competitor.
"Although this initially cost significantly more, we believe it is as important a design choice as the piston pump. Our ability to extract horsepower from the truck engine has overall limits. We don't want to have to shave sweeping performance to allow enough power for chassis movement or the ability to have a real, heavy-duty broom... or fan. Every little bit of performance efficiency matters AND counts. If we extract one extra horsepower from our chassis engine, we don't want it lost along its way to the fan due to a cheaper, less efficient, style of hydraulic component.
"The three main concerns we heard about the competitor's machine were A) overall poor sweeping performance; B) the pump ran continuously; and, C) the hydraulic pump and lines were located at the front of the engine. Our hydraulic pump is mounted at the rear of the engine, which makes it much more accessible and – more importantly – keeps the hydraulic pump and lines away from the hottest sections of exhaust manifold. That makes it less likely to cause fires should a leak develop or a hose come apart.
"Additionally, we've installed a clutch that completely shuts off the pump except when in sweep mode. Although a minor benefit of shutting the pump off when not sweeping is fuel savings, we feel the clutch's best and most important accomplishment is it makes it less likely that hydraulic fluid should be expelled should a hydraulic hose fail while driving."
Air sweepers have a blast side and a suction side. Another significant difference offered by the UNO is that the airflow suction intake is on the driver's side of the UNO, rather than on the passenger side. To maximize efficiency, it's best to have the suction side located where the most material is located. In the case of parking lot sweepers, this is the driver's side.
On the UNO, that's where our heavy-duty, 39-inch gutter broom is located and it's directly in the driver's mirror when s/he's chasing debris in a parking lot. Street sweepers, on the other hand, typically have the suction side on the passenger side since they are required to follow the direction of traffic.
An advantage with the UNO's 39-inch diameter, vertical steel gutter broom is it is much larger – and thus offers a number of advantages – over the Raptor's 16-inch design. The larger size enables better debris removal and, at the same time, increases overall sweeping width. An in-cab remote tilt feature is standard.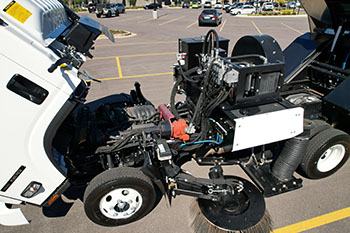 The UNO hopper has a capacity of 4.35 cu. yd. and comes standard made with aluminum. A hopper option made from 304 stainless steel is also available for the Isuzu NPR-HD.
"We've had 15+ years of experience with aluminum hopper wear on our Mark I sweeper," said Schwarze. We've learned that aluminum wear is not a problem and provides us with over 600 pounds of additional payload as well as better balance for heavier loads. Another advantage is an aluminum hopper reduces the sweeper price by $5000. Both of those are very significant factors.
We also retained the two-piece stainless steel hopper screens and tapered, dual opening, top doors for dumping and screen access. In addition to being reinforced – not just a flat plate subject to warping and container-related damage – the top doors are hydraulically-opened and -closed to ensure a tight seal."
All controls are located inside the cab within easy reach of the operator. The UNO utilizes a mixed CAN bus and analog control panel. That means if or when a switch fails it can just be replaced rather than having to change out the entire, more expensive, CAN bus control unit. Another in-cab control retained is Victory's exclusive 'HOODS UP'SM feature that enables the operator to raise just the front of the pickup head. This feature is extremely useful when encountering leaves, bulky trash or large bottles.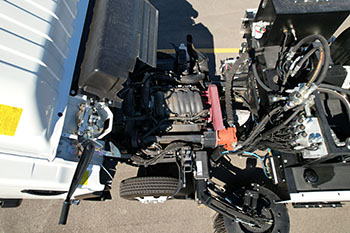 As compared to the Nite-Hawk sweeper, the UNO is equipped with a much larger, 26-inch diameter, backward-inclined, blower fan constructed with HardoxTM steel blades. This fan design produces a significantly higher static vacuum over paddle-style or squirrel-cage fans, while also reducing noise. Another design advantage is the fan is self-cleaning. Victory warrants the fan for 5 years or 5000 hours.
UNO is also available with Victory's industry-leading dual, rear-mounted, aluminum tool storage boxes. Not only are these much larger than those on the Raptor, but they include cross-through ports for a rake, shovel and the nozzle of a backpack blower. Interior LED lights are also included.
Victory's initial UNO units have been almost entirely purchased by contractors who were chosen for testing of the machines. However, Schwarze says they believe that sometime in January they will have all the chassis and other components needed to begin a projected 10+ unit a month initial production. Even so, at the current rate of contractor satisfaction interested contractors are encouraged to contact their Victory sales professional to get their name on Victory's 2023 UNO demonstration list, which will begin after the first of the year.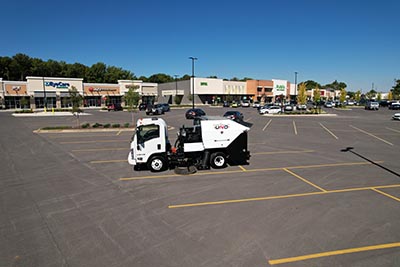 "Our contractor testing group is unanimous in their approval of what our engineers have come up with for the single-engine UNO," said Schwarze. "In addition to the machine's performance, they all like our well-proven reliable features: the all-aluminum, super heavy-duty larger toolboxes; bigger gutter broom; two-piece easy-to-remove stainless steel screens; and, left side debris intake. We believe we're taking the next step in moving the single-engine sweeper design forward and are excited about adding these UNO models to the spectrum of twin-engine sweepers Victory already offers."
For additional information or to arrange a personal demonstration of the new UNO, please visit www.victorysweepers.com or call (844) 479-3373. You are also invited to call Victory's experienced sweeping team if you have questions to do with any aspect of power sweeping. We're always glad to assist in any way we can.