October 10, 2013
Victory Sweepers' 'Scrubber Vac' Built to Handle Lead Abatement
Victory Sweepers built the 'Scrubber Vac'SM as a result of a customer request. Now, the question is whether or not there is a further demand for the units.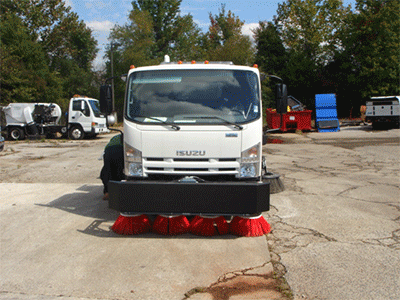 "After 35 years of building power sweepers," said Mark Schwarze, president of Victory Sweepers, Inc., I've been requested to build sweepers to handle a variety of specific sweeping situations. However, this was the first time anyone has told me they needed to 'float' lead so it could then be picked up. Since the idea was intriguing and, we felt, technically feasible, we went ahead and tackled the project. The result was a sweeper that may have a wider application in a number of industrial and airport settings."
The Puerto Rican-based clients specified they needed an astonishing 80 gallons per minute of water put down ahead of the sweeper. Further, the surface of the pavement needed to be scrubbed prior to the water being added in order to float the lead particles out of the cracks and crevices. Finally, at least 10 minutes of run-time was needed.
Engineering challenges included how to balance the twin water tanks, which ended up with a capacity of 850 gallons of water, so as to make the sweeper driveable. Fortunately, it was an in-house application where the sweeper wouldn't need to be driven on a public roadway. To solve the balance issue, Victory's engineers turned the large toolbox area in the rear of its model MarkII sweeper into a water tank. Another tank was installed just to the rear of the cab and a toolbox placed underneath the auxiliary engine mounting area.
"There's no question the sweeper is overloaded by about 1,000 lbs. when it's first filled," said Schwarze. It didn't matter that we used the larger NRR, 19,500 lbs. chassis. In about a minute of operation the weight drops to below the GVW rating, though. And, most importantly, the sweeper isn't being driven on a roadway, just on the company's production area pavement.
"The customer was very satisfied with the product we provided for them, even though the sweeper was only capable of picking up a little over 50% of the water and lead. Their entire area has a storm water system that's filtered, so they weren't worried about some runoff.
"The project made me wonder if there aren't other applications out there for a 'water scrubbing sweeper,' ones where a contractor can make some extra money in what is currently a very difficult market. Although I can't provide 850 gallons of water and still make a sweeper that's roadworthy, most any other applications wouldn't require 80 gallons-a-minute of water flow, either.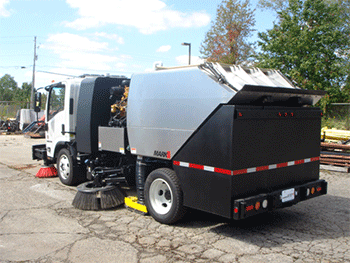 "I can't help but wonder if there wouldn't be an application for scrubbing drivethrough areas to get up oil spots or for super-cleaning other types of paved surfaces. Although the sweeper we built was only able to pick up about 50-60% of the 80 gallons/minute of water this machine put down, that means that it would do a pretty complete job of picking up a lesser volume.
"Of course, some type of environmentally-friendly soap or surfactant could be added to the water, depending on what needed to be cleaned. We were surprised at the sweeper's cleaning ability with much less water being put down, at a volume that the sweeper had no problem in picking back up. Is there an application? I look forward to any ideas contractors or others may have about it."
To learn more about this sweeper and its potential applications, we invite you to listen to a 10-minute audio interview with Mark Schwarze on the topic. Even if you're not interested in owning something like a Scrubber-VacSM sweeper, you'll still find it interesting to learn how the process took place. If you have any trouble accessing this audio, please let us know.
---
You can contact Mark Schwarze at Victory Sweepers, Inc. by calling 866.507.9337. The company's website is www.victorysweepers.com.
---
If you have a question or comment about this article, please let us know. If appropriate, we'll add it to the bottom of this page.
---