February 15, 2013
Victory Sweepers Donates T600 Sweeper to Dale McCaskill Memorial Scholarship Fund + Announces WSA Discount

Victory Sweepers' president, Mark Schwarze, announces donation to World Sweeping Association's scholarship fund; also unveils discount structure for WSA members.

"When we heard about the formation of World Sweeping Association's scholarship fund named after the late Dale McCaskill, we knew immediately we wanted to get involved," said Mark Schwarze, president of Victory Sweepers, Inc. "Dale was not only a customer of Victory and, before that, a long-time customer of Schwarze Industries for the many years when I headed up that company. In addition, Dale was a personal friend, both to me and to many others in the sweeping industry. He was definitely a positive force for this industry, one that deserves to be remembered.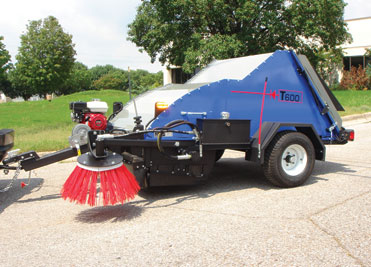 "We thought it over and brainstormed about how we might make a significant impact on getting Dale's scholarship fund off to a good start. What we came up with is to provide to WSA a new Victory T600 tow-behind sweeper. These sell for $14,800. The World Sweeping Association can then auction the machine off, with proceeds going to the scholarship fund.
"Since not all contractors operate the T600 – yet – we decided to take our offer a step further. The winning bidder, in lieu of taking delivery of the Victory T600, has the option of applying their bid amount toward the purchase of any new sweeper model in Victory Sweepers' line.
"In addition, if the T600 goes at auction for under $10,000, we'll give the winner up to 150% of the final bid price, up to $10,000 total, toward any new Victory sweeper if they are a WSA member. For non-WSA members, we'll provide a discount of 125% of the winning bid, up to the same $10,000 limit, on their choice of any new Victory sweeper."
Ranger Kidwell-Ross, editor of WorldSweeper and executive director of World Sweeping Association, says he was "...astounded and gratified by Victory Sweepers' offer. This will really get us off to a great start with the scholarship fund and definitely allow us to provide several scholarships our first year. This will be an industry first, one we are very glad to be spearheading. I know our members will be excited and I hope this encourages more contractors to join WSA and provide their input as we chart our future course."
Kidwell-Ross said he hasn't had the time needed to figure out the details, but that these would be forthcoming in the next weeks and months. "Probably the best course will be to sell the T600 on eBay, since so many people are familiar with that system. For certain, we will publicize the auction well and hope that the sweeping community will step up and actually pay more than what the T600 goes for retail. If that happens, we'll even cover the cost of painting the T600 to fit any organization's specifications."
Victory also announced a general discount structure for World Sweeping Association members. Those are "strike your best deal" and then still receive the following factory-direct rebate within 30 days, as shown below for each Victory Sweepers' model:
T600 – $1,000.00
Liberator – $500.00
CXG – $500.00
Liberty DX, GX & Dual Fuels – $500.00
Mark I – $500.00
Mark II – $500.00
Any Used Sweeper – $500.00
In addition, new Victory parts for WSA members are discounted at 20% off although some restrictions apply. For more information, visit to the World Sweeping Association website.
---
You can contact Mark Schwarze at Victory Sweepers, Inc. by calling 866.507.9337. The company's website is www.victorysweepers.com.
---
If you have a question or comment about this article, please let us know. If appropriate, we'll add it to the bottom of this page.
---