A heavy-duty aluminum hopper is now standard on all Victory Sweepers' Mark I, single-engine sweepers.

October 30, 2008
Madison, Alabama

For sweeping contractors, it's all about fuel consumption and performance. At the same time, even the most fuel-efficient sweeper is worthless if it doesn't sweep!
With that in mind, the Victory Sweepers' TEAM set out to see if they could reduce the biggest cause of fuel inefficiency, weight, on our Mark I, single-engine sweeper. Since the hopper is one of the heaviest items on a sweeper, we concentrated our efforts in that area.
Initially, we had some concern about what the wear characteristics would be on heavy-duty aluminum if we produced Mark I hoppers from it. However, after an extensive testing process we found the relatively lighter material to be perfect for the single-engine application.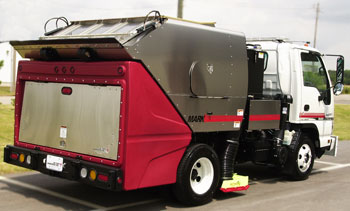 The result is that we've put the Victory Mark I through a highly successful, 600+ pound weight loss program. An aluminum hopper body -- and the better fuel efficiency that comes with it -- is now the standard material for all Victory Mark I units.
Best of all, it was done without sacrificing the overall integrity of the structure or compromising the wear resistance inside those critical hopper blast areas.
A stainless steel hopper is still available as an option on the Mark I for you die-hard lovers of stainless, and is still standard on our twin-engine, higher performance MARK II sweepers. Wait until you test one of the new Mark I's. You'll definitely be impressed with what's missing -- and what isn't.
We are still offering our ZERO DOWN 48- or 60-month lease program with a low 3.9% interest rate, too. Give us a call at 1-866-50sweep for all the details and to test-drive one of our new, aluminum body, MARK I sweepers.