August, 2014
United Rotary Brush & West Coast Equipment Market Announcement
United Rotary Brush (URB) is pleased to announce the acquisition of the operating assets from West Coast Equipment (WCE), a family-owned business headquartered in Glendale, AZ. WCE is a leading manufacturer of after-market street sweeping brooms in the southwest.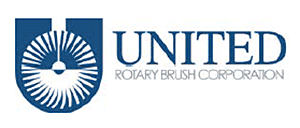 In 2010 United Rotary Brush made a commitment to providing the industry's best value and service in Southern California by purchasing American Rotary Broom. The acquisition of West Coast Equipment's operating assets builds on that foundation.
Rodney Olson, CEO of United Rotary Brush, explains; "Phil and Sue Prohoroff established West Coast Equipment in 1988. They built a strong regional rotary brush company and helped shape the industry, especially through his speed-plate innovation. Phil unfortunately became ill and was unable to participate in the last four years of growth, which were led by his sister-in-law Lissa Haprov.
Phil's and Sue's wish that United Rotary Brush purchase WCE's operating assets and continue his legacy and service to his customers is an honor URB does not take lightly. United Rotary Brush is excited about this new venture. We look forward to working with and supporting West Coast Equipment's customers and suppliers."
---
About United Rotary Brush Corporation
United Rotary Brush Corporation (www.united-rotary.com), headquartered in Lenexa, KS, is an affiliate of Westshore Capital Partners, L.P, of Tampa, FL. With six locations throughout the United States and Canada, United Rotary Brush is North America's largest manufacturer of rotary brooms used for street sweeping, road maintenance, facilities management and airport runway maintenance. In addition, the company is a leader in custom engineered brushes used in the metals processing, automotive, food, plastic, cement and solid waste management industries.
---
If you have a question or comment about this information, please let us know. If appropriate, we'll add it to the bottom of this page.
---