May, 2018 – San Jose, CA
Tropos Motors Introduces Electric CUV Sweeper Platform

The new ABLE Sweep continues the Tropos focus of manufacturing eCUV's designed for facility maintenance, corporate, fleet, first-responder, agriculture, and last-mile delivery applications.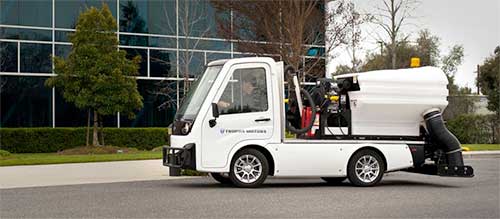 Continuing to lead the street-legal, eCUV (electric compact utility vehicle) market in the United States, Tropos Motors has released the new ABLE Sweep. The new bed package transforms the standard Tropos ABLE eCUV into a nimble electric sweeper in a market where purpose made sweepers and sweeper units mounted on pick-up trucks are too large, and smaller ride-on machines lack the performance that maintenance crews demand.
Distinguishing features include a 70-percent quieter operation than conventional models, the shortest turning radius in its class, backup sweeping capabilities, an enclosed cab for year-round operation, the ability to swap bed packages within minutes, and a clean air blower for removing debris from curb line.
"The ABLE Sweep utilizes both the performance and the substantial payload capacity of the ABLE truck chassis to do the work of a full-size truck. However, in contrast, the ABLE Sweep is more maneuverable, more efficient, and produces significantly fewer emissions," said John Bautista, CEO of Tropos Motors. "Now, cleaning crews have a sweeping vehicle that can fit into smaller spaces, produces less sound pollution and requires very little maintenance."
With a 12.5-foot turning radius, the ABLE Sweep is ideal for tight spaces, yet still provides performance and the large payload capacity of pick-up mounted versions. The model includes a heavy-duty, polyurethane, two-yard hopper and a clean air blower, which increases operator productivity with the ability to remove debris from curb line without the need for additional equipment. Meanwhile, research reveals the blower design of the ABLE Sweep is 70 percent quieter than competitive models. Additionally, with less sound pollution, this sweeper package can be utilized in busy commercial areas without disturbing the public.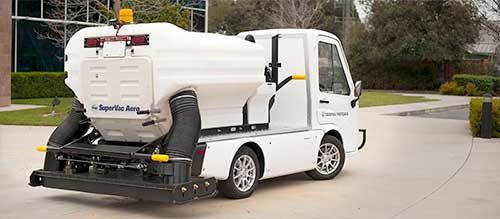 Beyond these features, the ABLE Sweep enjoys all the standard features of the ABLE chassis, including the Easy-Swap option allowing for bed packages to be swapped as needed. With an on-road payload capacity of up to 1,100 pounds (1,500 pounds off-road), 775 ft-lbs of rear wheel torque and an estimated 144 MPGe, (up to 4.3 M/KwH) the ABLE chassis is tough enough for the big jobs, yet small enough to get into tight spaces. It has a top speed of 25 mph or 35 mph as defined by local laws, or 40 mph off-road, based on customization.
The electric compact utility vehicles (eCUV) from Tropos Motors is powerful like a pickup-mounted sweeper but small enough to get where larger chassis cannot.
Some of the differentiating aspects of the ABLE Sweep:
A unique ability to back-up while sweeping, thus eliminating the need for the operator to go around in a circle to pick up debris left from the first pass
Heavy-duty, polyurethane, two-yard debris hopper
An enclosed cab for year-round operation
Backup cam to ensure safety
Clean air blower allows the operator to remove debris from curb line without additional equipment raise and lower the sweeping head when changing direction.
Not build on top of a golf cart – instead designed from the ground up as an electric vehicle with automotive grade components and rugged toughness
Boasts an ultra-tight turning radius of 12.5 feet-the smallest of any street-legal EV
Towing capacity goes up to 2000 pounds
"With most other eCUVs built on chassis that are too heavy, unbalanced or designed for internal combustion engines, this market is ripe for a true EV entrant like the ABLE chassis," said Scot Harden, the Sales and Marketing Director. "It's specially designed for electric utility vehicles and not built on a repurposed golf cart or UTV chassis. Instead, the ABLE chassis is durable, and modular workhorse and sporting automotive-grade components."
For dealer information please contact: sales@tropostech.com.
About Tropos Motors
Tropos Motors, Inc. is based in Silicon Valley and manufacturers and distributes all-electric, street-legal vehicles, specializing in utility e-LSVs and trucks. These vehicles are designed for corporate, fleet, first-responder, agriculture, last-mile delivery and construction applications. Tropos employs the latest EV technology, experienced engineering and modern design aesthetics.
The Tropos Motors ABLE is a full line of durable, versatile and available eCUVs (electric Commercial Utility Vehicles) capable of handling large payloads and towing capacities, while also operating in extremely tight quarters with a short wheelbase and turning radius. Tropos Motors eCUVs can be operated indoors, outdoors and off-road. Available in countless configurations, their trucks are ready to work as hard as you do, no matter the job. For more information, please visit http://troposmotors.com.
If you have comments or further information on this topic, please let us know.