Trombia Sweepers Unveils "World's First Fully Autonomous and Emission-Free High-Powered Street Cleaning Technology"

Finnish street maintenance technology developer Trombia Technologies launches the world's first full-power autonomous street sweeper. The company's Trombia Free cleaning devices use less than 15% of the power required by currently available heavy suction sweeping technologies. This unlocks the potential for mass-electrification and carbon-neutralization of one of the heaviest vehicle technologies currently in use in the cities globally.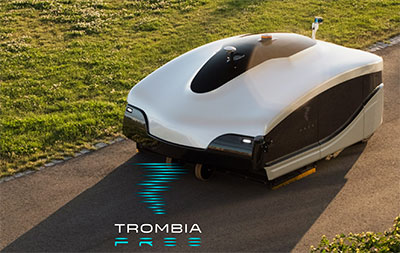 The CEO of Finnish-based Trombia Technologies, Antti Nikkanen, says of his company's new autonomous electric sweeper: "This the first time in the global heavy equipment industries that a diesel-fueled heavy equipment vehicle is electrified without compromising the power and performance capabilities. Trombia Free is also the world's first street cleaning device that is built to be operated fully autonomous in all-weather conditions in the modern smart cities and industrial destinations.
"We think about the over 3 million CO2 metric tons of carbon emissions that high power diesel-fueled suction street sweepers around the world produce annually. The current vehicle technology relies on suction performance that was invented in the 1950s. We simply cannot enter 2020s green and sustainable era with such outdated solution. With the globally-patented Trombia technology we are able to take down the power requirement dramatically, so turning it into a beautiful and powerful, electrified and autonomous device has been an exciting journey to this day."
---
A few days after the launch of the new product on September 29, 2020 WorldSweeper's Editor, Ranger Kidwell-Ross, conducted a Zoom interview with Nikkanen. This has been uploaded to YouTube and is linked below in its entirety. In the event you cannot view YouTube videos in this context or on your current computer platform, the link to the interview is located here.
---
Trombia Technologies developed the globally-patented Trombia® sweeping technology in 2013 and entered the market with sweeper attachments in 2017. Trombia sweeper attachments are currently being sold in seven countries including North America and Northern and Central Europe. The carbon free and autonomous product, Trombia Free, is expected to roll-out through a Pilot Program in 2021, with mass deliveries planned for early 2022.

Says Jaakko Happonen, the founder of Trombia Technologies: "Starting in January 2021 we will start a 12-month commercial Pilot Program for different applications. This is mainly to develop a product and model range for different applications. Trombia Free was developed below-the-radar in pilots with the Nordic European parking lot operator Aimo Park and for harder conditions with piling machinery manufacturer Junttan's industrial plants. Now we move forward with increased focus on smart city sector."

Trombia Free units are equipped with an all-weather autonomous, lidar-based, machine vision technology that filtrates the noise coming from the environment in rainy, snowy or alternative conditions. The advanced algorithm development has been carried out to absorb data on objects from various sources and to generate millions of illustrations of the object at once. This enables accurate and safe localization in all-weather conditions.
Modern business model
Trombia Free also highlights the importance of rapid replacement of diesel-fueled street sweepers. Trombia Free units are brought to the market including a pay-per-square meter business model that will allow contractors and operators to adopt Trombia Free faster than new technologies are normally adopted. Final product pricing will be made available at the pre-sales start during the summer 2021.
"We have worked to understand the total cost of street cleaning operations per square meter," said Nikkanen, "and can already say that Trombia Free will save money dramatically from the end users and the contractors. Even more, rapid rollout helps saving our planet. While we also make regular purchasing options available, we believe this revenue-share model with contractors will be fast way to deliver cleaner streets, cleaner urban air, more sustainably."
For more information:
Antti Nikkanen
Managing Director
Trombia Sweepers
+1 718 690 9287
antti.nikkanen@trombia.com
www.trombia.com
---
About Trombia Technologies
Trombia Technologies is a Finnish road maintenance equipment manufacturer known for its innovation for dust and snow clearing technologies. The parent company Snowek Oy was founded in Kuopio, Finland in 2011 the company and has since grown into a global player in high end wheel loader and tractor snow plow and sweeper attachments.
The company's flagship innovation, global-wide patented, Trombia sweeping technology, is designed to offer sweeping operators global-wide a more sustainable, cost-efficient, easier-to maintain and faster alternative for combating both mechanical debris and fine dust challenges in paved areas. Trombia Free autonomous sweepers, launched on the September 29th, 2020, outline the company's vision to grow from a fast-growing SME and innovator, into the world's leading city sweeping technology provider in the modern greener and more sustainable city cleaning era.
Expect complete coverage of the sweeper and the launch event in WorldSweeper's October e-newsletter. BTW, when Antti Nikkanen contacted WorldSweeper's Editor about the new product, he included the following: "Your 2015 April Fool's joke article is becoming true.""
---