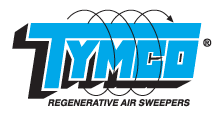 TYMCO Introduces New Model 210h Parking Lot Sweeper with hDrive and BlueLogic
(Waco, Texas) February, 2011 – Company spokesman, Tom Rokas, says his company's new 210h offers true regenerative air sweeping with less environmental impact.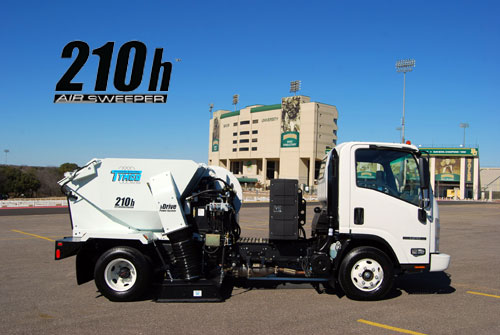 TYMCO® has introduced the Model 210h,TM a Model 210® parking lot sweeper powered by the TYMCO hDriveTM Power System. hDrive is an optimized hydraulic power system that gives Model 210h owners all the simplicity and low maintenance of sweeping without an auxiliary engine. The Model 210h delivers everything Model 210 owners have come to love about the TYMCO Regenerative Air System – air sweeping with a dual chambered pick-up head delivering a powerful air blast to the paved surface and centrifugal dust separation for low dust emissions.
"The Model 210h is a very capable parking lot sweeper with all of the performance capabilities required by most parking area applications. With the introduction of BlueLogic, we've provided streamlined features from the operator and service technician perspectives," said Robert Hatfield, TYMCO's Vice President, Sales and Market Development. "The Model 210h further defines True Regenerative Air parking lot sweeping allowing TYMCO owners to get more out of their sweepers while remaining sensitive to the environment."
It was important for the Engineering Team at TYMCO to introduce a parking lot sweeper with the least amount of compromise on performance while continuing to maintain a high standard of reliability. The performance features on the Model 210h are delivered by a True Regenerative Air System and a large gutter broom. Both of these features are powered by the hDrive Power System which were traditionally powered by an auxiliary engine on the Model 210. In addition, components such as the pick-up head, skids, curtains and brooms are shared with the Model 210, easing fleet integration for current Model 210 owners.
The Model 210h will also come standard with the TYMCO BlueLogicTM Control System. This system first introduced on the TYMCO Model 500x®, assists in troubleshooting potential electrical issues by providing service technicians LED diagnostics for the sweeper. BlueLogic provides intelligent safety features such as raising the gutter broom when the sweeper is put in reverse and turning off the blower when you open the dump door as well as environmental features such as pausing the dust control system when the operator turns off the blower.
Environment
The Model 210h delivers great sweeping performance while reducing fuel consumption and routine maintenance. By replacing the auxiliary engine with hDrive, TYMCO has removed the need to service the auxiliary engine air filters, fuel filters, oil and oil filters and in the process, have manufactured a more environmentally-friendly sweeper.
hDrive has also presented Model 210h owners a solution to noise pollution restrictions by offering inherent sound reductions as compared to both the Model 210 and the Model 210 SRE® (Sound Reduction Engineering). By continuing to sweep with a True Regenerative Air System, owners will continue to get the cleanest sweep on paved surfaces as well as low dust emissions because of the integrated high-efficiency multipass centrifugal dust separator.
Continuing TYMCO's dedication to designing and engineering environmentally responsible sweepers, the Model 210h is manufactured with recyclable steel and plastic and is finished with low VOC acrylic urethane and powder coated components.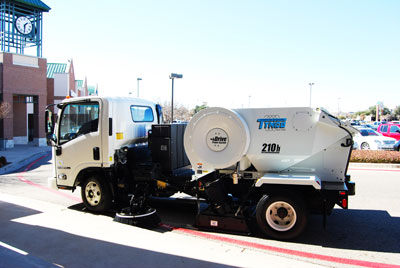 Availability
The Model 210h is available today in the United States through the TYMCO Dealer Network in two quick-to-ship configurations – Budget or Pro. And as always, the Model 210h is available as a customized build-to-order parking lot sweeper. Currently, the Model 210h is only available with the Isuzu NPR. Customers requiring 2007 (Tier 3) US EPA emissions can order their Model 210h today. Customers wanting 2010 (Tier 4) US EPA emissions will be able to order their Model 210h in late 2011.
About TYMCO
TYMCO modernized street sweeping in the 1960s with the invention of the Regenerative Air System and Model 600, reinvented parking lot sweeping in the 1970s with the Model 210 and delivered high speed Foreign Object Debris (FOD) removal with the Model HSP airport runway sweeper in the 1980s.

TYMCO also pioneered environmentally-conscious dustless sweeping with its Model DST-6 and Model DST-4, and leads the clean alternative fuels market with Compressed Natural Gas (CNG) powered sweepers. Today, TYMCO continues its dedication to the Regenerative Air System by driving innovation with the highly maneuverable Model 435 and high dump Model 500x street sweepers, and has recently introduced the hDrive Power System for the Model 210h which is defining the future of sweeper power systems.

For more information, contact Tom Rokas, Communications Manager for TYMCO, Inc., by calling (254) 799-5546 or by sending an email to: tom.rokas@tymco.com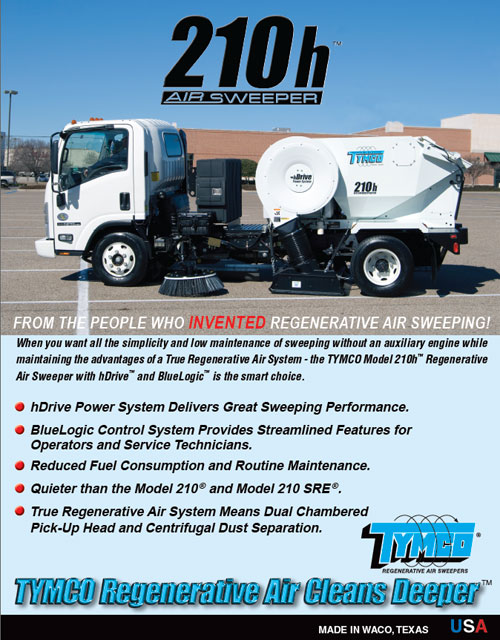 ---
TYMCO's Roots and History
Over 40 Years of Sweeping Innovation
TYMCO®, a family owned and day-to-day managed company, dominates a market traditionally controlled by corporate conglomerates. TYMCO first introduced and perfected the Regenerative Air Sweeper that is the standard by which all air sweepers are measured today.
The first air sweeper was actually developed to meet a need in the road construction industry by the late Mr. B.W. Young of Young Brothers Construction Company of Waco, Texas. A self-educated road contractor, Mr. Young developed numerous pieces of equipment for the road construction industry. His patented Regenerative Air Street Sweeper was developed in response to the demands of yet another of his inventions – a truck-mounted process of resealing asphalt roads with a layer of emulsified asphalt and sand called "Slurry Seal."
"Slurry Seal," which seals and repairs broken pavement and restores the appearance of old asphalt, requires a clean surface to effectively bond with the existing asphalt. Conventional broom sweepers, which swept the dirt and debris into cracks in the roadway thus preventing the sealing process were costly to maintain and not effective in totally cleaning the road surface.
From those small beginnings, TYMCO now has an international network of dealers with representatives on every major continent. TYMCO employs more than 150 people in a state-of-the-art, 125,000+ square foot facility in Waco, Texas. By continuously upgrading our manufacturing process with the latest technology, TYMCO maximizes output while minimizing overhead, which translates to economically priced equipment for you.
TYMCO is still a family-owned and managed business. When Mr. Young passed away in June of 1973, Mrs. Sophie Young, his wife, became the president. Today, sons Kenneth and Gary continue B.W. Young's original vision of developing and producing quality equipment which cleans and improves our environment through simple efficient design. This family approach has enabled TYMCO to dominate the market against much larger but impersonal, less responsive corporations. TYMCO has continued to expand and perfect the Regenerative Air Sweeper.
Numerous patents and product improvements have been developed by TYMCO engineering over the past 40 years. Today our models range from the powerful street cleaning 600®, dustless DST-6®, high speed airport runway HSP®, high-dumping 500x®, midsized 435®, dustless DST-4® and parking lot 210®. Each model can be equipped with an array of options to meet each customer's unique sweeping applications and requirements