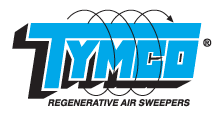 TYMCO Announces Training School Schedule and Availability
TYMCO Service School attendees learn from presentations, videos and hands-on technical training. Our dedicated 3500 square foot Training Center is equipped with fully operational sweepers to provide hands-on training experiences.
(Waco, Texas) November 2013 –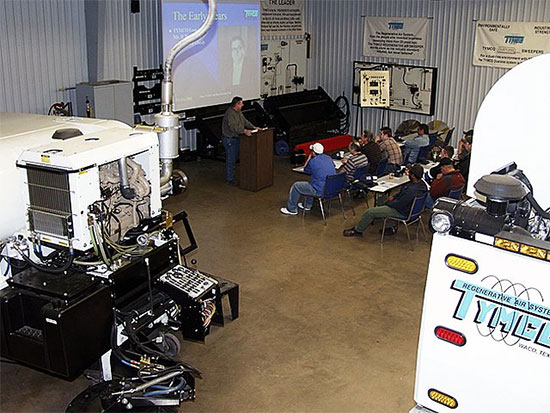 "At TYMCO®," said the company's communications manager, Tom Rokas, "we want you to understand the Regenerative Air® System and your TYMCO® Sweeper completely in order to get optimal performance from your investment. That's why, for over 30 years, TYMCO has offered two-day training classes at our manufacturing facility in Waco, Texas."
At the Service School, service technicians, operators, managers and owners are able to get hands-on training and answers to specific questions. Class sizes are kept small, so you and your team will get personal attention as well as the opportunity to learn from the experiences of other attendees.
"As long as you own a TYMCO," said Rokas, "you are more than welcome to choose from 32 scheduled Service Schools a year, come as often as you like and send as many attendees as you like, free of charge. TYMCO Service School in Waco, Texas is provided free of charge to current TYMCO Owners.
TYMCO also provides lunch during Service School as well as transportation to and from the hotel, leaving attendees responsible only for transportation to the hotel, additional meals and hotel lodging if applicable. TYMCO also provides ground transportation to and from the hotel to its 3500 square foot climate-controlled Training Center, not to mention, lunch is on us. To learn more about TYMCO Service School or register for 2014 classes, use this link.
About TYMCO
TYMCO modernized street sweeping in the 1960s with the invention of the Regenerative Air System and Model 600, reinvented parking lot sweeping in the 1970s with the Model 210 and delivered high speed Foreign Object Debris (FOD) removal with the Model HSP airport runway sweeper in the 1980s.
TYMCO also pioneered environmentally conscious dustless sweeping with its Model DST-6 and Model DST-4, and leads the clean alternative fuels market with Compressed Natural Gas (CNG) powered sweepers. Today, TYMCO continues its dedication to the Regenerative Air System by driving innovation with the highly maneuverable Model 435 and high dump Model 500x street sweepers, and has recently introduced the hDrive Power System for the Model 210h which is defining the future of sweeper power systems.
For more information, contact:
Tom Rokas
TYMCO, Inc.
tom.rokas@tymco.com
(254) 799-5546
TYMCO, the TYMCO logo, Regenerative Air, 210h, hDrive, BlueLogic, 600, 210, HSP, DST-6, DST-4, 435, 500x and SRE are registered trademarks of TYMCO. Other company and product names may be trademarks of their respective owners.